The way it was looking, Joshua Ho-Sang wasn't even sure he was going to be drafted in the first round.
Almost every team had passed on him at that point in time, many GMs had put him on "do not draft" lists, and others who interviewed him came away "shocked and disappointed."
That was, until Garth Snow came in and saved the day by trading back into the first round in order to draft the enigmatic winger from the Windsor Spitfires.
"He'll fit right in, they s*** on me too," said Snow on TSN after drafting Ho-Sang with the 28th pick in the draft.
Wait, Who is This Guy?
Joshua Ho-Sang is an 18 year old right winger who scored over a point per game last season in Windsor. He has incredible hands and all the talent in the world, but he's also very confident in his own abilities, perhaps too confident. He was quoted in the Toronto Sun as saying that he would pick himself number one overall, and that "in three years, I'll be the best player in this draft."
A talented kid with a bit of swagger and confidence? Shun him!
Really, the criticism on his character has been there for a very long time. He played midget and bantam hockey for the Toronto Marlies, and has always been extremely talented and smart. However, with that confidence, some will take it the wrong way. Jimmy Hughes, the director of player development for the Maple Leafs, was quoted as saying "I think his intelligence gets him in trouble sometimes."
Hockey is a sport that – for better or worse – has a very strong sense of tradition. One that enjoys the ways of old as well as more "professional" and modern-day superstars such as Sidney Crosby, John Tavares, Jonathan Toews et al. When Patrick Kane goes clubbing, it's an anomaly despite the fact that this would be considered normal for someone else his age. (His assault on a taxi cab driver is another story entirely).
Ho-Sang Brings Swagger to the Islanders
Regardless of when he would be able to compete for a roster spot with the Islanders, Ho-Sang would bring a swagger that the team could definitely use. Sure, they have talented young players, such as John Tavares, Travis Hamonic, Ryan Strome and more, but they might not necessarily be what one would call media magnets. With the move to Brooklyn, Ho-Sang – who comes from a large mix of cultures – is the perfect lightning rod for a team that is moving to a melting pot such as Kings County. The way that Patrick Kane is automatically recognizable by anyone even remotely close to hockey – that's what Ho-Sang could bring to the Islanders.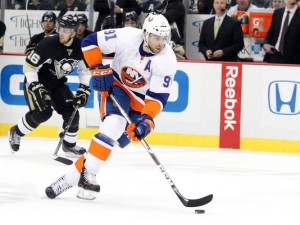 Now, by no means is this an argument that Ho-Sang is as good as Kane. However, bringing in a player that garners attention in the biggest media market in the country certainly doesn't hurt, especially if a team has desired that type of attention for quite some time.
The other day, I was showing my friend highlights of the Penguins/Islanders brawl from a few years ago. My friend is not a hockey fan, but after explaining why this happened and the history of the Islanders, he was impressed by how they stood up for themselves and showed that they were better than people made them out to be. That event seems like a distant memory nowadays. Ho-Sang could help bring back some of those feelings of pride, but for a different, much better reason.
With an individual such as John Tavares committed to the Islanders long-term, Ho-Sang could have the perfect mentor – one that could teach him what's right and wrong in the NHL. There are very few players with the same skill-sets than Tavares in the NHL, and even fewer who have been so professional at such a young age. A little tutoring from the captain can certainly only help.
Josh Ho-Sang is an incredibly talented player, and has a bright future with the Islanders. He can help shape the franchise – for the better – for years to come, adding to the respectability of the team in the long run. So, lets see how he develops and when his NHL career can start.
Lifelong Islander fan who spends way too much time playing NHL 15. Student at Hofstra University currently studying broadcast journalism. Generally can be found tweeting about hockey or whatever he's watching on Netflix.