After failed attempts and a poorly kept secret in recent weeks, Tomas Kaberle is no longer a member of the Toronto Maple Leaf organization. It seemed inevitable. In the end, it is the right move for Brian Burke and the Leafs as a team.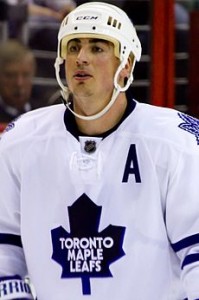 Drafted in 1996 at #204, Tomas Kaberle joined the likes of Sergei Berezin, Dmitri Mironov and Danny Markov as late draft pick-ups found by Cliff Fletcher that were able to contribute to the NHL club. At age 20, he played 57 games in 1998-99 under Pat Quinn, and quickly established himself as a point-producer, with 4 goals and 18 assists. Over the next 12 seasons in Blue and White, Tomas played 878 regular season games, scoring 83 goals, 427 assists for 520 points, good for 11th all time on the Leafs' list. He also played in 77 playoff games, all coming in his first 6 seasons with the club, including 2 trips to the Conference Finals.
In the early years of his career, Tomas endeared himself to Toronto fans with smooth skating, accurate passes and a good vision of the ice. He was not a hitter, or a big man who was physical in front of his own net. Yet, in those years, with Bryan McCabe on the powerplay, he showed himself to be a valued part of the Leaf attack. However, it was not always to be that way.
With John Ferguson Jr. now general manager, and coming out of the NHL lockout in 2004-05, the Maple Leafs began another decline, and it is no secret that even now they have not returned to the post-season. Kaberle continued to be an effective player – in fact he posted his best production in 2005-06 with 67 points. In 2006-07, Ferguson signed Kaberle to a 5 year contract worth $4.25M per season, and carrying a substantial no trade clause. It would be one of a number of moves that would haunt Ferguson and drive Leaf fans to despair.
Ferguson had signed a number of core players with long contracts that included no trade clauses. As the Leafs continued to fall in the standings, this core (Sundin, Kaberle, Tucker, Kubina and McCabe) came to be known as 'The Muskoka Five'. These players refused to waive their no trades, thereby blocking the Leafs from acquiring younger talent or draft picks in exchange for them. Certainly the players were within their rights, but it gave the fanbase the impression that perhaps these guys were happy to end their season in April, rather than be really interested in pursuing a Stanley Cup. And it meant that the team was essentially stuck with the same guys that continually missed the cut.
For Kaberle, the Muskoka Five designation reinforced something of a schizophrenic relationship with the fans. On the one hand, Kaberle was no Salming, Horton, or Iafrate for that matter. He never hit, couldn't take the body in front of the net. Leaf fans' favorites are usually tough, hard-working… Clark, Gilmour, Sittler, Tiger, etc. Kaberle was nothing like these players. Further, he frustrated the fans by always passing the puck, rarely shooting from the point. When the powerplay struggled, fans were quick to point out that Kaberle never shot enough (his career average is 1.5 shots per game). He was also a quiet leader. Yes, he played 22+ minutes per game, quarterbacked the man-advantage, but he was just so quiet, almost shy. Certainly not captain material. And a number of fans are happy he will be gone, because he just was not the player they'd wanted him to be.
And yet, Leaf fans were also quick to say that Kaberle was among the best puck movers from the blue line in the NHL. Not a Norris winner by any means, but easily a top-4 d-man on any team, and on some a top pair man. And as such, Leaf fans often held a high value on Kaberle, and dreamed of what trading him may mean. Yet many felt he was simply an asset the Leafs were unlikely to be able to replace, and unless big value was coming back, he was better off here. Even this season, his pairing with Luke Schenn gets much credit for helping Schenn develop in his 3rd season.
It did not help Kaberle at all when a variety of rumors surfaced over the years. Around 2000, it was rumored that the Leafs could have acquired Eric Lindros from Philadelphia, but that Leaf management refused to part with Kaberle as part of the deal. In 2008, the rumor was the Leafs could have had as much as Jeff Carter and a draft pick in return for Tomas, but that he'd refused to waive his NTC to go to Philly. And there is the story that the original deal that would have brought Kessel to Toronto was for Kaberle straight up, instead of the 3 draft picks that it ultimately cost.
In the end, Brian Burke was able to send Tomas to a team that has a chance to do some playoff damage, and are happy to have him. In return, he gets a very good prospect in Joe Colborne, and a couple of draft picks that may be flipped into another deal, or may be used to bolster the future of the Leafs. But, Burke mentioned today that the Kaberle camp had approached the team about extending the contract, and that Burke had refused based on his economics and future plans (ie., reducing payroll on the blueline, possible asset acquisition by trading Tomas as a rental).But Burke was able to finally move Tomas and acquire some pieces that will help the Maple Leafs develop into a better team in a few years.
Kaberle himself has always said and acted as though he never intended to leave Toronto, though he seems happy enough to be gone to Boston, playing for the Bruins and  wearing the black and gold.
Which seems to fit, just one more schizophrenic aspect of the Tomas Kaberle story in Toronto.