Jim Neveau, NHL Correspondent
Of all the general managers that populate front offices throughout the NHL, there are few (with the possible exception of Glen Sather) who draw as many guffaws as Toronto Maple Leafs GM Brian Burke. Whether it's his incessant belief that his team is a Stanley Cup contender, or his adoration of the word "truculence", Burke has always been one of the best sound bites in this league, and love him or hate him, he is very interesting to watch.
Perhaps the most telling trade that Burke pulled off prior to the moves he's made recently was the swap that netted the Leafs winger Phil Kessel. This trade, although a good one from the perspective that the team got a legit goal scorer to bolster its weak offense, has been looked upon with disdain by Leafs Nation ever since, as they continue to grapple with the idea that the move cost them two high draft picks. Tyler Seguin has already been drafted by the Bruins, and Toronto's 2011 first rounder is the property of Boston as well. It is a tough pill to swallow for Leafs fans, and it really put the screws to Burke to prove himself to that fanbase.
With the team out of the playoff picture for just about the entire season (even though they are currently only six points out of the 8th playoff spot in the East), Burke has gotten busy in recent days on the trading market. While other teams have stood pat because a lot of teams aren't selling yet, Brian has made it a point to make moves to change up the mojo of his team.
So the real question facing observers of this Leafs team is this: are these trades good for the organization, or do they represent more missteps by a GM who has made his fair share of them in his time north of the border? Before we look at the moves as a whole, it would be helpful to examine each of them individually.
Author's Note: Much to the chagrin of a certain Maple Leafs blogger, I did not include the Aaron Voros acquisition in exchange for a conditional seventh round draft pick.
February 9th:
Leafs Get: F Joffrey Lupul, D Jake Gardiner, 2013 4th Round Pick (Conditional)
Ducks Get: D Francois Beauchemin
Trade Grade: B
At first glance, the main point of this trade was to exchange players who had the potential to thrive in a new location. Neither guy has had a particularly spectacular season, and both are getting paid above their production level. Lupul still has another two years on his contract, getting paid $4.25 million per season, and the Ducks are on the hook for $3.8 million next season for Francois.
If the trade was just those two players and the conditional draft pick, then the trade grade would have certainly been lower, but the inclusion of Gardiner in the deal definitely boosts the return that the Leafs got. A first round pick of the Ducks in 2008,  the junior at the University of Wisconsin has eight goals and 24 assists in 32 games this season.
While success in the college game isn't always a precursor to bigger and better things at the next level, Gardiner's stats do indicate that he is a very solid puck mover, and his ability to do that is definitely a commodity that a team like the Leafs needs to bolster their blue line. If he does indeed decide to turn pro after this season and skip his senior season (as Burke claimed he would), he's going to have a good shot at making Toronto's opening night roster next year.
Overall, this trade was pretty much a wash talent-wise, but when you add Gardiner into the mix, Burke definitely did pretty well with this transaction.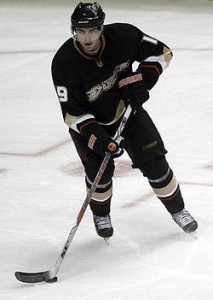 February 14th:
Leafs Get: 2011 1st Round Pick, 2011 3rd Round Pick
Flyers Get: F Kris Versteeg
Trade Grade: C+
Last season with the Chicago Blackhawks, Versteeg was an indispensable asset in various areas of the game. He was a very solid penalty killer for one of the top groups in that department in the NHL, and he also showed a penchant for dramatic goals as well. He didn't get a lot of time to show those skills off while being part of such a deep roster, and when the time came for Chicago to make moves to get some salary cap space, he was one of the casualties.
While his numbers with Toronto this season were pretty respectable, the reality of the situation is that Kris wasn't putting in enough effort on defense to stay in Brian's good graces, and he often frustrated Leafs fans with his lackadaisical approach to the game. Even still, he was still one of the team's top scorers, and the fact that Burke decided to trade him speaks to the dissatisfaction that the team had with his performance.
With a guy of Versteeg's talent level who isn't producing very high, getting two draft picks could be considered a good return. In a draft as talent-shallow as this one, a first round pick doesn't carry the weight that it would in a deeper draft. That being said, getting a pick in the first round is of paramount importance to a team that dealt away their own first rounder in the Kessel deal, so Burke can't be completely faulted for that. The third round pick was a nice pick-up as well.
The Flyers probably got the better end of this deal in the short-term, but the hallmark of a smart GM is to turn more draft picks into more talent, so the final verdict on this one will probably have to be reached at a later date after it's determined whether or not Versteeg can regain the form he displayed in his time in the Windy City.
February 18th:
Leafs Get: F Joe Colborne, 2011 1st Round Pick, Conditional 2012 2nd Round Pick
Bruins Get: D Tomas Kaberle
Trade Grade: B+
In the sports world as of late, it seems as though one or two storylines tend to dominate the headlines at any given time. Whether it's the Carmelo Anthony situation in basketball, the Brett Favre saga in football, or the Albert Pujols drama in baseball, each sport has its own soap opera that people wish in earnest would just go away.
In the NHL this season, the Kaberle-watch saga got old extremely fast. Once everyone was done mocking the New Jersey Devils for the contract they gave Ilya Kovalchuk, the eyes of NHL pundits everywhere switched to Toronto to see where Kaberle would end up. His name has been bandied about for months now, and Friday was the day that it finally came to an end, as Tomas found his way down to Boston for a playoff run.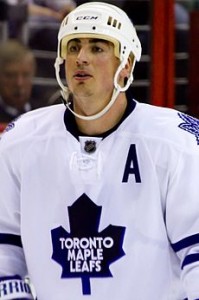 While some Toronto fans may have been disappointed at the fact they didn't get their first round pick back from the Bruins, the reality of the situation is that a return like that for Kaberle was an absolute fantasy. He is in a contract year, and unless he had agreed to a contract extension (which would fulfill the condition of the '12 second rounder mentioned above), the Leafs weren't going to get a huge package for a rental player.
The interesting component of the trade is the youngster Colborne. He hasn't exactly been lighting up the scoreboard this season for the Bruins' AHL affiliate in Providence, scoring 12 goals and dishing out 14 assists in 55 games played. He is a very large player, standing at 6-foot-5 and weighing in at 216 pounds, and he is still working on putting some weight on that frame. His coach in Providence was Rob Murray, and he had nothing but positive things to say about Joe.
"He plays in the dirty areas, battles hard on the wall. He can hit," Murray said. "He's a big guy who skates well and has good hands…..He can really protect the puck because of his size."
A big bodied forward with good hands and a first round pedigree? Sounds like just the type of player that Burke would jump at.
Evaluating the trade, it's obvious that it helps the Bruins considerably in the short-term, and Tomas' absence from the Leafs blue line is likely going to hurt them for a while as well. The long term prognosis could be good for Toronto, but as mentioned in the evaluation of the Versteeg swap, a low first round pick in a shallow draft is not exactly a hot commodity right now.
Burke's Overall Grade: B
While some elements of these trades do leave something to be desired, the fact of the matter is that Burke isn't exactly dealing from a position of strength here. When your team is in contention for a playoff spot, you can tend to get talent from some lower-tier teams at a lower price, but Burke obviously did not have that luxury here.
The impressive part of these trades was that Burke was able to get a couple of first round draft picks in 2011, as well as two prospects who were selected in the first round of the 2008 Draft and haven't had a chance to prove their mettle yet on the big stage. It was a skilled job of restocking the young talent on this roster by Brian, and while it wasn't a home run by any stretch, Leafs fans should be happy with the job their GM did with these swaps.
Needless to say, Burke has earned some syrup for his waffles.