The trades keep coming in Ottawa…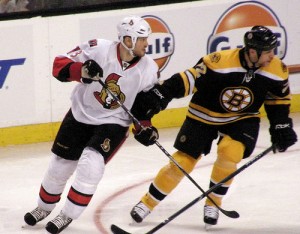 Well before the February 28th trade deadline, Ottawa Senators GM Bryan Murray continues to wheel and deal with his fellow General Managers as he re-shapes the Sens roster. Jarkko Ruutu and Brian Elliott were the latest to leave town this week. Both are on their way to Western Conference teams in separate deals. As the Senators prepare to host the Boston Bruins tonight, the Ottawa lineup will look more like the Binghamton Senators as Chris Campoli and Sergei Gonchar are day-to-day with injuries and expected to miss the Friday night match-up with Boston and Saturday night's game in Toronto.
A UFA at season's end, Jarkko Ruutu is on his way to the Anaheim Ducks in exchange for the Phoenix Coyotes sixth round draft pick, while Brian Elliott is heading to the Colorado Avalanche with fellow goaltender Craig Anderson coming to Ottawa. The Elliott deal is the first move Murray has made where a player is coming back in return.
The Ruutu deal comes as no surprise; a free agent this summer, his name has circulated in the local media as one of the players that would be on the move. Signed to a three-year deal before the 2008-2009 season, he has worked hard and played admirably on the third and fourth lines. In last year's playoffs, as well as the first quarter of this season, the line of Ruutu, Chris Kelly and Chris Neil was Ottawa most consistent trio. By the February 28th trade deadline, all three players could be gone.
During his time in Ottawa, Ruutu appeared in 210 games, scoring 21 goals and adding 36 assists. Last season, his 12 goals was a career high for the native of Helsinki, Finland. He brings a gritty style of play to a Ducks team battling in the ever-tightening standings in the Western Conference. He will certainly help Anaheim in their hunt for a playoff spot.
"Obviously, it is another veteran player getting a chance to play in the playoffs," Murray said of the decision to trade Ruutu (SENSTV). "It sounded to me when I talked to Jarkko that he was expecting something and obviously, happy to go to a team that he believes is a contending team."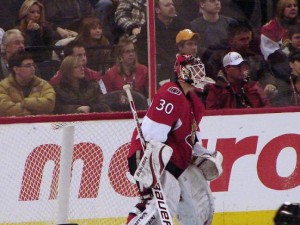 The Brian Elliott trade could fall in the "surprising" category – not that he was a core player like Fisher or Kelly, but he has worked hard to keep his composure in a difficult season and he is a restricted free agent at season's end. With a cap hit of $850,000 this year, the Senators held most of the cards when it came to contract negotiations this summer, but the organization believed that Elliott was not their first choice as the number one goaltender moving forward.
Craig Anderson arrives in Ottawa as an unrestricted free agent at the end of the season, making $2.125 million with a cap hit of approximately $1.8 million. The Senators will be shopping for goaltending help this summer, and as Murray explained today, in trading for Anderson now, they will have a closer look at a player they intended to target on July 1.
"The good thing about it (the trade), we get a chance for 20-some games to look and watch him," Murray said (SENSTV). "During that time period I would think that we will have discussions. We'll see where we want to be, where he wants to be. He seemed very excited when I talked to him, it's a new opportunity for him."
On trading Elliott…
"Brian was put in a very difficult position here," Murray continued. "He was regarded at the beginning as a back up, the second goaltender to Pascal Leclaire, and Pascal has played 14 games I believe and Brian has carried the ball pretty much all year. Our team has not been very good for the most part and we have not played with any confidence in some time now and I think Brian was affected by that."
Both goaltenders arrive on their new teams with similar numbers. Anderson has played in 33 games for the Avalanche, with a 13-15-3 record, a 3.28 GAA and a .897 save percentage. As Murray mentioned, Elliott has carried the load in Ottawa this season, playing in 43 games and posting a 13-19-8 record (3.19 GAA and .894%).
The key to this deal is the opportunity to look at Anderson before he becomes available to all NHL teams as a free agent. Heading into next season, Robin Lehner is the only goaltender under contract. Pascal Leclaire, Craig Anderson and Binghamton Senators goaltender Mike Brodeur are all unrestricted free agents.
Lost in the flurry of trades this week is the fact that Pascal Leclaire continues to make progress and is expected to be game-ready in a few weeks, allowing Lehner to return to the AHL and continue his development at the pro level.
"Pascal skated again today, took some shots and indicated that he'd be very close to getting in a game this season," Murray explained. "We're hoping that is the case. We hope by next week, maybe as early as Wednesday we can have him at least be the back up."