The Maple Leafs' offseason started early on Wednesday resigning two of their pending restricted free agents to six-year contracts. It was announced that both Nazem Kadri and Morgan Rielly would be staying put in Toronto as part of the team's rebuild.
While it was largely speculated how the Maple Leafs would handle their free agency situation, these long-term deals demonstrate the direction in which the team is headed entering their second offseason of the rebuild.
Nazem Kadri: A Part of the Future
He scored 17 goals and notched 45 points on his way to leading the Leafs in scoring in 2015-16. That's certainly not a horrible way to close out a contract year. However, his 6.5 percent shooting percentage is far lower than his career average of 10.5 percent.
Had he maintained his career numbers, he could've finished with closer to 30 goals (27 to be exact) and closer to 60 points – a better total for a team's leading scorer. His shooting percentage this season is the lowest since his first season with the Leafs (when he played just 29 games for the Leafs) – something that isn't sure to continue as the team builds up its roster.
Nazem Kadri had an extremely low shooting% this season, which tends to be cyclical. He would have scored 27 goals with his career average.

— Chris Johnston (@reporterchris) April 13, 2016
And yet, the six-year contract – which carries an AAV of $4.5-million – is still being questioned by some in Leafs Nation. What did Kadri do to up his overall value? Should the Leafs have signed the 25-year-old forward to a long-term deal?
The deal actually plans to benefit both the team as well as Kadri. For starters, it means that Kadri is guaranteed $4.5-million regardless of his production over the next six years. And while there is potential to be traded down the line, Kadri will likely remain a Leaf for the next few years as his new contract includes limited no-trade protection according to Elliotte Friedman.
https://twitter.com/FriedgeHNIC/status/720247687879254016
From a team perspective, they won't find themselves in this position again next season – trying to find the value of their former seventh overall pick. They lock him up through the 2021-22 season and eat up four potential years of him as an unrestricted free agent.
In terms of his value, Kadri's developed as an overall player. He's taken strides in becoming a difficult opponent in the face-off circle and continues to improve his game in the defensive zone. He doesn't back down from the physical play – even against bigger players – and consistently draws penalties (finishing among the top in that category this season).
[ALSO: Did Nazem Kadri Earn a 2016-17 Contract?]
Over the 2015-16 season, head coach Mike Babcock expressed his admiration towards Kadri's improved game.
"Naz is a guy I think is playing better all the time," Babcock said in an article by James Mirtle. "It's about winning. It has nothing to do with points you get individually. It's about winning and learning how to play right.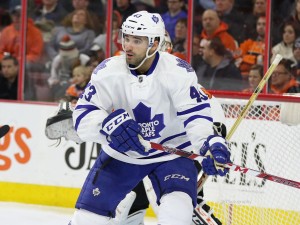 "Naz is I think a real good player who has a chance to become a [better] player with a good off-season," continues Babcock. "Get a lot stronger, work on his shot. He gets so many chances, the more he does that, the better off he'll be."
Not bad praise for a guy that can be such a polarizing player for fans and foes of the Toronto Maple Leafs.
Morgan Rielly: The Leader of Tomorrow
Along with Kadri, it seems that Rielly will be donning the blue and white for the next six seasons – and rightfully so. The deal will take him right through his eligibility as a restricted free agent and will eat up two years of his potential unrestricted free agency (the 2020-21 and 2021-22 seasons).
Rielly's contract carries and AAV of $5-million and locks up their leading scorer on the blue line from 2015-16 where he notched 36 points (9g-27a) while playing all 82 games for the Leafs this season. He set career highs in goals, assists and points as well as shots while tying his career high in shot percentage.
He averaged more ice time than any other player on the Leafs this season – at just over 23 minutes and continually learned from his on-ice mistakes. Off the ice, he's always willing to talk to the media post-game and has potential to become the next team captain (which is strictly speculation at this point).
He finished among the top 40 in defensive scoring and among the top 30 in ice time among defencemen league wide.
While the 22-year-old still has a long way to go in terms of growing as a top pair defenceman, he's adjusted to the bigger role on the Leafs' backend quite well.
"Obviously, he's a guy whose growing in his game," said Babcock earlier in March talking with Rob Longley of the Toronto Sun. "He's just 22, he's a kid. He's getting more and more confidence. He's playing better and better without the puck.
"He's learning how to play the game. That's going to make him a better player long term."
As for the signings themselves, GM Lou Lamoriello believes this is simply the first step in solidifying the core of the franchise moving forward.
"I don't think they've tapped what they can do. No question they have a level they haven't reached yet," said Lamoriello in an interview with Damian Cox. "This is just another step towards where we want to be as far as developing the foundation of this franchise."
Now the main question surfacing is what do these signings mean for the Leafs offseason going forward? Chances are, not much. The fact is, the Leafs have Rielly and Kadri locked up on an annually salary of just under $10-million. The number of expiring contracts and low salaried deals on the books make this team quite cap friendly moving forward. Not to mention there are multiple entry-level contracts that could be added to the team's big league roster next season.
As for the hopes and dreams of Leafs fans when it comes to Stamkos, it won't change a thing. If the Leafs were going to go after the pending UFA this summer they still will. If they weren't planning on it, then nothing will change. Regardless of how this offseason unfolds for the franchise, the core is now in place and the road to the ultimate rebuild continues.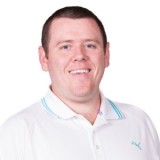 Andrew is in his 8th year reporting for The Hockey Writers covering the Toronto Maple Leafs. He began his broadcasting with CBC's Hockey Night in Canada team as well as being part of their coverage of the 2014 Winter Olympic Games in Sochi. He's the former play-by-play voice of the London Jr. Knights for Rogers TV and currently hosts the Sticks in the 6ix podcast. You can follow him on Twitter at @AndrewGForbes.