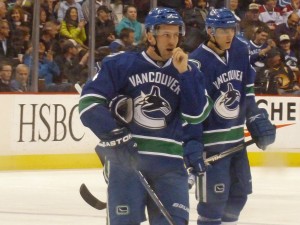 VANCOUVER – The Vancouver Canucks practice on Thursday morning was an optional skate.  Of the nine players who took part, only a few members of the fourth line had played the night before in Game 1.
In the middle of an intense 2-on-1 drill, the stick of Victor Oreskovich caught Keith Ballard in the mouth.  Ballard's head snapped back, he grabbed his face, but then immediately went back to defending the final fifteen seconds of the drill.
While participation in the practice was optional, effort is not a choice at this point for Ballard.
The 28-year-old defenseman was acquired at the draft last year from Florida along with Oreskovich in exchange for Steve Bernier, Michael Grabner, and the 25th overall pick (Quinton Howden).
While Grabner was eventually waived by the Panthers and went on to score 34 goals with the New York Islanders this season, Ballard hasn't exactly lived up to expectations.
The 2005 All-Star played 65 games in the regular season for the Canucks, but scored just two goals and five assists.  To contrast, in five seasons with the Panthers and Phoenix Coyotes he averaged nearly 30 points a year.  To make matters worse, Ballard hasn't even made it into the lineup in over half of Vancouver's 19 playoff games, including Game 1 of the Finals on Wednesday.
"Obviously, you know, he'd probably like to play more, be a regular part of the team," head coach Alain Vigneault said.  "But we feel that certain players have played a little bit better and they deserve to be in the lineup."
"For a player, obviously that's never easy. As a coach, coaching staff, management staff, you have to do what you feel is best for the team. You have to evaluate the players' performance, and that's what we do."
The lack of faith in Ballard from Vigneault and his staff is even tougher to swallow when taking into account Ballard's financial impact on the team.  Ballard is in just the second season of a six-year deal that pays him $4.2m per.  With Dan Hamhuis making $27m over the next six seasons and defensemen Kevin Bieksa, Sami Salo, Christian Ehrhoff, and Andrew Alberts needing new contracts, the Ballard deal could severely hamper GM Mike Gillis' offseason plans.
But with Hamhuis looking doubtful for Game 2 with a very specific "mid-body injury", Vigneault will need to decide whether Ballard, Alberts, or rookie Christopher Tanev is most worthy of an opportunity.
When asked what the Canucks defensemen – and specifically a Hamhuis replacement – need to do to handle the Bruins, Ballard unintentionally described his own style of play.  "You have to use your speed," he said.  "As a defenseman, we have to get back to pucks quickly and I do think that's a strength of our team.  Being able to move the puck quick and get it into our forward's hands and try not to let them set up in their structure."
However, line combinations at yesterday's full team practice had Alberts, not Ballard, on the third defensive pairing alongside Ehrhoff.
The 6-foot-5 Alberts isn't exactly the most fleet of foot, but the decision to go with him over Ballard might depend on what type of role Vigneault sees a replacement playing.  If the coach wants someone to replace Hamhuis' average of 26 minutes a game, Ballard makes the most sense.  If Vigneault wants a reliable sixth-defenseman to briefly spare his top five, Alberts will probably get the nod.
But regardless of whether Hamhuis can return to the lineup in Game 2 or Alberts gets the call instead, Ballard says he'll still be pulling for his teammates to succeed.
"I'm happy for the guys who are playing," Ballard said.  "I'm happy for the guys to play well.  We're pulling for the same thing.  You're not sitting out hoping a guy makes a mistake so you can get in the lineup or hoping a guy gets hurt."
Ballard insists that having that kind of negative mindset would only feed on itself into an emotional downhill spiral.
"You can't allow the personal feelings and negative feelings and anything like that get into your head because once that starts it's hard to stop," he said.  "Then you start making excuses for yourself and that can't happen."
While on the surface Ballard seems to be accepting his fate as a healthy scratch through most of the playoffs, it's impossible to tell how he's reacted to the lack of playing time and opportunity behind closed doors.
Bruins coach Claude Julien made an interesting point earlier this week with regards to the dynamics of making lineup decisions.  He said it's not necessarily a bad thing for a player to be visibly disappointed in getting scratched:
"Any time you tell a player he's not playing, he may understand. But it's certainly not what he wants. If he's disappointed and he walks out of your office not happy, it doesn't mean you've failed. You've done your job and been honest. If a guy walks out of my office and says, 'Hey, don't worry about it, Coach. No problem. I'm happy,' then I'm disappointed. When that happens, somebody has to be disappointed. I'd rather it be the player who really wants to play than the coach seeing a guy who's content with what he's being told.''
Rumblings around the city of Vancouver suggest that earlier in the playoffs Ballard was a little too content with his inactive status for Vigneault's liking.
Whether or not that was the case, Ballard says at this point he just wants to get into the trenches with his teammates and feel what it's like to battle for a Stanley Cup.
"There's times you want so bad to be out there," he said.  "You want to be coming off the ice after a big win and in the locker room after the game with the guys and playing a hard-fought game.  I look back to the Nashville series.  We won [Game 3] in Nashville in overtime and it was such a big game, [but I wasn't a part of it on the ice].  I think everybody who doesn't play on any given night feels the same way."
Ballard watched Game 1 of the Final on TV and said the feeling of helplessness can make it nerve-racking at times.
"I get so nervous watching," he said.  "There's nothing you can do. You're just sitting in anticipation, waiting for what's going to happen and you're not on the bench, you're not on the ice, so you don't have as good a feel of the game as those guys do so you start to get a bit nervous."
Fortunately, injuries allowed Ballard to get into the lineup for the final two games of the Western Conference Finals, but he says it's still a challenge to stay sharp mentally and physically.
"Going through the scouting reports, being in the meetings, everyone's involved in all of that stuff and trying to stay mentally sharp," Ballard said.  "You have to stay in good shape in the gym and after practice.  When it's an optional [practice], all the guys are out there are working hard so that when the opportunity, if it comes, you're ready to go."
But despite all the frustrations of not playing every night, Ballard says that after being a part of struggling teams in Phoenix and Florida, he's just happy to be along for the ride.
"We all want to win the Cup and get our name on it.  Whether you contribute a little bit or you contribute a lot, your name still gets on there and you're still an important part of this team."
"After playing five years without any taste of the playoffs and getting in and being on this run that we've had this year, it's been fun.  There's been some personal ups and downs, but it's been so much fun.  I've enjoyed every minute of it."
__________________________________________
Follow @MikeColligan on Twitter or contact via email at MJColligan@gmail.com