Jim Neveau, NHL Correspondent
Game 1 of the Stanley Cup Finals ended up being what any hockey fan had hoped it would be. It was a well-played game with a ton of offensive chances, some spectacular physicality, and some of the best goaltending that we are likely to see in these playoffs. Tim Thomas and Roberto Luongo put on an absolute clinic in net for both teams last night, but in the end, it was Luongo who ended up coming out on top as Thomas allowed a goal to Raffi Torres with 19 seconds remaining to give Vancouver a 1-0 victory over Boston to strike the first blow in the series.
It was truly fitting that the only goal scored all night came as a direct result of the actions of the two players who had shown the most hustle and determination throughout the contest. Ryan Kesler, long known as a great defensive center who could occasionally score, has really come into his own this season, and Wednesday night was proof of that. He artfully got the puck into the Boston zone, staying (barely) onside, and he found a streaking Jannik Hansen, who got Thomas to commit to the right side and then dished the puck off to a wide-open Torres for the tap-in goal. It was a play that reeked of the artistic puck movement that Henrik and Daniel Sedin are known for, and it was the culmination of all the efforts that these two had put into this victory for Vancouver.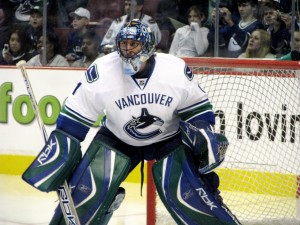 Other players who are worthy of praise include everyone on the Boston penalty killing unit, who had a splendid kill in the second period with Patrice Bergeron, their primary weapon, in the sin bin. They kept the Vancouver power play on edge the entire night, and really didn't give them any good looks on the man-advantage. Boston's anemic power play may get all the headlines in terms of special teams, but their penalty killing unit looked cohesive and impenetrable in Game 1.
Finally, the battles down low between Kevin Bieksa and Zdeno Chara on Boston's power plays will hopefully continue for the rest of the series. It is fascinating watching Chara create screens in front of Luongo, who often times was moving around just to see the puck behind the 6-foot-9 giant's wide backside. Bieksa did a great job of keeping Chara off-balance, and never really allowed him to get a clean swipe at a shot coming toward the net. Credit him with keeping the Boston power play unit off the scoresheet, because without him, there surely would have been more close calls.
Ultimately, this game featured plenty of those performances, but none of them could match the display that Luongo and Thomas put on. Thomas was under constant fire early in the game, but for the most part the Bruins kept the Canuck chances to a minimum. When those infrequent moments would come when he was being tested, Thomas was other-worldly, and really showed why he is still considered an elite goaltender, even at 36 years of age.
On the other end of the spectrum, Luongo was under nearly constant fire, as Boston picked up a lot of early power plays and really peppered the Vezina-nominee with shots from everywhere. He really stood tall for Vancouver in this one, and he showed why his reputation as a playoff choker is quickly fading away. He never let Chara's presence in front of his net distract him, and he was so locked in that he didn't resort to his favorite tactic when he's rattled: begging for interference calls. That was very impressive, and if Luongo can continue to stay as focused as he was in Game 1, Boston has their hands full.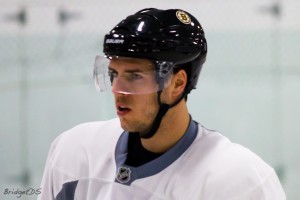 The negative side of the ledger is a very short list from this one. Alex Burrows and David Krecji both committed penalties that should have resulted in some type of discipline from the league. Burrows' biting of Bergeron's finger at the end of the first period was a completely classless action by a player who seems to be willing to throw punches only when there's an official standing between him and his opponent. Burrows is certainly known as an agitator and that's all well and good, but the fact of the matter is that you don't do childish things like that on the ice and still be expected to be considered a professional player. Credit goes to the officials in this game as well, because they kept a sharp eye on him for the rest of the game and didn't allow him to get away with anything, including calling a questionable tripping minor on him in the second period.
As for Krecji, his retaliation for Dan Hamhuis' hit on Milan Lucic was completely unacceptable. Hamhuis laid a beautiful hip-check on Lucic in front of the Bruins' bench, and in the midst of a stream of Gatorade that a Bruin squirted at him, Hamhuis was cross-checked in the head by Krejci. He earned a two-minute minor for that play, but in all honesty he should have received additional discipline too. Deliberately hitting a player in the head following what was a clean hockey play is completely unacceptable, and with Hamhuis' history of concussions, hockey fans have to hope that he is okay to play in Game 2. If he isn't, then it's a huge loss for the Canucks, and Krejci certainly will be public enemy number one on the Vancouver bench.
Even those suspension-worthy offenses weren't enough to dim the excitement that this game provided. Pulling in the highest ratings of any Stanley Cup Finals opener of the past 12 years, the Bruins and Canucks played the type of game that is sure to make casual observers fans for life. You wouldn't expect a 1-0 game to have been as thrilling as this one was, but with the mix of high-quality scoring opportunities and incredible athleticism displayed by the goaltenders, one thing is for certain: we are in for a hell of a series.