Please "Click Here" for "Notes Up Front" and the "Legend" for various topics covered below in my "Live Updated" NHL 2011 Draft Preview article – The Next Ones.
JT Miller
Date of Birth: March 14, 1993
Place of Birth: East Palestine, Ohio, USA
Ht: 6-1 Wt: 190
Shoots: Left
Position: Center/Right Winger
NHL Draft Eligibility: 2011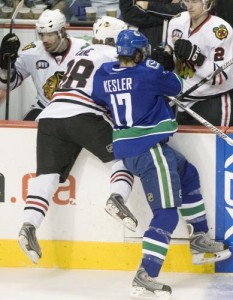 One Timer:
JT Miller has spent the last few years honing his offensive game playing with Rocco Grimaldi for the US National Development Team. Miller however, does not have the offensive prowess of Grimaldi. He is however a more complete player at this stage of the game, with a good package of size, strength, and offensive potential.
Miller has already commited to playing for the University Of North Dakota in the fall with his friend Grimaldi. The two should continue to develop chemistry, and maybe a team with two first rounds picks in the latter half of the round could scoop them up together.
THW's own Brian Huddle reported via twitter that Miller is set to meet with the Toronto Maple Leafs. If Maple Leafs GM Brian Burke could manage to pull off drafting both of these guys fans of the team should consider if a very successful draft.
Considered a power forward, Miller does have considerable offensive upside, which he should hone while playing NCAA hockey. He posses good speed, and loves to go to the net. He can also be considered a pest to opposing players because of how hard he goes to the net.
Miller should be turn into a good American power forward in the likes of a Brandon Dubinsky. He is a project pick however, and may take the full four years at college to fully develop his game.
Top Prospects Game
Miller did not participate in the top prospects game.
Statistics
Scout's Honor
"When you think of Sioux hockey players, you think guys who play hard, physical, fast and show skill. That's the exact way to describe Miller. Every time I've seen him, he's played very hard and made at least one highlight-reel hit. He goes to the net every play, often getting opponents angry at him for doing so. He said on an interview on The Pipeline Show that he stays after practice every day to practice tipping pucks. With his big frame and tenacity, I think he has a great chance to take that net-front presence role on the power play from Brad Malone, who was outstanding at screening goalies. I see Miller as a guy who opponents will hate — not because he talks but because of how hard he plays. If he plays like he did at the U18 tournament, he will contribute immediately."
-Grand Forks Herald's Brad Elliott Schlossman
"When Miller is thinking right, he's so good. It's the best I've seen him play. I think that maybe earlier in the season, Miller was under too much pressure to be the focal point of the offense on that top line and it wasn't going in for him. He was probably pressing more than he should have. But here, he kept things simple and used his skills and smarts to make some big plays when his team needed them." 
–The United States of Hockey's Chris Peters from interview on Bruins Draft Watch
Bio/Interview(s)/Link(s):
McKeen's Interview
HF Boards
UND Hockey
International Tournaments:
Miller led the USA in points in the World U-18 tournament. With 4 goals and 8 assists, he also helped Team USA capture gold.
ETA= 3/4 years
Risk-Reward Analysis:
Risk – 1.5/5 Reward – 3.5/5
NHL Potential:
Two-way second line center. Good PK guy, 30 goal 30 assist offensive upside.
Strengths:
*See "One Timer" Section Above
Good Size
Very physical
Offensive upside
Above average shot
Great foot-speed for his size
Not afraid to drop the gloves
Dangerous in front of the net
Flaws/Aspects He Needs to Work On:
Intelligence with the puck
Playmaking skills
Agility
 Overall offensive awareness
Fantasy Hockey Potential: Offensive = 8/10 Defensive = 8.5/10
NHL Player(s) Comparisons:
–Brandon Dubinsky, Ryan Kesler-lite
Video(s):
Off The Iron (Interesting Notes):
48 PIMS in 21 games this year
Grew up playing in Pennsylvania despite being from Ohio
THW's The Next Ones prospect profile template design architect: Chris Ralph
Patrick Kearns covers prospects for The Hockey Writers, and his local Rangers and Devils for The Fourth Period.
You can follow him on twitter @PatrickKearns to talk anything hockey related.