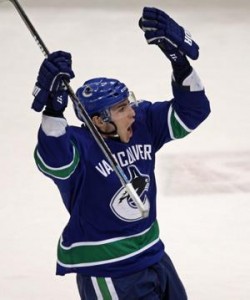 VANCOUVER – For 59 minutes and 42 seconds, Game 1 of the Stanley Cup Final was a nail-biter.  Leave it to Alex Burrows to take it even further than that.
Raffi Torres' goal with 18 seconds left was the only tally on the night, but afterwards Patrice Bergeron and the Bruins were still ticked off about a biting incident that occurred at the end of the first period.
A run-of-the-mill scrum behind the Boston net after time expired led to a shoving match between a handful of players.  At some point in the tussle, Bergeron said Burrows bit his finger through the glove.
"Yea, he did [bite me]," Bergeron confirmed after the game.  "He cut me a little on my finger.  I'm not going to be here complaining about it.  I'll let the league do their job, but he sure did."
After the referees broke the two players up and ushered everyone else to the locker room, Bergeron tried pleading his case to the officials by showing them the damage.
"[The linesman said] they didn't see it," Bergeron said frustrated.  "We were speaking French, me and him, and I asked why [Burrows] did that.  The linesman told me his explanation was that I put my finger in his mouth and he had to do it.  I'm sure the league's going to look at it."
The first period was a predictable start to an intense Stanley Cup Final game.  Boston and Vancouver combined for 26 hits, seven penalties, a handful of physical battles in front of the net, but Bergeron says Burrows went too far.
"Obviously I don't mind the rough play and those scrums at the end as long as it's pushing and shoving.  But biting…?"
Bruins coach Claude Julien said he didn't see the incident, but he wasn't too thrilled with what he heard from Bergeron.
"I haven't seen it, to be honest with you," Julien said.  "I haven't had time to look at that stuff right now.  I'm going by what Patrice told me.  Obviously there was something that happened.  I guess I'll save my comments for after I see it. But if that's the case, it's a classless move, not something players should be doing at this level anyway."
A league review of the Burrows incident adds a twist of irony to a newsworthy day for the NHL and their disciplinary team.  Before the game, longtime head of discipline Colin Campbell announced that he would be stepping down and Brendan Shanahan would handle the duties moving forward.
Shanahan won't officially take over the reigns until next season, but Campbell still won't be a part of rulings in this Final series because his son Gregory is a member of the Bruins.  Instead, it'll be up to Senior Vice President of Hockey Operations Mike Murphy to decide the fate of the Canucks forward.
With clear evidence (see video below) showing Burrows chomping on Bergeron's glove, Murphy might be forced to sit Burrows down in a crucial Game 2 on Saturday night.
(Video via Greg Wyshynski at Yahoo! Sports)
__________________________________________
Follow @MikeColligan on Twitter or contact via email at MJColligan@gmail.com