After the Edmonton Oilers suffered a shocking first-round loss to the Los Angeles Kings during the 1982 playoffs, it was clear the team was missing something. The need for that "pain-in-the-ass" player who would not only willingly get his nose dirty but also be able to contribute on the score sheet was obvious. Before the 1982 -83 campaign got under way, the Oilers were able to acquire just that type of player in Ken Linseman.
Ken Linseman Was the Perfect Fit
On August 19, 1982, the Philadelphia Flyers traded the Kingston native along with Greg Adams, their first and third round picks in 1983 NHL Entry Draft to the Hartford Whalers in exchange for all-star defenceman Mark Howe and a third-round pick. A blockbuster to be sure but the Whalers weren't done there, as they promptly sent Linseman to the Oilers with Don Nacubaur for defenceman Risto Siltanen and youngster Brent Loney.
From an Edmonton perspective, one could not help but wonder how Glen Sather managed to pull off such a move. After all, the diminutive centre was coming off a stellar season with the Flyers, in which he put together a 92-point campaign…including a career-best 24 goals. Linseman, finished the year tied for 18th in league scoring and a mind-numbing 275 penalty minutes in 79 games.
With all due respect to Siltanen, who was coming off an impressive season of his own, Sather was able to acquire the exact kind of player the Oilers needed. Let's not forget, Linseman earned the nickname "The Rat" because of his ability to get under the opposition's skin and for someone to suggest he was a dirty player, is like saying Wayne Gretzky could really pass the puck.
13 Days until the #Oilers drop the puck. Shout out to Ken Linseman Gotta love the RAT! http://t.co/ljpyZdev2Y pic.twitter.com/71zh6bvuAb

— Pro Am Sports (@ProAmSports) September 25, 2015
The former Kingston Canadians stand out was widely known around the league as a cheap shot artist and was actually charged and convicted of assault for kicking a player in the head with his skate, while playing junior hockey.  Despite his size, Linseman backed down from no one and would use whatever means necessary to both protect himself and give his team a competitive edge. In today's NHL that wouldn't fly but having a guy or two play on the edge was a must during the eighties.
With the Oilers roster loaded with many of game's best young players, it was no surprise to see Linseman light the lamp 33 times during his first season in Edmonton. His arrival helped solidify the club's second line, which more often than not saw the 24-year old skating alongside Mark Messier and Glenn Anderson. His agitating style followed him to the Alberta capital, collecting another 181 PIMs and instantly became a favourite amongst his teammates.
Despite still being a young player himself, the former seventh overall pick was one of the older forwards on the roster and the only top-six guy with actual post-season experience under his belt. Points aside, he added a dimension Edmonton had been missing. The Oilers always had so-called "hard-nosed" players since joining the league in 1979 but they never had a player like No. 13.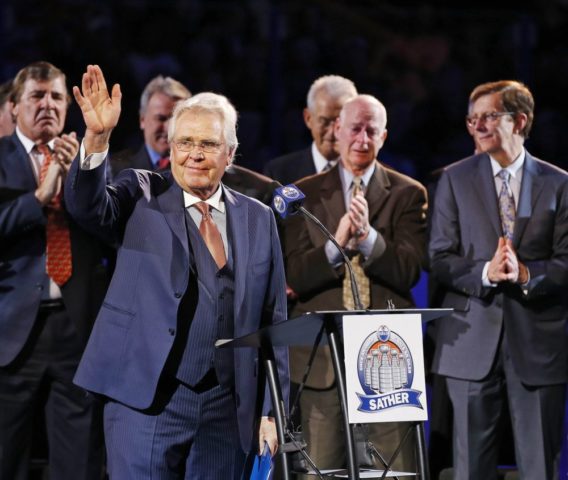 Another Sather Beauty
Adding Linseman to a lineup that already included Dave Hunter, Dave Lumley, Pat Hughes, heavyweight Dave Semenko, not to mention the always game Don Jackson on the backend, made the Oilers a team opponents would think twice about before taking liberties with No. 99 and company. However, in the end, all that mattered was whether or not this group could take a step forward come playoff time
Edmonton would go on to reach their first final in 1983 and Linseman played a key role. He finished tied with Paul Coffey for fifth in scoring with 14-points and as good as he was during the regular season, the fan favourite was even better during the postseason. Unfortunately, the New York Islanders made short work of the Oilers in the Stanley Cup Final but the following year's playoff run would end up being his finest for the Orange and Blue.
After another solid campaign in 1983-84, Linseman once again took his game up a notch once the post-season got underway. He matched his playoff point total from a year ago with 14 and his ten goals trailed only Gretzky and Jari Kurri. Four of those ten goals wound up being game winners and he set an NHL record by scoring three series-clinching markers, as the Oilers went on to win their first of what would turn out to be five championships in a seven-year span.
https://twitter.com/CanadaTeams/status/865592717052567553
Prior to the start of the 1984-85 season, Sather would shake things up as he was prone to do, sending Linseman to the Boston Bruins for Mike Krushelnyski. It was a move that would ultimately benefit both organizations but one could argue his arrival in the summer of 1982 was the most important trade Sather made during that time period and it played a big role in helping this team reach Peter Pocklington's goal of hoisting the Stanley Cup within five years of joining the NHL.