Stories of overcoming long odds are always the best. San Jose's Kevin Labanc has a story of his own that's just starting to take shape.
The former Barrie Colt great finds himself these days on the Sharks' top line playing to the right of Logan Couture. That's not bad for someone who originally came into the league as a sixth-round draft pick. A total of 170 players heard their name on draft night in 2014 before Labanc heard his.
The Sharks took Labanc 171st overall after compiling 35 points in 65 games for the Colts in 2013-14. While these numbers seem underwhelming, Labanc enjoyed a nice playoff run that season. In 11 games, he scored three goals and seven points. Those watching him could tell he had another gear to his game.
Good thing the Sharks thought that as well.
Labanc exploded the next two seasons for the Colts scoring 107 and 127 points. He added 26 points in 15 playoff games in 2015-16. He became one of the best forwards in the entire Ontario Hockey League and paid off the Sharks' trust in him in a huge way.
After spending time with both the Sharks and the San José Barricuda the next two seasons, Labanc now has exactly 100 NHL games under his belt. He has 14-33-47 in those 100 games and is a +4. He has a career-high 21 assists this season.
We caught up with Labanc after the Sharks' morning skate in Columbus to discuss a variety of topics including the season to date, how he overcame long odds to get to this point and we get the inside scoop on his epic Twitter handle.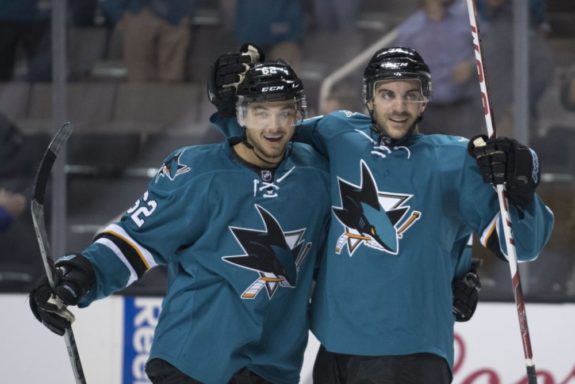 Q&A With Kevin Labanc
THW: The race to the playoffs is so tight these days. Does every game you play these days feel like a playoff game?
LaBanc: Yeah, I mean every game is just so tight. Every game counts. You don't want to waste the points. You gotta really come to play every night. There's no nights off.
THW: You are in the midst of three games in four nights and tonight is your third game of a five-game road trip. Just how crucial are these games for you given where you're at in the standings?
LaBanc: It is really important. We need those two points to better ourselves in the standings and to make ourselves feel comfortable later in the season. We gotta come ready to work.
THW: Your team obviously misses Joe Thornton. What part of his game do you feel you miss the most?
LaBanc: He's such a good, all-around player. He creates offense and he's great defensively. But it's that offensive production. You can't replace that. He's just so skilled and that experience to say you know what, we're ok here. We'll just get back to work here. We'll get one, we'll get two and we'll be on a good start.
THW: So you are in your second full season with the Sharks. You already have a career-high in assists. What do you think is working so well for you?
LaBanc: I'm just feeling more comfortable. The longer you play, the more comfortable you feel being out there. Things just start to slow down for you. You're not as nervous with the puck. You feel confident. I'm experiencing that now.
THW: I really love your story from the time you were with the Barrie Colts. (The Sharks) made you a sixth-round pick. Looking back at your career, what do you feel like you had to overcome to go from a sixth-round pick to now playing on the top line for the San José Sharks?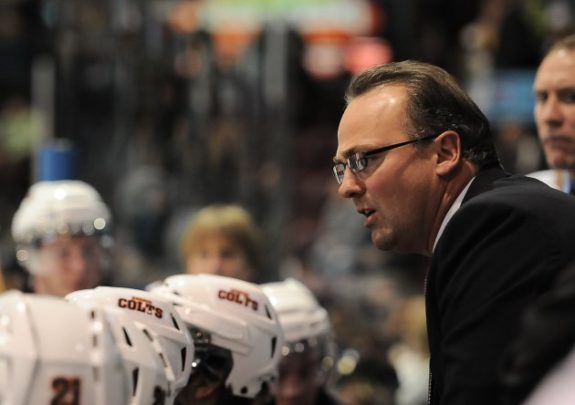 LaBanc: Just my work ethic. That's what I was doing when I was back with Barrie. I was working hard. They have a great coach there too in Dale Hawerchuk. He taught me a lot about the game. He's a hall of famer and he knows so much and he's so knowledgeable. You just learn so much by looking and listening. That's what I did. You gotta learn everyday otherwise once you stop, things start to go downhill.
THW: Who's really mentored you in the room to help get acclimated to the league?
LaBanc: Goodness, there's so many guys you could say (Joe) Pavelski, (Tomas) Hertl, (Logan) Couture. Jumbo is obviously, probably the one because he's been in the league the longest and he's had the most experience. He knows what it takes to become the player that he is.
THW: So my last question for you, Twitter handles (Labanc starts laughing.) @str8tothebanc is one of the best ones. Where did this handle come from?
LaBanc: I think it was a 50 cent song. It started with that then one of my buddies just said to make that your Twitter account. I was like alright. He made it for me. I was like alright let's just stick with it.
Coach Peter DeBoer's Thoughts
Sharks' head coach Peter DeBoer said today that LaBanc "is a special offensive player." But he adds that the 5-on-5 game is a work in progress. That's expected for someone who is a power-play specialist and gifted offensively. While he still has areas of the game to learn, LaBanc is earning the trust of the coaching staff and continues to show improvement in key areas of his game. Playing on the top line is a testament to how far he's come.
LaBanc and the Sharks hope to get back to the winning way Friday night in Columbus. We thank him and the Sharks for his time in talking with us.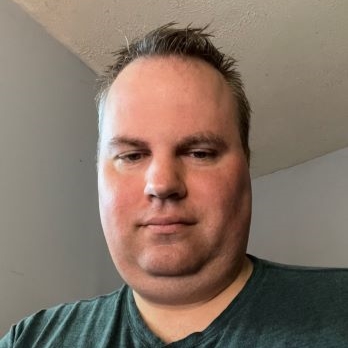 I am a fully credentialed writer who covers the Columbus Blue Jackets, Cleveland Monsters and Erie Otters as well as the Ontario Hockey League and NHL Draft. The 2022-23 season will mark nine seasons with the Hockey Writers. I am also the site's Credentials Manager. Please take note of the updated Twitter handle: @mark_scheig.