LEAFS DAILY:
The Leafs beat the Bruins in overtime Tuesday becoming the last team in the NHL this year to beat a team in their own division. They still haven't done it in regulation but, that's just part of a solid rebuilding strategy!
The Leafs played the Devils last night, and they eked out a shootout win after a very late goal by Tyler Bozak tied it up. You can't count on much, it seems, but you can pretty much always count on two NHL constants: the Leafs will miss the Playoffs and the Devils will be the most boring team to watch.
Draft Watch
The Leafs currently sit in 28th place. They have a record of 19-22-9. The Oilers, Blue Jackets and Sabres occupy the coveted spots below them. Edmonton and Buffalo are tied with Toronto at 47 points, but both teams have that low mark with two more games played than Toronto. Columbus has 43 points and has played three extra games.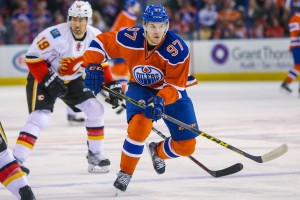 Unfortunately, Montreal, Vancouver, Calgary and Winnipeg all seem to be in contention for last place as well.
If you saw the goal by Connor McDavid on Tuesday in his return to the lineup, you know that no one on the Leafs can possibly make that play. We also know that the lower the Leafs finish, the greater chances of getting Auston Matthews. Now, he probably isn't as good as McDavid, but if he is even "just" the Sakic to McDavid's Lemieux, then the Leafs have to lose and they have to lose a lot.
Might I suggest replacing Babcock just temporarily with Ron Wilson? Just for the rest of the season?
Kevin Shattenkirk
For reasons discernible only to those running the St.Louis Blues, Kevin Shattenkirk has been a featured name on the trade rumor circuit all season long.
In a league where it seems obvious that good right-handed defensemen are extremely rare, it belies all common sense to think such a player would be available. But if it's true, the Leafs need to take a run at him.
On pace for his fourth straight full season exceeding 40 points, and having just turned 27, Shattenkirk is clearly one of the NHL's best defenseman. The fact that he's right-handed and has never been a negative possession player only reinforces this point.
Shattenkirk may seem old for the rebuilding Leafs, but I don't think he is. The fact is, you must have players of all ages to compete. A lineup stacked with only young players is a nice thought, but realistically a balance of ages seems to be a requisite building a winning team. Shattenkirk will be 32 if the Leafs' "five-year rebuild" actually takes five years. If that's the case, getting him is not a good idea.
However, the Leafs have William Nylander, Mitch Marner, Kasperi Kapanen and Morgan Rielly. They also have James Reimer, James Van Riemsdyk, Nazem Kadri, Jake Gardiner, a probable top-5 draft pick and a very impressive collection of "B" prospects.
There is no way that collection of players takes five years to be good. With Mike Babcock at the helm, it's not impossible the Leafs are a playoff team next season if Nylander and Marner are immediately effective at the NHL level.
If you believe in that scenario, then adding Shattenkirk is an easy decision. He'd provide the Leafs with veteran leadership and an older presence. His puck-moving, possession-driving game would mesh beautifully with how the Leafs are trying to play under Babcock. More importantly, when paired with Gardiner, they would make one of the best shot-suppression pairings in the NHL.
Add in Morgan Rielly, and suddenly the Leafs have three above-average top-pairing defensemen. If any of Scott Harrington, Stuart Percy, Travis Dermot or Martin Marincin turn out to be quality NHL players, the Leafs will have — at the beginning of their rebuild — a very solid group of defensemen.
I think they should make it happen.
Thanks for reading.
RELATED: The Maple Leafs Trade Deadline Plan
All advanced stats via War on Ice.
Covering the Leafs for the Hockey Writers.