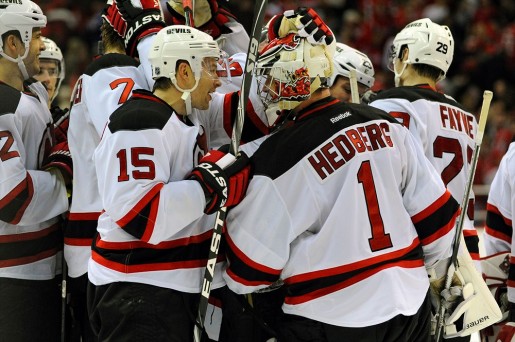 The New Jersey Devils posted a record of 9-5 in December to help them get into the Eastern Conference playoff picture, and they currently sit in eighth place with an overall record of 21-15-2 for 44 points.
Several key trends emerged during the Devils' successful December and will become a part of whether or not they will hang on to their playoff spot. There are also some players who will need to continue producing points if New Jersey is to prevent any sort of setbacks in January, as they started 2012 with a 3-2 overtime loss to the Ottawa Senators on Monday.
Here is a look at what contributed to the Devils' record to close 2011 and what the team will have to do going forward to ensure they don't fall out of playoff position.
Special Teams
The Devils allowed shorthanded goals in four games in December, and this hurt them more than some things, as they went 1-3 when surrendering a goal on the man advantage. In total, they have given up 12 shorthanded goals, the most in the NHL.
Furthermore, they have the 28th-ranked power play in the league at 13.3 percent and have scored just 18 power-play goals, which is also 28th.
In an interesting twist, although New Jersey has one of the league's worst power plays, they went 5-1 in December when the unit scored at least one goal.
The power play may be bleak, but the penalty kill is the complete opposite, as they are currently first in the NHL with a 91.4 percent success rate. They have only allowed 12 power-play goals, the lowest total in the league.
Controlling the Game
The Devils have a penchant for coming back to win games after trailing after two periods, as they rank fifth in the NHL with a .250 win percentage when faced with this situation.
However, they struggle when holding the lead, as they only have an .857 win percentage when on top after two periods (16th in the league).
In December, they tended to let their opponents back into games late even if they pulled out the win. On Dec. 8, they were holding a 4-3 lead in the third period against the Ottawa Senators when Jesse Winchester scored shorthanded with five seconds left in regulation. This forced overtime, and eventually, a shootout.
Then, on Dec. 12, the Devils beat the Tampa Bay Lightning, 5-4, but it wasn't without drama. New Jersey held a 3-2 lead in the second period, but with 34 seconds left in the third, Steven Stamkos scored to pull within one and cause the 5-4 final.
In a pre-Christmas game with the Washington Capitals, the Devils were able to pull out another shootout win after surrendering three second-period goals, including two to Jason Chimera. New Jersey was leading 3-0 before this happened, and losing momentum like that is unacceptable.
Good teams do not let games slip away so easily or come so close to losing, and the Devils have to work on gaining momentum and keeping it.
Shootouts
New Jersey is 8-1 in shootouts this season. However, as mentioned previously, they wouldn't have to get to them in the first place if they had better control over the game.
There are no shootouts in the postseason, so if the Devils secure a playoff spot, it won't matter how they did in the glorified skills competition. It's time they try to close games in regulation or overtime, as they won't gain anything by stretching the game as far as it can go.
Defeating Playoff Teams
Most of New Jersey's December wins came against teams that are not currently in a playoff spot, as they defeated the Toronto Maple Leafs, Montreal Canadiens, Dallas Stars, Buffalo Sabres and the Lightning.
They only won three times against teams that are in the playoff picture: the Senators, the Capitals and the Pittsburgh Penguins.
In addition, they sustained three losses to teams who are currently fighting for a playoff spot. They had a 2-1 defeat against Montreal on Dec. 10 before winning against them, 5-3, on Dec. 7. The Devils also lost to the Carolina Hurricanes the day after Christmas, and the Hurricanes are in last place in the Eastern Conference.
While every playoff team will lose to a non-playoff team at some point, it doesn't look good if the majority of New Jersey's losses are coming against lower quality teams.
Key Players
David Clarkson
Clarkson has just 18 points this season, but he is leading the Devils with 14 goals. He had one two-goal game in December on his way to six goals,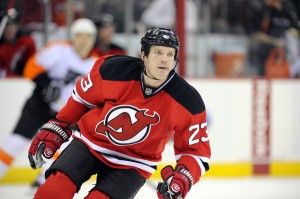 or close to half of his total. He is currently on pace for 30 goals and will need to keep up his production so starts like Patrik Elias, Ilya Kovalchuk and Zach Parise don't have to carry all the load.
He got off to a good start in January, as he scored in Monday's loss against Ottawa.
Adam Henrique
The first-year NHL player is currently third on the Devils with 28 points and had 13 points in the month of December (five goals, eight assists). He is also fourth in the NHL with two shorthanded goals.
Henrique has been a pleasant surprise this season on a Devils team that does not typically score a lot of goals, and his performance over the rest of the season can give Devils fans and management a taste of a potential future superstar.
Ilya Kovalchuk
Kovalchuk is currently living up to his mega contract, as he had 16 points (seven goals, nine assists) in December, which included five multi-point games. He is currently tied for second on the team with 30 points and is also third with 12 goals.
Kovalchuk has a bright spotlight on him and will be expected to continue performing and lead the Devils to the playoffs, particularly a series win, which he has yet to accomplish in his career.