Kiira Dosdall-Arena is an original Metropolitan Riveter, a six-year veteran that was on the team for puck drop of the National Women's Hockey League (NWHL) in 2015. The 33-year-old has been through every up and down on the journey of women's professional hockey in North America and where the league is today.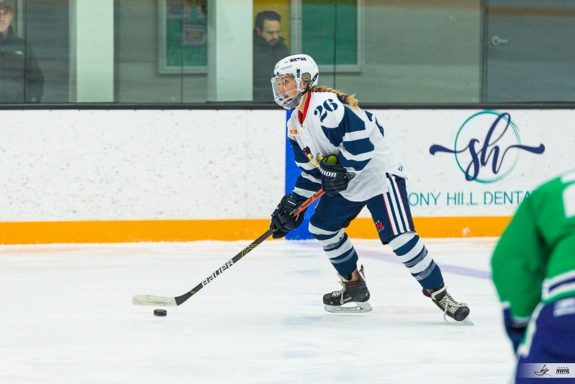 She has seen the excitement, the challenges, experienced the anticipation of being on a new team, receiving new equipment, the opportunity of getting paid at the professional level and forming a new brand of women's hockey. She went into Season 6 of the league alongside her fellow hard-working teammates, determined to bring her veteran mindset to the ice to hopefully propel the Riveters to another Isobel Cup.
Related: Let's Talk About the 2021 Metropolitan Riveters Captains
Although the 2021 NWHL "bubble" season was brought to an abrupt end for the Riveters, and then for the league, it was still one to remember. Dosdall-Arena played in all three games the team had in Lake Placid, and she scored one assist in the process. 
A Sport That Has Taken Her to Many Places
Her interest in hockey began when she was about three, when she tried on her older brothers' hockey equipment, and joined a boys team at five years old. She also played soccer, lacrosse, basketball and baseball while growing up in her hometown of Fairfield, Connecticut.  
Dosdall-Arena eventually went on to play for the Colgate University women's hockey team, her father's alma matter in hockey as well, serving as captain her senior year. When she graduated in 2009, there was not many options for her to continue her career, so she moved to Vienna, Austria, to play for the Vienna Sabres of the European Women's Hockey League (EWHL) while her stellar defensive game continued to develop and shine.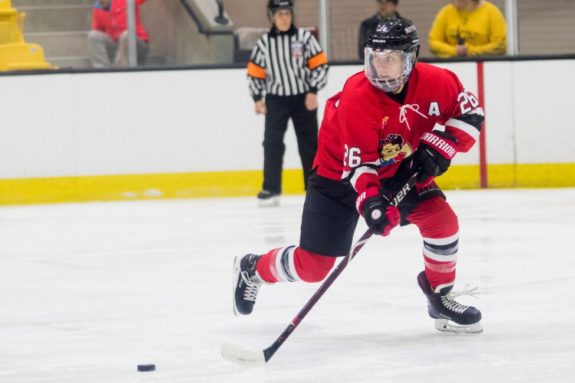 "The opportunity to be introduced to a different culture and make real lifelong friends from another country was just amazing," Dosdall-Arena said. "Not to mention the ability for hockey to take me to so many new countries that I would've otherwise not traveled to, that was something I was grateful for every second of the way."
In her four years with Vienna, she visited 16 countries around Europe and made countless companions. Of these new friends is fellow NWHL forward Janine Weber of the Connecticut Whale, a native Austrian who roomed with Dosdall-Arena during her time there. 
From the Beginning to the Present
Dosdall-Arena has seen everything with the league from its start in 2015. She has been through the suspense of "What's going to come next?" for the league, the eagerness to win an Isobel Cup and the long, intense days of training on the ice to work towards a championship team. 
As the continued uncertainty of the COVID-19 pandemic blankets the world, she had a positive approach to this season, seeing it as an opportunity to take advantage of the time the team has on the ice together. She was able to work hard and instill her skilled palette into the new young defenseman at Herb Brooks Arena and contribute to the Metro's two wins. Although the goal was to bring another Isobel Cup to the Riveters, something she won with them in 2018, there are still more seasons to work towards this.  
Dosdall-Arena knows first-hand the drive it takes to be a part of the Riveters. She has been an essential part of the team's defense, consistently keeping the puck in the zone and fighting hard to keep it there; and she's racked up four goals and 22 assists in the process. She has seen the NWHL accomplish tremendous feats in women's hockey each year with their own growths and challenges. Their Dunkin' sponsorship, Twitter verifications and growing influence every day could not be possible without what she calls amazing players and staff.
"Just the pride that you feel when you put on the jersey," Dosdall-Arena said. "I'm so proud of this franchise in general, of our team, our identity that we've built over the last five-plus years. I think our logo is such a great symbol of who we are as a team. I really do think that our identity of being a tough, hardworking but respectful group of players has been consistent for the most part over every single season."
An Outlet and Important Part of Her Life
She is thankful to have hockey as a place where she can get away from the craziness and just focus on determined play and the sport that embodies her life. If you cannot find Dosdall-Arena cooking up whole wheat zucchini chocolate chip bread, hiking with husband Pete around the Northeast, at her day job as a Customer Success Manager at LinkedIn Learning or rollerblading with former Rivs Kelly Nash and Erika Lawler in the streets of Brooklyn with the Brooklyn Bladers, you'll be sure to find her on the ice. Time will tell when the league will be able to play a regular season and if she comes back for a seventh one with the Riveters.
---
---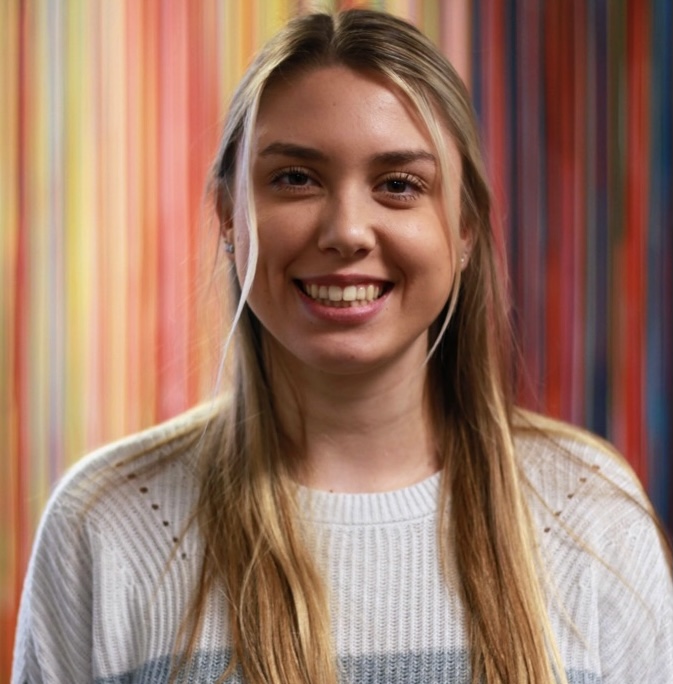 Sam is currently Managing Editor, and used to be Sports Editor, of The Montclarion, Montclair State University's student-run multimedia newspaper. She'll be earning her Sports Media and Journalism degree from there in Spring 2021. A hockey fan since she was a young girl, she covers the Montclair State men's team as well as the Metropolitan Riveters and New Jersey Devils for The Hockey Writers.