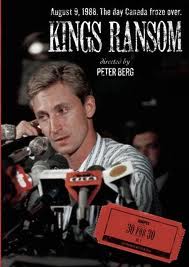 ESPN turned 30 in 2009 and to celebrate they launched "30 for 30," a series of sports documentaries that take viewers behind the headlines of some of sports' greatest stories. The series debuted on ESPN in October 2009 with "Kings Ransom," an in-depth look at the trade that ended Wayne Gretzky's time with the Edmonton Oilers, making him an L.A. King. Last month, in August 2012, Netflix began offering the titles in the U.S., a few weeks later Amazon Prime began offering the series as well making it available to a wider range of viewers.
If you're not familiar with "30 for 30" you're missing out. The series offers 30 sports documentaries directed and produced by renowned Hollywood filmmakers. Bill Simmons sums up the concept in this essay. Simmons explains that the entire series started with a simple e-mail he wrote to his bosses at ESPN, this was his hook:
We should produce documentaries about 30 stories from that 30-year time frame (the 30 years ESPN has been around), but with a slight catch. It can't be "SportsCentury: 30 Years of ESPN." We already did "SportsCentury." This needs its own wrinkle. So what if we imported a few well-known Hollywood filmmakers and give them complete creative control?
Peter Berg, one of the stars of "Chicago Hope" and the director of "Hancock" and "Battleship," directed and produced "Kings Ransom." Berg and Gretzky have been friends since 1990 when they met playing a softball tournament together. Berg had grown up playing hockey and claims to have been a Kings fan even before Gretzky came to town (if such a thing existed). He has his own memories of the day the Great One was traded:
We were big hockey fans and very sort of frustrated because the Kings were so horrible, and the market was just so nonexistent. So my friend called me kind of screaming, "We got Gretzky.  We got Gretzky."  And I thought he was joking
(Craveonline.com http://www.craveonline.com/tv/interviews/142548-peter-berg-on-kings-ransom)
"Kings Ransom" is a must watch for any hockey fan, really for any sports fan in general. Berg does an incredible job of stitching together archive footage of the Great One's time with the Oilers, news reports, headlines, interviews, and Gretzky's press conference in Edmonton when the trade is announced, all of which has the effect of transporting viewers back into that precise moment in time. Berg makes you feel what Oilers fans felt at their highest point, winning four cups in five years, and then at their lowest, when the trade is announced.
The films contains exclusive interviews with Gretzky, Peter Pocklington (former owner of the Oilers), Bruce McNall (former Kings owner), who each recount their memories of how the trade came to be. Oilers GM Glen Sather gets his say, and no, he wasn't happy about the deal. Luc Robitaille and Marty McSorley talk about what it meant to have Gretzky join the Kings.
Janet Jones Gretzky talks about her and Wayne's marriage in Edmonton that same summer and the backlash she felt over his trade to Hollywood. The film also gives viewers a close up look at Wayne and Janet's wedding with never before seen footage of the event, dubbed "Canada's 'Royal Wedding'" by the media.
As brief as it is, Berg's interview with Walter Gretzky, Wayne's father, provides some of the most powerful moments of the documentary. The images from Wayne's childhood home are worth the price of admission alone: a beat up net with water bottles hanging from the corners for target practice, a wooden wall with plenty of black rubber marks and more than a couple of holes, a lonely pile of pucks, and Walter walking around his yard uprooting weeds, showing off the work ethic that helped mold hockey's greatest legend.
During the interview, Walter admits he knew the last time that Wayne hoisted the cup on May 26, 1988, would be the last time he would ever play in an Oilers jersey. Although his son refused to believe him, Walter told Wayne he was "going to the highest bidder."
August 9, 1988 is a day that will live on in infamy for every Oilers fan. "Kings Ransom" portrays in stunning fashion just what that day meant to the Gretzky family, the cities of Edmonton and Los Angeles, and the hockey world as a whole. Berg manages to tell every aspect of the story, perfectly capturing the dejection of Oiler fans, the sheer excitement in L.A., as well as Gretzky's personal struggle and his lasting ambivalence over the "Trade of the Century."