In the spring of 2012, it seemed to come out of nowhere. An eighth-seeded team that made a coaching change to the stern Darryl Sutter midway through the year, the Los Angeles Kings suddenly steamrolled through the playoffs and found themselves in the Stanley Cup Finals before anyone could fully grasp what had happened.
After dispatching of the New Jersey Devils to seize their first Stanley Cup championship in franchise history, reality began to set in for Los Angeles. Except, this reality was not about a team that squeaked into the playoffs coming back down to earth. No, this reality was that the Kings were a complete team, and a team that had finally played to its potential (helped of course by the hiring of Sutter and a trade deadline deal for Jeff Carter, to add more scoring depth).
Fast-forward to 2014, with the Kings overcoming a 3-0 first-round series deficit against the San Jose Sharks, defeating the Anaheim Ducks and Chicago Blackhawks in two grueling seven-game series, and then winning the Stanley Cup over the New York Rangers in a closely contested five-game series. Much of the same nucleus from 2012 was here for this Cup win as well. This time, though, the Kings were even more complete, even more balanced, and even harder to play against.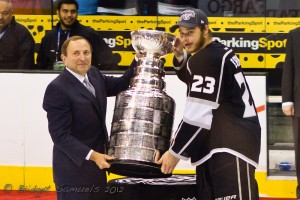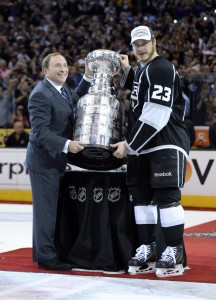 The Core Is Here to Stay
This is a team that has just the right mix of veterans and youngsters, plays hard defense without sacrificing speed and scoring (at least in this past postseason, where Sutter  found an optimal lineup that featured young up-and-comers Tyler Toffoli and Tanner Pearson), and then (oh, yeah), has Jonathan Quick between the pipes for when things get dire.
The Kings will have their core in place for a long time, and when key role players depart via free agency and salary-cap driven trades or buyouts, Los Angeles will have youngsters ready to step into important roles.
First and foremost, the Kings are in solid shape with respect to their core players who have now been a part of two Stanley Cup championships. Of these players, everyone is locked up for at least two more years. Out of key pieces Anze Kopitar, Drew Doughty, Jonathan Quick, Dustin Brown, Jeff Carter, and Conn Smythe winner Justin Williams, Williams is the closest to potential UFA (unrestricted free agent) status, after next season. The Kings will likely look to retain him, even if a slight raise from his current $3.65 million salary is required.
While these other names are locked up for the long haul, Kopitar could become a UFA in 2016. Kopitar, still only 26 years old, led the league in points during this year's playoffs (with 26) and is signed at a manageable $6.8 million cap hit through the 2015-16 season. Kopitar also led the entire NHL (among players with at least 30 games played) in On-Ice Corsi per 5-on-5 60 minutes this past regular season. Expect Los Angeles to lock up Kopitar before he hits UFA status, although they will likely have to take a cap hit of closer to $8 million per year. That said, for the all-around, two-way player that Kopitar is, that number will be well worth it.
The Kings' only UFAs from their main roster are veteran defensemen Willie Mitchell and Matt Greene (and recent reports say the Kings have essentially completed a new four-year contract with Greene), and forward Marian Gaborik. Forward Dwight King is also a restricted free agent. Assuming he re-signs for around $2 million-$3 million per year, that would leave GM Dean Lombardi and the Kings with just enough cap space to try to squeeze in Gaborik (factoring in Greene's new deal).
One would have to assume that the Kings have interest in bringing back Gaborik, who had terrific chemistry with his line-mate, Kopitar, after coming over from Columbus in a deadline deal. His 14 playoff goals led the league, and he—along with the emergence of Toffoli and Pearson—was a big reason why Los Angeles solved its scoring woes from the majority of the regular season. Given his re-discovered scoring touch and how vital he was to the Kings' run, expect Gaborik to still be asking for around $6 million – 7 million per season.
If Gaborik joins Greene in re-signing, L.A. would likely be unable to retain the 37-year-old Mitchell. Even so, the Kings would still have a solid  defense with Doughty, Jake Muzzin, Slava Voynov, Greene, and Stanley Cup hero Alec Martinez. Veteran Robyn Regehr, 34, would seemingly round out the top 6. Nevertheless, opportunities could be had for seventh and eighth defensemen on the roster. This is where the Kings can look to some of their up-and-coming prospects and get them ready for bigger roles down the road.
Kings in the Making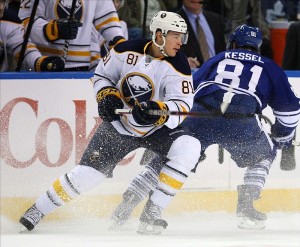 23-year-old defenseman Brayden McNabb is one of the top candidates to land a spot on the Kings' roster for 2014-15. Before being traded to Los Angeles in March, McNabb had seen limited NHL action with the Buffalo Sabres, with 1 goal and 7 assists in 37 career games. At 6'5", 200 lbs., McNabb could probably stand to bulk up a bit and become even more of a physical force, but he is nevertheless a player who can be used in all situations. Slotting into L.A.'s third defense pair, be it in the case of injuries to other players or filling in for offseason departures — would be a good way for McNabb to come in and show which of his skills translate best to the NHL level.
GM Dean Lombardi made a point and this past year's trade deadline to acquire a young defenseman who could make a major impact in the NHL down the line, to help shore up the Kings' prospect talent at this position and thus add to their well-rounded pool of young players. Lombardi has high hopes for McNabb.
"He's got to work some on his fundamentals and his reads, but he has a lot of the attributes that we value and has a chance to be a top-four guy," said Lombardi, back in March. "And with that, he's got some snarl. So this was a guy we had highlighted. And I think you've heard me say this before, even seven years ago, about defenseman – and actually I think it has gotten worse – that it's very difficult to get the top four defensemen."
Other defensemen in the Kings' pipeline to keep an eye on are Derek Forbort, a 2010 first-round pick with some strong skating and decision-making abilities, and recent St. Cloud State graduate Kevin Gravel. Gravel will be closely monitored as he transitions to the AHL and looks to further develop his rock-solid defensive game.
Looking at forwards, center Linden Vey is someone who could be poised to earn a roster spot with the big club next season, although the Kings' depth will make it difficult. Vey, who led the Kings' AHL affiliate Manchester Monarchs in scoring in 2012-13 with 67 points in 74 games, appeared in 18 games for L.A. this past season after Jeff Carter was placed on injured reserve. Vey also had 48 points in 43 games for the Monarchs.
While the center position is perhaps the Kings' greatest strength, Mike Richards has quite a big contract for a fourth-liner (his cap hit is $5.75 million per year through 2019-20) and had been rumored to be bought out before the June 30 deadline. However, it's been reported that the Kings will NOT be moving forward with buying out Richards, according to the LA Times, as they want to give the 29-year-old a chance to return to the high level at which he played with Philadelphia. Lombardi noted that the former 80-point player will have to "make some adjustments in his offseason training."
Of course, Richards plays on the fourth line not only because of his recent decline in offensive performance, but also because of the Kings' great depth at the center position. Bringing this all back to Vey, this might mean that the youngster will have to play a wing position or be on the roster as an extra forward. No matter the case, the Kings should give Vey a long look for the 2014-15 season. He is a skilled, gritty player who projects to have success contributing to the Kings' penalty kill and in making plays off the rush, as evidenced below:
Skilled center Jordan Weal, a 2010 third-round pick, is another player who is quickly escalating in the Kings' system. While his rookie year in the AHL did not yield high offensive numbers, this past season saw the Weal accumulate 70 points (23 goals, 47 assists)—a massive improvement over his 33-point campaign in 2012-13. At 5'10" and 171 lbs., Weal will need to continue to produce offensively in order to earn a spot in the NHL, but given his rapid ascent in just one year, that certainly seems possible for him.
Another prospect who could make a splash for the Kings in the near future is skilled right winger Valentin Zykov, who has played the past two seasons with Baie-Comeau Drakkar in the QMJHL, has a strong combination of skill and tenacity, and is not afraid to take the puck to the net. As he transitions to the AHL and looks to refine his skating and overall game, Zykov could quickly become an intriguing offensive weapon for the Monarchs and ultimately for the Kings.
With a balanced lineup of skill, grit, speed, size, youth, and experience, the Kings are here to stay as an NHL powerhouse. Not only are all of these elements there, but the team chemistry will remain largely intact for years to come. When there are vacancies, Los Angeles has enough pieces—some of whom have already begun to showcase their talents at the NHL level—to come in and flourish within the team's rock-solid structure. More pieces will also be added during the upcoming draft, so things continue to look royal for the Kings.