A timeline to start us off:
Tuesday, May 13th:
Penguins lose Game Seven at a home to the New York Rangers 2-1, after holding a 3-1 series lead thanks to back-to-back shutouts from Marc-Andre Fleury in games two and three.
Friday, May 16th: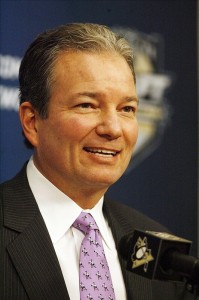 Ray Shero is dismissed as Pens' general manager after holding the position for 8 seasons. Shero built a perennial playoff contender, reaching the Stanley Cup Final in 2008 and winning the Cup in 2009.
Dan Bylsma is retained by ownership and upper management (team president and CEO David Morehouse and COO Travis Williams) in what can only be considered a shocking turn of events.
PIT will announce this morning GM Ray Shero and head coach Dan Bylsma have been fired. #TSN

— Bob McKenzie (@TSNBobMcKenzie) May 16, 2014

(to McKenzie's credit, he later apologized for the tweet and admitted that he was wrong, but also saying that these kinds of things are changing constantly.)
Co-owners Mario Lemieux and Ron Burkle sit down for a candid, no-holds-barred interview with columnist Dejan Kovacevic of the Pittsburgh Tribune Review.
Friday, June 6th:
Former Carolina Hurricanes' GM (and then part-owner) Jim Rutherford announced/introduced as the new Penguins' Executive Vice President and GM.
Jason Botterill, former assistant GM under Shero, promoted to associate GM.
Former Special Assistant to the GM Tom Fitzgerald and current player development coach Bill Guerin each named assistant general managers.
Dan Bylsma officially relieved of his duties as head coach after a three-week "limbo" period.
Thursday, June 12th:
Jason Karmanos hired as Vice President of Hockey Operations. Karmanos had previously served under Rutherford in Carolina. His primary focus with the Penguins will be analytics.
Thursday, June 19th:
"The process is coming to an end," said Rutherford, who has made a decision on one of eight candidates to interview for the opening.

"I'm still checking a few points with the lead candidate, but a decision is coming real soon."
Friday, June 20th:
The Tribune Review's Penguins' headline read:
"As top target balks, Penguins' coaching search continues"
The Ever-Quotable Jim Rutherford
I've held nothing back regarding my feelings on Bylsma's firing and how it was handled.
The thing that boils my blood the most is what new GM Jim Rutherford essentially admitted to during his introductory press conference:
"With the information that I took from ownership and with the understanding of what has taken place here, we determined that it was time to go in a different direction with the coach. What the ownership wants here is a complete change in direction, one with the general manager and one with the coach. So we met with Dan (Bylsma) this morning and told him and the timing of it was good because he is a good man and a good coach. I really don't know him very well and I only talked to him briefly this morning, but the timing is good because there are coaching vacancies and it is not going to be long until he coaches again in the league."
Through his meetings with ownership, he was told what was wanted was a complete change in direction. In total contradiction to what Morehouse had said three weeks prior in the press conference relieving Shero of his duties:
"The decision is to have a new GM come in and do a complete evaluation (of) the entire hockey operations department, including the coaching staff."
A complete evaluation? When exactly did that take place? From what I can tell from the above two quotes, Rutherford was basically told to go out there and announce to the world that he had fired Bylsma, when in reality it was ownership and upper management who had made that decision.
Okay. Perhaps a simple slip of the tongue on Rutherford's part. Understandable, he was just handed a new job and had just been to the dermatologist the day before (he looked pretty roughed up during his initial presser).
Roughly a week or so after his hiring, in a conversation with Josh Yohe of the Trib, Rutherford exclaims that he has reached out to certain players, but doesn't seem to have the correct phone numbers.
Huh?
C'mon man. You're the general manager of a hockey team. Somewhere, someone left over from the Shero/Bylsma era has these phone numbers. And it's not like the guys rushed out after learning of your hire and changed their numbers so as to avoid you.
Then, just last Thursday, well you saw the quote above from the Rossi article.
He essentially announced to the world, through the PENGUINS' MOST TRUSTED BEAT WRITER that he was hammering out a few last details with his top guy, and a decision would be coming soon.
The Dumpster Fire
I'm not taking credit for this term as it pertains to the Penguins' current state. You can thank Twitter for starting it, and 105.9 The X's Mark Madden for promoting it.
While I (and I'm sure the majority of Pens' fans everywhere) appreciate this new-found transparency, it's becoming clear that Rutherford should probably stop talking to the media at this point.
Many of us feel that his very open comments regarding the Penguins' coaching search have damaged the team's overall image within the public eye. That, coupled with the (once again) butchering of Bylsma's firing, has made this coaching vacancy look less and less appealing.
Now what we're left with will be a coach that presumably will be Rutherford's (and who knows who else's) "last resort" choice. Bill Peters, former assistant in Detroit under Mike Babcock and new Carolina Hurricanes' head coach, was rumored to be the front-runner before accepting the job in Raleigh.
The coach being referenced in the above article by Rossi is Willie Desjardins, former Dallas Stars' assistant and Texas Stars' (Dallas' AHL affiliate) head coach. He just won the Calder Cup in the AHL with Texas.
We've been fed a plethora of names to fill the Pens' coaching vacancy: John Hynes (Wilkes Barre/Scranton head coach), Ron Wilson (former head coach of four different NHL teams), Mike Keenan (currently coaching in the KHL in Russia, led the New York Rangers to winning the Stanley Cup in 1994), Ulf Samuelsson (current Rangers' assistant and former assistant under Wayne Gretzky in Phoenix), the aforementioned Desjardins and Peters, and Marc Crawford (won the Cup with Colorado in 1996, also coached Vancouver, Los Angeles and Dallas).
Rutherford whittled down his list to two men, and they both chose other directions to take their careers.
Is that a red flag?
Only time will tell. Rutherford still has a chance to get this right. It's not quite a dumpster fire.
Yet.
One last note:
I caught whiff of a rumor last night that Rick Tocchet, whose name just keeps surfacing for an assistant coach role with the Pens, was hired last week by associate GM Jason Botterill when Rutherford thought he had Desjardins. This was done by Botterill at the behest of Rutherford for obvious reasons (you can't hire an assistant coach without having a head coach in place first). Again, Tocchet's name seems to be on everyone's radar in some sort of capacity with the Penguins (including mine), as he is perceived to be the "bad cop" with which the roster needs to deal. If this is true, and that is a BIG IF, then this would prove the "too many chiefs, not enough indians" theory, and it would pose an enormous problem for a franchise that seems to be coming apart at the seams.