Beginning with tonight's game against the Buffalo Sabres, the Los Angeles Kings will embark on a season-long nine-game road trip, starting in the east and working their way westward. It could be a make-or-break swing, as at 14-11-2 as of this writing, the Kings are fifth in the Pacific Division and in a dogfight for a wild card spot. A good trip keeps them in the thick of things, while a bad one could put them in a very difficult spot at nearly the halfway point of the season.
Although it appears to be early to be making those types of suppositions, it's really not. A third of the season is now gone, and the calendar will be just about to turn by the time the Kings play another game at Staples Center. With the rise of the Edmonton Oilers and the Calgary Flames, the Pacific promises to be a dogfight all season long. Los Angeles can't afford to wait too long to kick things into high gear.
With all that said and in the spirit of the Christmas season, the following are five things Kings fans wish for — besides wins, of course — during the upcoming road trip.
Special Teams Improvement
It was heartening to see the Kings score three power-play goals in four chances against the Ottawa Senators last Saturday. That improved the team's power-play efficiency to a still-weak 16.5 percent, good for 19th in the league.
With Los Angeles employing perhaps the most structured systems in the league, it's imperative that they perform at a reasonable level with the man advantage. Last year, the Kings operated at a 20.0 percent clip.
As for the penalty kill, the Kings sit 19th in the league in that department (81.1 percent), slightly lower than last year's 81.4 percent rate.
Anze Kopitar Becoming More Aggressive
Through 22 games, $14 million center Anze Kopitar has two goals. Two goals! Unfortunately, that's not a misprint.
Granted, he's not shooting well at 4.3 percent, but he's also not shooting much at all. His 47 shots ranks just seventh on the team, far from what you expect from your franchise centerman.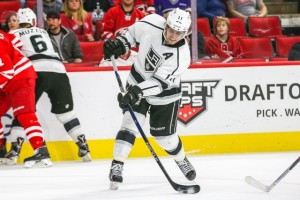 While not exactly a new problem, it nevertheless rears its head too often to ignore. For the Kings to succeed, they need their captain — who is well capable of scoring 25 goals, as he's done seven times during his career — to put the puck on the net.
Erasing the Scoring Imbalance
Hardly a problem unique to Los Angeles, scoring depth has been on head coach Darryl Sutter's wish list for quite some time. Jeff Carter leads the club with 12 goals, with Tanner Pearson on a 20-goal track (7) through 25 games. Everyone else is well behind that pace, including the previously mentioned Kopitar.
Tyler Toffoli has just five goals, but at least he's firing the puck at the goalie, so you know he's going to break out eventually. Marian Gaborik recently returned from injury, but has shown signs of decline since his 27-goal season in 2014-15, so it's hard to count on a bounce-back.
Bottom line: with all due respect, when Trevor Lewis and Dwight King are among the team leaders in goals at the 1/3 mark, you know there's a problem.
Young Legs
The Kings were built with an emphasis on puck possession, not speed. With that understood, there are nights they look a lot slower than the opposition.
While not compromising what made them the league's best possession team over the past five years, Los Angeles needs to find a way to interject more speed into the lineup.
A Nod to Creativity
On the one hand, you can't be too critical of proven systems that have led to the rise of the once-moribund Kings, winners of two of the past five Stanley Cups. On the other, watching them dump-and-chase all game long can sometimes test one's patience. Perhaps paradoxically, it would be mighty satisfying to see more creativity on offense.
As mentioned previously, one imperative is getting Kopitar in positions that allow him to play a bigger role offensively. Even discounting the goal drought as an anomaly, he has just 14 points in 22 games, far below his near point-per-game career pace. The league is evolving, and without throwing the baby out with the bath water, so must the Kings.
Whether you cross your fingers, snap a wishbone, or hunt for a shooting star, your Christmas wish list should include a successful road trip for the Los Angeles Kings.