No team has won back-to-back Memorial Cups since the Windsor Spitfires in 2009 and 2010. But in 2017, the same year the Spits will host the tournament, the London Knights are in an excellent position to break the slump.
Last year, Mitch Marner, Christian Dvorak, and Matthew Tkachuk scored an astounding 119 points in just 54 playoff games. Their dominance led the Knights to their 5th Memorial Cup appearance, and Tkachuk's goal in overtime against the Rouyn-Noranda Huskies earned London its 2nd championship.
Today, Marner leads the Toronto Maple Leafs in assists. Tkachuk is fourth in the league in penalty minutes (and third on his team in scoring). And Dvorak has started to find his feet on a struggling Arizona Coyotes team.
But even without their top three, the Knights sit in second place in the Ontario Hockey League standings. And after a busy trade deadline, the team looks poised for a repeat.
Trade Deadline Acquisitions
The London Knights, like many contending teams over the years, threw their draft picks to the wind to secure short-term, high-end talent. With Windsor picking up speedy forward Jeremy Bracco and Erie securing talented Anthony Cirelli, the Western Conference is loaded with teams capable of making long playoff runs. So, how did the Knights keep up?
Dante Salituro
London picked up forward Dante Salituro from the Ottawa 67s the day before the deadline. Defenseman Chris Martenet, a third-round pick in 2018, and a second and 15th pick in 2021 headed to the nation's capital in return.
Salituro is a former 38-goal, 83-point player in the Ontario Hockey League. This year, he's been splitting time with last year's Calder Cup champion Cleveland Monsters in the AHL, and the Norfolk Admirals in the ECHL.
Playing in London has treated him well so far; he's scored two goals in his first three games.
More importantly, he's fast, smart, and great around the net. He can be relied on to score goals down the stretch.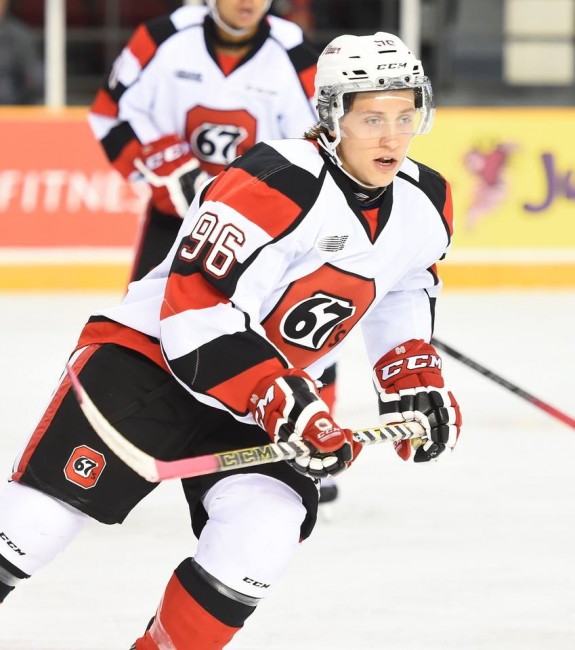 Mitchell Stephens
Maybe the biggest move of the day for London was adding a former captain to the team. The Knights acquired high-flying Mitchell Stephens of the Saginaw Spirit, but he didn't come cheap.
This time, it was second-rounders in 2018 (two), 2019 and 2020, and third-round picks in 2017, 2019, and 2021. But the young talent will be well worth it.
If you're a fan of hockey and live in Canada, Stephens will need no introduction. The former Saginaw Spirit forward scored five points in five games for Canada at the World Juniors.
The Tampa Bay Lightning second-rounder will be counted on to play more of a defensive role in London moving forward, and his plus-2 plus/minus over the weekend is a good start. He will be counted on at both ends of the rink come playoff time.
Mitchell Vande Sompel
The Knights also scooped up London native Mitchell Vande Sompel from the Oshawa Generals. The point per game defenseman cost the Knights an arm and a leg: 2nd round picks in 2017 and 2019, and 3rd rounders in 2018 and 2024. Ian Blacker is also on his way to Oshawa in the deal.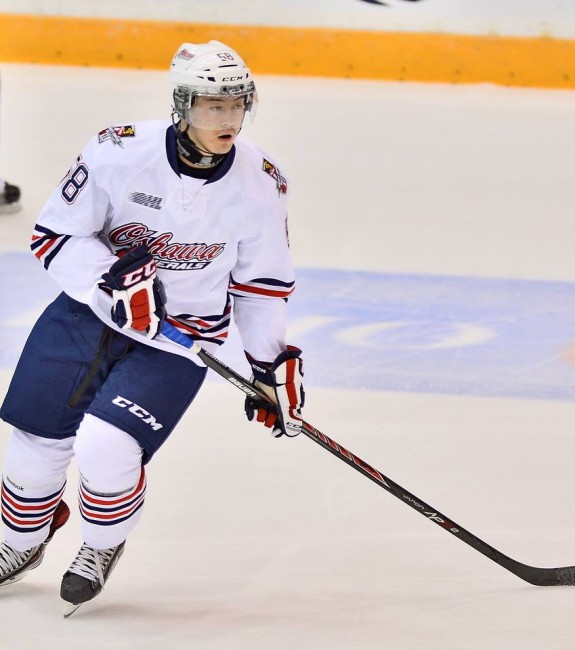 Vande Sompel will be a huge addition to the Knights blueline, and should get big time minutes along with Olli Juolevi and Victor Mete; he's accumulated 158 points in his 188 OHL games for Oshawa. A dynamic offensive defenseman, Vande Sompel was drafted in the third round of the 2015 NHL entry draft by the New York Islanders. He should be playing there next year.
He picked up an assist on the game-winning goal in Friday night's game against Saginaw, and looked great alongside Brandon Crawley and Olli Juolevi throughout the weekend. He's a welcome addition to an already strong blueline.
An Already-Great Team
We can't forget that, even without Salituro, Sompel and Stephens, the Knights have spent most of this year at the top of the Western Conference.
They boast a top-five scorer in Cliff Pu, who has proven himself as a top player in the league. His 60 points in 39 games are good enough for 4th place in the OHL. On the other end, his outstanding defensive play makes him dangerous at both ends of the ice.
Captain J.J. Piccinich and Janne Kuokkanen are having career years as well; both forwards are scoring at over a point per game. Meanwhile, Robert Thomas is on the radar for the 2017 NHL Entry Draft with 39 points in 41 games.
On the back end, Vancouver first-rounder Olli Juolevi has impressed all year and should be in the show next October. Victor Mete continues to mesmerize with his speed and shiftiness, and has emerged as London's most relied-on defenseman this year.
And we can't forget about goaltender Tyler Parsons. His gold medal at the 2017 World Junior Hockey Championship has him playing the best hockey of his life. He told me after Friday night's game that he's as confident as he's been in his junior career. Hands down, he's the best goalie in the Ontario Hockey League.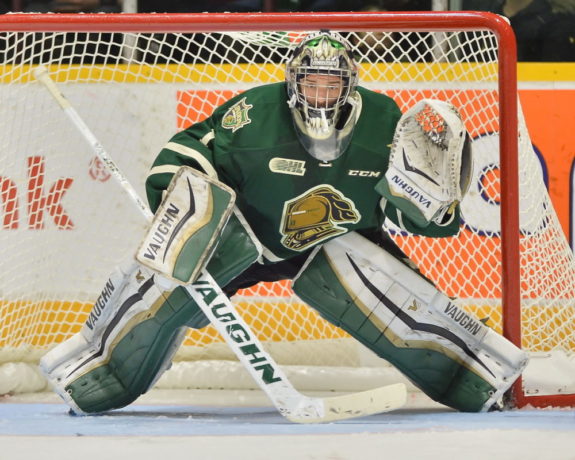 The new guys will fit in well, but the current crop of Knights has already established themselves as an elite group. They score a ton and they don't give up much.
They're right up there with Sault Ste. Marie, Windsor, and Erie, and these additions could be what gives them the edge over any of those teams.
But it takes more than talent to make a run at the Memorial Cup. To win it twice in a row is something that most of these players couldn't even dream of. But with a healthy team for the first time all season, the 2016-17 London Knights have an excellent chance.