The rumblings began back in the summer when Hockey Canada named their invitees for orientation camp. Chris Kunitz selected for orientation camp? Was it because of Sidney Crosby? Why should Crosby bring somebody along?
Those rumblings turned into a dull roar when the NHL season began and Kunitz got off to a quick start with Crosby. The roar of arguments for and against Kunitz were downright deafening heading into the Team Canada selection announcement Tuesday morning.
The news is finally in though. Chris Kunitz was selected for Team Canada, obviously with center Sidney Crosby as well. As for the other Penguins possibly on Team Canada's bubble, James Neal, Marc-Andre Fleury, and Kris Letang will have to sit this one out for now.
With Crosby being an obvious lock, here is a look at how the other four played out.
Chris Kunitz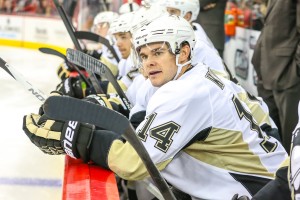 When Team Canada General Manager Steve Yzerman was asked about Kunitz after the announcement, he stated,
'"He has been an outstanding player throughout his career, a Stanley Cup champion…He's been in the playoffs virtually every year. He's a hard-nosed player, a skilled player."
After being questioned about what Kunitz's role as Crosby's linemate played, he continued with,
"The question a lot of people have asked is, has Chris Kunitz been helped by Sidney Crosby? They help each other. On his own, does he belong on this team? Our answer is yes."
Kunitz has put up impressive numbers this season, even if they are boosted by Crosby. He is currently sixth in the NHL with 47 points in 44 games, tied for fourth in goals with 23, and second in powerplay goals with 11. He was no slouch last season either, even though Crosby missed a month, finishing with 52 points in 48 games as the seventh highest scorer in the NHL.
With those statistics, the argument was never about Kunitz's production, but about how much of that production is due to Sidney Crosby and whether there could be a "more talented" option for Team Canada to use on Crosby's wing instead.
It's a very legitimate question after seeing names such as Martin St. Louis and Joe Thornton left off the team. In the end though, it was about the combination of chemistry, versatility, and talent that Kunitz provides.
Crosby certainly brings Kunitz's production up, but as Yzerman said, they help each other out. Crosby's stats, which are normally excellent, still find a way to improve with Kunitz on his wing.
From 2008-13: Crosby W/Kunitz 68.7 GF%, 55.7 CF%. Crosby W/O Kunitz: 57.2 GF%, 51.9 CF%.

— Adam Gretz (@AGretz) January 7, 2014
While Kunitz may slot on the first line with Crosby right now, he also provides the versatility of being able to play with Getzlaf and Perry, his linemates in previous seasons with Anaheim. Not only can he be moved around with those players, but he certainly had no trouble adjusting to Evgeni Malkin in Pittsburgh either, suggesting that he should be able to keep up this level of play with any of Canada's star centers.
Finally, there is his overall play. He is a tenacious forechecker that is willing to do the dirty work necessary in all three zones. Whether it's causing chaos on the crease or taking a shift on the penalty kill, Kunitz will find a way to contribute.
Yzerman calls Kunitz one of the top players in the League around the net. They like him b/c he plays hard, wins, has tenacity, forechecks.

— Dan Rosen (@drosennhl) January 7, 2014
James Neal
While Kunitz made the team for his overall play and chemistry with Crosby, James Neal did not make the team despite statistics that are difficult to overlook.
Neal currently has 34 points in 24 games with a points per game rate of 1.42 that only ranks behind Crosby (1.43). Despite missing time with an injury at the start of the season and due to a suspension recently, Neal has been lethal with the puck and hasn't missed a beat jumping between the first and second lines due to other injuries.
If this season wasn't enough of a sample size, just look at the previous three seasons. James Neal has actually been the highest scoring Canadian winger with 77 goals.
The offensive statistics weren't enough though. One thing that Neal tends to lack in comparison to some of the more curious wingers ahead of him (ex. – Rick Nash) is that he doesn't have the same defensive consistency. Nash is a guy who has played on the penalty kill in previous seasons and has been lauded for his international play at both ends of the ice. Neal has shown flashes of great defensive play, but hasn't been strong there consistently over the past few seasons.
Team Canada enters the Olympics with a significant amount of offense and concerns in net. Given that scenario, depth wingers have to be strong and consistent defensively. There is no telling how Neal's offensive production would work in a third or fourth line role with limited minutes. It's a safer bet to think that a player like Nash, even if he is unproductive offensively, will provide the defensive work necessary to make this a well-rounded team, especially given his impressive international resume.
Marc-Andre Fleury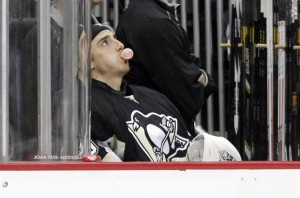 Speaking of concerns in net, though he wasn't even in the picture during the summer, Marc-Andre Fleury took a massive leap this season to at least earn some talk about whether he could be Canada's third goalie. As a Stanley Cup Champion and a member of the gold medal winning roster in 2010, he deserved at least a thought.
His statistics this year have been impressive. He is 24-10-1 with a 2.23 GAA and .919 save percentage. Those numbers rank him first in wins, second in GAA, and sixth in save percentage among Canadian goalies. The concern with him, and deservedly so, is how he has handled pressure situations since the Penguins won the Cup. Fleury has earned a reputation for falling apart in the playoffs over the past few seasons. A great regular season can put a dent in that, but not erase it completely.
Not only is it a matter of results, but I would not be surprised if there was some concern about taking his technical play overseas. When Fleury is off of his game, he tends to fall apart completely. It often starts with not playing his angles properly, as the NHL saw in last year's playoffs. Would Team Canada want to take that risk with them over to a larger rink where the angles may play a bigger impact?
Fleury's regular season has been solid, but he simply brings more questions than the group of Roberto Luongo, Carey Price, and Mike Smith do. The decision isn't a question of Fleury's play as much as it's a matter of being risk-averse in a high pressure tournament with the team's weakest position.
Kris Letang
Kris Letang is barely being mentioned as a snub at this point, a testament to both Canada's depth and views on his recent play. After a rough finish in the 2013 playoffs, Letang was invited to Team Canada's orientation camp and was considered a player on the cusp over the summer.
Since then, Letang has dealt with multiple injuries which have limited him to only 25 games this season. In those 25 games, he has only produced 12 points, a far cry from the numbers that brought him to everyone's attention when he recorded 38 points in 35 games last season.
The idea was that Letang would have to play himself up into the roster and he wasn't able to do that because of injuries and inconsistent play. No one questions that his talent is Olympic-worthy, and a few even believe that his talent alone was worthy of a roster spot, but his lack of offensive production combined with questions about his defense made him an easy player to leave off of the roster.
Now it's time to wait and see just how good Kunitz and Crosby can be together on international ice.  If they don't succeed, Steve Yzerman might find himself at the mercy of torches and pitchforks.