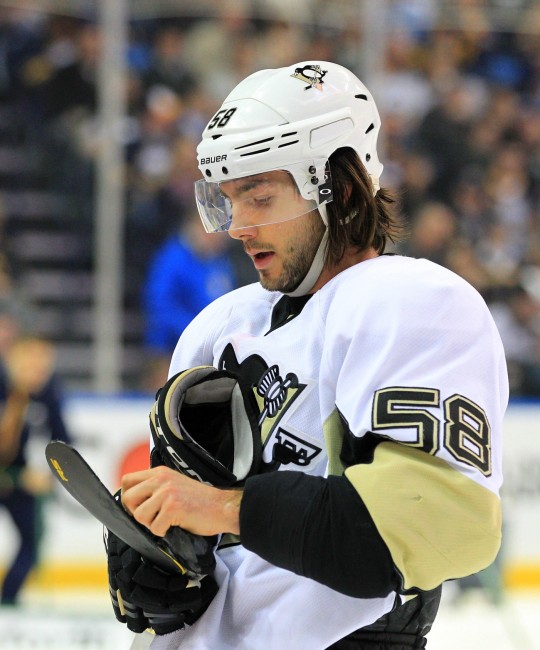 Should Team Canada leave Kris Letang off their Olympic Roster? If they did, most hockey fans would be stunned. Letang has every tool in his arsenal to become a Hall of Fame blue-liner when his career is over. He was the only defenseman to average a point-per-game a season ago. Letang would be a serious scoring threat for the Team Canada, but so will everyone else on the Canadian roster.
The issue has never been Letang's offensive ability, but his defense and decision making. He's lacked competency in his own end since he broke into the league. Letang has improved upon his defensive craft, but the numbers and eye test don't lie. Letang was on the ice for half of the goals surrendered by the Pittsburgh Penguins in last year's playoffs. Letang was at fault in the majority of the goals by giving away the puck in his own end or being out of position.
If Letang can't rise to the occasion in the NHL post-season, how is he going to hold up against the world's elite? In the Olympics, most teams don't have one great scoring line; all four lines are capable of lighting the lamp. John Tavares aside, Letang didn't compete against an all-world scoring talent in last year's playoffs. The Sochi Winter Olympics will showcase a breed of forwards that's more talented than Letang is used to facing on a nightly basis in the NHL.
According to an article written by Pierre LeBrun of ESPN, Team Canada is leaning towards picking Letang or PK Subban, but not both. Lebrun thinks Canada will choose Subban due to the fact that he won the Norris Trophy. While I have the utmost respect for Mr. Lebrun, Team Canada could care less about individual accolades, they want a gold medal. If there's a player out there who's a beer league champion, and can help the Canadians win gold, they'll sign him.
With the wider Olympic-sized ice surface, there will be more space than normal. Since North Americans aren't used to playing on the larger rink, the theory is to play a passive (more positional) defensive style that keeps the puck around the perimeter while clogging up the middle of the "house area." This would cause Letang to implore defensive zone discipline; something in his game that's sporadic at best.
On the other hand, Canada could benefit from Letang's skating ability and closing speed. He is one of the fastest skaters in the world. Letang's offensive skills are just as good, if not better, than most world-class forwards. He could definitely be an asset on the power play if used in the correct manner.
Team Canada will be very particular about the types of defensemen that make-up their Olympic roster (shutdown, physical, stay-at-home, and offensive defensemen). Letang will have the beginning of the NHL regular season to prove that he belongs in Canada's plans. There is no reason to believe that Letang's game is going to take a massive transformation, but he will have the opportunity to prove that his game has changed.
Letang must convince Team Canada that he's a more intelligent hockey player instead of making risky plays shift after shift. Canada wants calculated risk, but Letang moves up on an offensive rush every time he has the opportunity with the Penguins. Letang's risk taking won't fly with Team Canada decision-makers.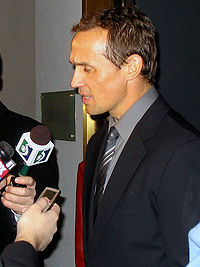 It's essential for Letang to minimize his mistakes at the beginning of the NHL season, especially when making breakout or stretch passes. Letang must display to Team Canada that he's willing to make a simple play to relieve offensive pressure applied by an opponent.
Team Canada will let the season develop before making any major decisions about Letang. If Letang's defensive play doesn't show improvement, there's a good chance he'll be passed over. Team Canada executives aren't going to pick him solely because he is one of the supreme talents in the NHL; they'll pick him if he proves that he's going to be a piece that helps make up the best team.
What do you think? Will Team Canada pick Kris Letang for the 2014 Sochi Winter Olympics?
Justin Glock has covered the Pittsburgh Penguins for The Hockey Writers since 2011. As a lead writer, his Penguins knowledge traces back over two decades. For any requests, please feel free to contact Justin via email: JGlock10@gmail.com.