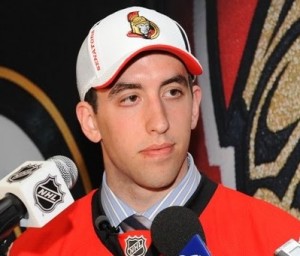 To sign or not to sign?  That was the question facing the Ottawa Senators talented young defenseman Jared Cowen and a few other restricted free agents (RFA's) around the National Hockey League with the new season rapidly approaching.  Cowen, the former Ninth overall pick in the 2009 NHL Entry Draft, was in the last year of his entry-level deal and both he and the Sens were staring down the barrel of new contract negotiations.  As was reported first by the Ottawa Sun back in August, the Sens acted by offering Cowen an 8-year $28 Million contract, an average annual value of $3.5 Million, but the former Spokane Chief and his agent wanted some time to see what they could come up with and rightfully so.
The Journey Of A Career:
It's been a long road for Cowen to reach this point in his career, as it is for many players in today's game, and this was his first real opportunity to negotiate and attain that initial big pro contract.  Despite being a high draft pick in '09, he has had to battle his way to becoming a full-time NHLer.  Battling to improve his game and become more consistent and the biggest challenge of all, having to overcome two major injuries that have cost him time and development, two things all young players need.
Coming off his first full NHL season in 2011-2012 where he played in all 82 games and produced a modest 5 goals and 12 assists, the Sens and Cowen were poised to see the Allan, Saskatchewan native take the next step.  However after sustaining a torn labrum playing with Binghamton in the American Hockey League to start the 2012-2013 season, those expectations were put on hold.  The injury kept Cowen out for six months and caused him to miss most of the 2013 NHL regular season.  To his credit he rehabbed hard and was able to return for the final 7 games of the campaign.  He then played in all 10 playoff games for the Sens last year and played well.
Risk Vs. Reward Of Contracts:
That leads us to the 2013 offseason and the aforementioned contract talks between the Sens and their towering 6'5" defender.  Any long-term contract can be viewed by teams and players and for that matter fans alike in a variety of ways.  Simply put it is weighing the risk verse the reward.  It is always difficult to evaluate most deals until the contract is finished or at least a few seasons in.  There needs to be a sample size to judge the value, which is to say whether the player has been as productive as anticipated or expected, however inevitably the player and the deal will begin to be judged immediately after even the offer is made public.
From the Sens point of view they have invested a lot in Cowen thus far as a high first round pick and they have been grooming him to become a top-two caliber defenseman ever since.  Despite the somewhat small sample size over his entry level contract due to injury, the Sens value Cowen very highly and the 8-year offer showed they look at him as part of their long-term plans.
Bold Decision:
Now far be it for anyone to tell a young man that his worked his whole life to reach the NHL to turn down a long-term deal that would offer him life-long financial security and a lengthy pro career.  He has earned it and nobody would have blamed him for taking that first offer, but I believe Cowen was smart and should be applauded for waiting and signing his recent 4-year, $12.4 Million offer last Saturday.  He and the Sens finally came to terms on a deal that will see the youngster's pay increase each season of the contract while counting a friendly average annual value of $3.1 Million against the  team's cap.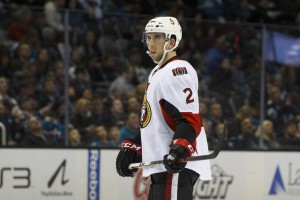 More importantly for Cowen is that he bet on himself.  He believes that he is only getting started and that he will continue to improve and reach that full potential that made him the Ninth overall pick only a couple seasons ago.  It was a bold move for a young player but there seems little doubt that should he remain healthy and continue to grow his offensive game, he will be moving to an even higher tax bracket next time contract negotiations come around.
Simply put the deal works well for both sides.  The Sens have their current number three defenseman locked up for the next four seasons at a reasonable number and Cowen, having bet on himself, will be paid what he deserves now with the opportunity to hit the free agent market as perhaps one of the most coveted defensemen available in a few seasons.  The deal gives him flexibility and options moving forward in his career.  First thing is first however, the 2013-2014 season and with the expectations set quite high you know Cowen, Sens brass and the fans are excited to get going with the promise of big things in the Nation's Capital.
Check out our partners at TiqIQ for the best deals on Ottawa Senators tickets for all 2013-14 games.