As fans and spectators, we see plenty of action when we're watching a hockey game. Packed with fast-paced energy, we witness pretty goals and saucer passes, board battles and breakaways, rising shots and remarkable saves. But what is going on behind the scenes? And just how much work goes into making the game happen in the first place?
There's no better person to answer that question than Ben Kogut, the Director of Hockey Operations and equipment manager for the University of Vermont's women's hockey team.
"The hockey ops part is probably the easiest to explain. That's mostly administrative work surrounding team events and games," said Kogut, who has been with the team since 2007-2008, when he was a student manager. "And then from the equipment standpoint, that gets to be where the day gets kind of long."
He is responsible for both how the players perform and for their protection and appearance.
"I take a lot of pride in how my team looks on the ice," he said.
Pregame
Preparations for a game begin months in advance, when travel plans are made.
"All of the hotel work is done in the early spring of the season before, as soon as our schedule is officially announced so most of that gets taken care of pretty early," Kogut said. "Same with the bus schedule. And the rest of it is mostly coordinating with the places we're going and the teams that are coming to us about arrival times and stuff like that. So for example for a home game, the Monday of the game I'll get in contact with either their assistant coach or their hockey ops or equipment person and figure out what their plans are."
Pregame and post-game meal plans also have to be made in advance.
"Usually in the summer we'll try to book with either a local hotel or a restaurant and then we'll just sort of check in a couple of days before a game and make sure everything's all set to go," Kogut said. "We try to eat about four hours before every game, and then as soon after as we can."
For home games, visiting teams will drop their equipment off when they arrive in Burlington the night before, and Kogut will have their locker room ready.
"We'll stay and make sure that the teams get in O.K., and take care of all their laundry, and then the next day for their pregame skate or their warm-up, we'll make sure they have pretty much everything they need to get through," he said.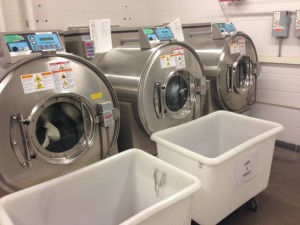 For away games, he will start pulling everything the team needs for the road trip during their last practice just before they leave. Among the items that the Catamounts travel with: a spare equipment bag; a travel sharpener; a stick bag, packed with three sticks per player; Kogut's own kit, which includes tape, tools, belts, suspenders, a sewing kit, and a helmet kit; fans, to help dry the equipment; an extra set of steel for the skates, with at least one pair in every size in every brand that the team has; extra game pucks; video equipment; the trainers' kits; and whiteboards for the coaches.
The players will pack their own travel bags and put them on the bus themselves.
"That's one of the luxuries of being a college equipment manager and not a professional equipment manager," Kogut said. "You don't have to pack all the bags and haul them all over the place for everyone."
On game days, Kogut arrives at the rink before the team to sharpen skates and make sure the laundry is taken care of before the morning skates.
"Obviously the most important part of any hockey game is coffee," he said. "So we put the coffee pot on as soon as I get there, and then usually another one right before the game."
After the morning skate, Kogut does the bulk of his skate sharpening, and then heads to the locker room to hang game jerseys and socks and make sure everything is tidied up.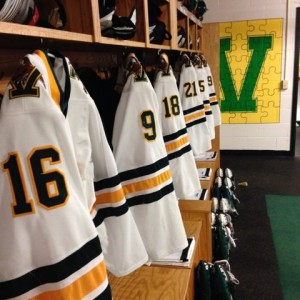 "I think the goal there is uniformity, having everything look consistent," he said. "You want your players to be coming into a professional setting, somewhere where they feel comfortable and they basically can just walk in and change and get on the ice if they need to."
Kogut says that what's taken care of before the game is mainly "a lot of preventative maintenance."
"To make sure that the games go as smoothly as possible, equipment managers are always looking for whether it's a tiny crack in somebody's shin pads or if we hear something funny like a rattle in a stick," he said. "We try to keep an eye on our players, and make sure that we're putting them on the ice with the best equipment they can possibly have."
Kogut puts the team's complimentary admission list in during the pregame skate, so that the players' family and friends are taken care of ticket-wise. The benches are set up with towels, water, tape, tools, and line charts; the locker room is stocked with black, white, and clear tape, wax, scissors, laces, and Sharpies; the penalty box is set up with water and towels, and the freezer is stocked with game pucks to keep them frozen; pucks are stacked for warm-ups.
"For the most part warm-ups and the game are the easy part, assuming you're paying attention and not getting hit by pucks," Kogut said. "Obviously [in warm-ups] you're looking for things, you're watching for broken sticks or anything like that. If somebody blows an edge, you want to be sure that you're there to make a repair.
"Sometimes I'll pull a player aside if we made a tweak to their gear and ask how that's feeling and if we need to tweak it real quick before the game starts."
After warm-ups end, the trainers collect the pucks, Kogut arranges the helmets by position on the bench, and the starting line-up is placed on the dasher boards.
During the Game
Once the puck drops, Kogut is situated behind the bench, operating UVM's neutral zone gate and looking for line changes. He has the back-up sticks ready in case a player breaks hers, and is there to make any quick repairs when needed.
"In some cases a player will ask me to tape a stick if their tape gets messed up from a face-off," he said. "I'll be tightening helmet screws if something gets lose, and same with skates. If somebody blows an edge, I've got a couple different tools I can use to sort of bring back the edge and at the very least get them through until an intermission when I can get the skate on the sharpener and correct whatever's wrong with it.
"You're in constant contact with your players, just making sure that they're O.K. You just want to make sure that everybody is performing at their best and obviously if there's anything you can do on the bench, you're going to make sure that you take care of it for them."
Kogut noted one incident in his first year as a student manager when a player broke her skate blade and it needed to be replaced, but said that he's never really had a player miss a substantial amount of time for a repair. Most of the issues he deals with during the game are minor fixes, like busted helmet snaps.
"Goalies tend to be the issue there," he said. "A lot of goalies are very particular about their gear so they tend not to like new stuff, which is where you run into trouble."
Even so, with hockey being such a fast game, it can get a little hectic at times.
"There are definitely times where you're scrambling around; you're running and trying to make sure that everybody has everything," Kogut said. "That kind of stuff is the fun stuff. Obviously you don't want it to happen, but that's when your job gets interesting and the adrenaline gets pumping, and you either have to get creative or you have to be really on top of things to make sure that you get your player out as fast as possible."
During intermissions, he will check up on any issues that he knows of ahead of time.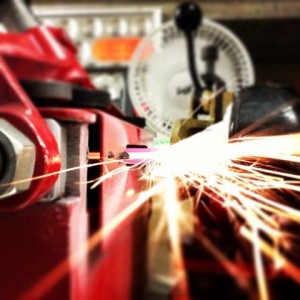 "My team is really good about saying, 'Hey, after this period I'm going to need my skates sharpened', or, 'I caught a screw or something and it torched an edge on me and I feel like I can't turn,'" he said. "So I'll know ahead of time in a lot of cases so I can go right to that player."
Otherwise, in between periods, Kogut is taking care of things like sharpening skates or cutting down sticks if a player broke hers and needs a new one.
"We do a lot of screw tightening and a lot of preventative stuff so that players' gear isn't falling apart on them," he said.
One of the most crucial aspects of a hockey game that fans usually don't get to experience for themselves is what's being said on the bench by the players and coaches.
"Most of the dialogue between coaches and players is calling out lines or D pairings," Kogut said. "And then if a player comes off and there's something that a coach sees that they don't like, they'll pull them aside and say, 'Hey, when you're in the D zone, I need you to be here, not here', or, 'If the play goes down in the corner, I need you covering the slot, not hanging out by the point.'"
The coaches will also draw up face-off plays, change up fore-checks if something's not working, and make adjustments on special teams as needed.
There's also plenty of communication between the players.
"Between linemates it'll sort of be like, 'Hey, when I'm coming up the wing here, I need you to be in the supporting role behind me or driving the net,'" Kogut said.
No matter what transpires on the ice, everyone on the bench tries to keep the chatter upbeat and optimistic.
"When we give up a goal, I think the biggest thing is positivity," Kogut said. "We try to stay very positive, we try not to show any negative body language or things like that. You don't want to let your opponent know that they've got you down. I think our team's pretty good about picking each other up if somebody's having a rough game or a rough shift."
Like everything else that happens in a hockey game, the chatter on the bench and the ice tends to be energetic and fast-paced.
"I think my all-time favorite thing about hockey is that if you're on the bench and you're listening to people talk, especially on the ice, everything gets said three or four times in rapid succession," Kogut said. "Like 'Hey, pass, pass, pass!' or 'Shoot, shoot, shoot!'"
Post-game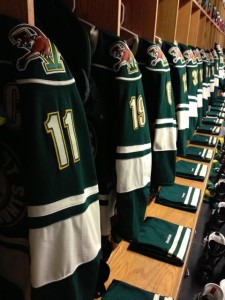 "Immediately following the game, the team goes back to the locker room and the coaches will go in there and they'll speak to what happened," Kogut said. "In a lot of cases it's just sort of a 'These are the things you were good at, these are the things you were not so good at, here's what we need to work on for tomorrow, go home, get some sleep.' Most post-game speeches tend not to be nearly as complicated as pregame speeches."
He said they try to get some food in for the players as soon as the game ends; the team always has chocolate milk after a game. The players will report to the training room for any treatment that they need, shower and change, and then go home. That's when Kogut gets back into the locker room.
"I'll go in and I'll sharpen skates for the next day and take care of anything that's going to be really time-consuming for the next day," Kogut said. "Friday game days are usually very long days. I'll be at the rink by eight in the morning and I won't leave until midnight most days and then you're right back at it the next morning."
For road trips, he tries to beat the team off the ice so he can grab the game sticks from the players and get the stick bags packed up. Then he'll pack up all of his bench kits and tools.
"While the team showers, I try to load the bus as quickly as humanly possible," Kogut said. "Then we'll have some kind of food delivered, usually subs or pizza or pasta or something like that, and get on the road as fast as we can. Hockey trips are basically a combination of driving, eating, sleeping, and playing."

Kogut has also worked with USA Hockey at numerous events since UVM hosted the 2012 IIHF Women's World Championships, including the 2013 IIHF Women's Under-18 World Championships and the Olympic tryouts held this past summer. Although his responsibilities with USA Hockey are basically the same as with Vermont, he said that there's a certain prestige when it comes to working with the national team.
"The people that you're surrounded by, everybody that you work with there is so on top of their game," Kogut said. "They're the best in their field. They're really impressive people that the national teams pull to work and it's just an honor to be part of that group, and so you try to pull yourself up to that level.
"That's really as cool as it gets, especially on the women's hockey level."