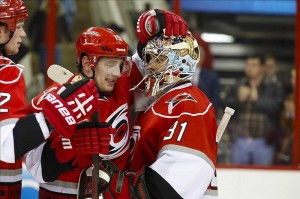 The Carolina Hurricanes are forty-three games into the 2013-14 NHL regular season.  They carry an 18-16-9 record, and sit two points behind the Toronto Maple Leafs for one of the wild card playoff spots in the Eastern Conference.  They are an enigmatic team…a team that should be higher in the standings than they are, yet still struggle to maintain any consistency.
Eric Staal leads the 'Canes with 35 points, yet has a team worst -15 rating.  While some may argue the +/- stat may be outdated or an invalid stat, the fact remains…the Hurricanes need to shore up their own end a bit, cutting down on the goals against.  It hasn't helped that starter Cam Ward has missed chunks of the season with injury.  But when one examines the defensemen, there are only two Carolina defenders with a plus rating in the +/- column.
Bright Lights
Backup Anton Khudobin has filled in admirably for the injured Ward in the Hurricanes' goal, and he has the 'Canes riding a four game win streak.  Star forward Jeff Skinner is lighting it up for Carolina, resulting in six goals and three helpers last week, earning him NHL Star of the Week honors for the week ending January 5.  The talent is there for head coach Kirk Muller to make a solid run to the postseason and beyond, and Hurricane supporters would like nothing better than to see their club qualify for the postseason and make some noise there.
Hurricanes Frustration
The Hurricanes are a frustrating team for their fans to watch.  Since their conception in the Raleigh area after their move from Hartford in 1997, the 'Canes have reached the Finals twice, winning the Stanley Cup in 2006.  But they have had very little success since, save a stunning run in 2009 that saw them bow out to the Pittsburgh Penguins in the Conference Finals in four straight.  Since their move to Raleigh in 1997, they have made the playoffs five times.  Granted, in 2002, 2006, and 2009, the Hurricanes have proven to be a team that makes some noise once they qualify for playoff play.  In their last three playoff appearances, they reached the Finals twice and the Conference Championship once.  However, it seems reaching the postseason proves to be a bit of a challenge for the Hurricanes.
Winds of Change
Carolina General Manager Jim Rutherford hasn't stood pat, as he sent gritty defenseman Tim Gleason to the Toronto Maple Leafs for offensive blueliner John-Michael Liles and a prospect.  It remains to be seen what other changes may be occurring, as there will be the dreaded three-headed monster in goal once Cam Ward returns from injury.  Khobudin, backup Justin Peters, and Ward have all proven capable NHL goalies.  In an upcoming article, I will discuss my thoughts on which of the three should be traded.  For now, Muller has the luxury of knowing that whoever he calls upon in goal will provide the 'Canes with solid goaltending.  That bodes well for the future, as the Hurricanes look to return to the postseason for the first time since 2009.
Born in the Annapolis Valley of Nova Scotia, and living in Port Williams, Nova Scotia, Justin has been involved with hockey for over 15 years. He has written for local newspapers from 1994-2009. He brings a combination of passion and humor to his articles that frame his love of hockey. His style includes opinion pieces and historical fact. He finds game reviews "boring on their own" and aims to bring each piece to life in its own way. He currently owns www.openingfaceoff.net, and is looking forward to contributing regularly to thehockeywriters.com.