When the trade deadline passes on Monday, the Los Angeles Kings' acquisition of Tobias Rieder may not appear to be as dazzling as other moves across the league, but it will be.
Kings general manager Rob Blake acquired Rieder from the Arizona Coyotes along with netminder Scott Wedgewood in exchange for backup goalie Darcy Kuemper. In 15 starts with the Kings, Kuemper had a 10-1-3 record with a 2.10 goals-against average (GAA), .932 save percentage (SV%) and three shutouts. As strong as the 27-year-old has been, his expiring contract and position behind Jonathan Quick, meant he was likely leaving come summer.
Wedgewood was placed on waivers which may signal a bigger move for L.A. but the trade comes after touching up the defense as the Kings push for the postseason.
Rieder's Path to Hollywood
A fourth-round pick in 2011, Rieder has accumulated 51 goals, 60 assists, 111 points and a minus-59 rating through 292 career games. After averaging a career-high 17:19 of ice time per game last season, he has played less often by new coach Rick Tocchet, averaging just 15:17 this season.
Rieder, 25, was a more productive scorer in juniors, where he scored 92 goals, 98 assists and 190 points in 177 games with the Kitchener Rangers of the Ontario Hockey League (OHL). In 2013-14, he entered the American Hockey League (AHL) and recorded a 28-goal, 48-point campaign with the Portland Pirates. In his first nine games the following season, he scored four goals and an assist before landing a full-time role with the Coyotes as a 22-year-old. In 72 games as a rookie, he scored 13 goals and 21 points.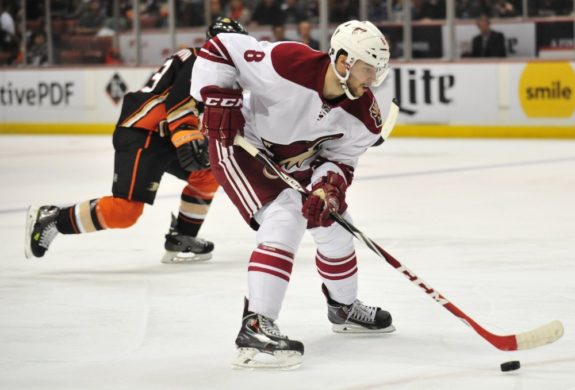 Through 58 games this season, Rieder has scored eight goals and 19 points with a minus-11 rating, which is seventh on the team among players to have skated in a minimum of 40 games. The German was held back on a perennially poor Arizona team that can't seem to make its talent work cohesively.
The winger's goal totals increased in each of his first three seasons and he looked poised to breakout, but the decrease in ice time has hindered his progress, as has the team's slow season and 144 goals for, which pins them dead last in the NHL. Los Angeles ranks 18th in goals for, but Kings management is hoping the addition of Rieder's assets can offer a solution.
A Role Fit for a King
The 25-year-old will get a fresh start in L.A. and brings a high offensive upside, blazing speed and a style the Kings thrive on.
"We continue to look for opportunities to improve our team speed and Tobias will bring that dynamic to our club," Blake told Fox Sports following the trade.
With higher-end talent around him, Rieder should be able to reach his full potential given his age, experience and versatility of playing on either wing. His short-handed proficiency also gives the Kings more depth on a penalty kill that ranks fifth in the league.
Rieder has been one of the fastest players in the Pacific Division since he entered the league in 2014-15, which the Kings are well aware of. He's scored three goals, seven points and a plus-3 rating in 15 career games versus L.A.
The Kings fell 2-0 to the Dallas Stars in his first game, where he played 12:19 and threw two hits playing primarily alongside Nate Thompson and Tyler Toffoli. He's not the biggest hitter in the league but Rieder doesn't hesitate to throw his 5-foot-11, 188-pound frame around. It's that type of physical, shot-blocking game that helped the Kings claim the Stanley Cup in 2012 and 2014 and made Rieder attractive.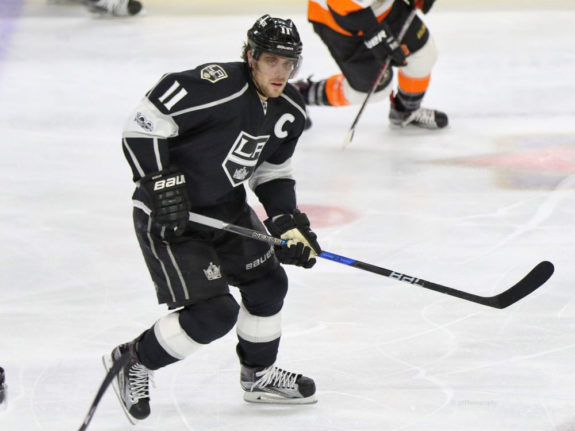 As for the aforementioned low offense, Rieder is joining a team that appears to have Jeff Carter's return on the horizon. Carter has posted three straight 20-goal, 60-point seasons for the Kings, including a 32-goal, 66-point campaign in 2016-17. Carter's return may push Rieder into a bottom-six role, which would likely mean playing alongside Adrian Kempe and Torrey Mitchell but Friday's practice offered a bit more.
Coach John Stevens must have liked what he saw in Rieder's debut, as he ran drills on the left side of Anze Kopitar and Dustin Brown in his second practice. He's being put in a position to succeed and with the dynamic playmaking of Kopitar and complimented by the all-around Brown, it's only a matter of time before Rieder earns his crown.
I offer opinions and insight on the Detroit Red Wings organization and its prospects.