By all accounts, the Pittsburgh Penguins have it good right now. They're up 2-1 in their series against the Columbus Blue Jackets and have gotten both wins in come-from-behind victories where they were down 3-1. Clearly, it's a display of resilience and character right?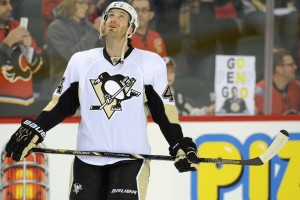 However, upon a closer watch of the first three games, it's obvious the Penguins are very lucky to be in this position.
Pittsburgh is trying to save face and re-establish itself as a serious playoff contender, but its last three postseason runs have had more lowlights than highlights.
The Penguins have not been the same since dropping a 3-1 series lead against the Tampa Bay Lightning in 2011. They followed that up with an embarrassment in their series with the Flyers in 2012, giving into Philadelphia's fistcuffs, and then managed two goals in four games with the Boston Bruins in last year's Eastern Conference finals.
This year is looking to be no different.
Sure, the Penguins have come back from two two-goal deficits against the Jackets, but it's troubling that they started off those games on the wrong foot, looking slow against an inexperienced playoff team that they should be having an easy time with. They've allowed Columbus to run on adrenaline and take quick control of games, and for once, they did not have the backing of a home-game atmosphere in Nationwide Arena in Game 3.
However, thanks to some holes in seventh-seeded Columbus' game and some urgency that almost comes too late, the Pens have pushed through and thus, they're in luck as the series marches on.
Several of Pittsburgh's stars are underperforming. Sidney Crosby, for example, has not scored in his last eight playoff games, as noted on the Root Sports Pittsburgh broadcast on Monday. Evgeni Malkin has three assists, but also has yet to find the back of the net. James Neal did not have a point until his goal in Game 3.
Dejan Kovacevic was spot on about Crosby and Malkin in his Sunday column in the Pittsburgh Tribune-Review:
How long until we again see their best when it counts?

Crosby has three assists through two games, which sounds fine except if one sees more than scoring summaries. He's been charged with six giveaways, or one fewer than the entire Columbus roster. He has registered six total shots, or one for every 10 shifts. He is dangling on the perimeter, aiming for across-the-box passes that wouldn't amount to much even if they connected, pretty much looking like … well, anyone else out there.

…

Malkin has been no better. He's got two assists, two giveaways, nine shots and, generally, has looked nothing like "The Bully," the nickname his teammates playfully apply when he's in a foul-mood-fueled hyperdrive.

If not now, then when?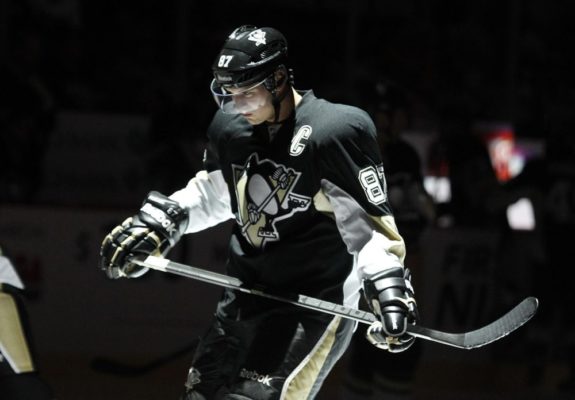 Another issue is the power play. Although the Penguins finished first in the NHL in the regular season with a 23.4 percent success rate on the man advantage, they have fallen to seventh among playoff teams at 17.6 percent. On Saturday night, they received two power plays during overtime, but failed to convert on either, which arguably led to their downfall and guaranteed a minimum five-game series.
Monday night, Pittsburgh again struggled a man up, going 0-for-6. It is up against a Columbus penalty kill that is seventh in the playoffs at 82.4 percent. Fortunately, it didn't matter, as Columbus went 0-for-4 on its own power play, which is sixth among postseason teams at 21.4 percent.
While Marc-Andre Fleury has tried to stand tall, making key saves to keep the Jackets from racking up the score, he has not been able to truly steal a game. His low numbers so far (.899 save percentage, 2.99 GAA) are not convincing anyone that he is in the better crop of playoff goalies. Unfair as it may seem, he will have to get his stats up to avoid being labeled a disappointment once again.
Sure, Pittsburgh is still the better team on paper. It's hard to see how it can be upset by the Blue Jackets, even though Brandon Dubinsky has as many points as Malkin this round and Sergei Bobrovsky has been able to make about as many, or more, key saves compared to Fleury.
However, in the last two nights, the Jackets have threatened to play spoiler, and there is still time for them to take control. All they have to do is make sure the Penguins don't come out of their early game slumber.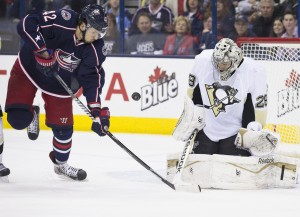 If the Penguins were playing the Rangers, Bruins or even the Red Wings in the first round, they could be facing elimination. Instead, fate was on their side when Round 1 matchups were made, and they are being rewarded with deflection goals and a Columbus team that has never won a postseason series in its history.
While a 2-1 series lead is something to be proud of, the Penguins should not be counting their blessings. Instead, they need to work on how to keep the Jackets down for at least two more games and come prepared to play a full 60 minutes. They also need to find a way to get their power play going again and give Fleury the support he needs so he can work on becoming the Stanley Cup goalie many believe he can still be.
As the Penguins learned last year, playing catch-up and faltering against average playoff teams will only take you so far. The possibility of barely squeaking by the Jackets and struggling against one of the East's better teams is alive and well, and they can't afford to get excited by two lucky wins.
Will Lady Luck bring the Penguins more success, or will the hourglass run out?