With Steve Mason on the verge of being cleared to return, the positives are outweighing the negatives in Philadelphia. But with the Flyers' come-from-behind win in Game Two against the New York Rangers, there are those who are stirring the pot. A goalie controversy is on the threshold of sweeping the headlines in eastern Pennsylvania, but why?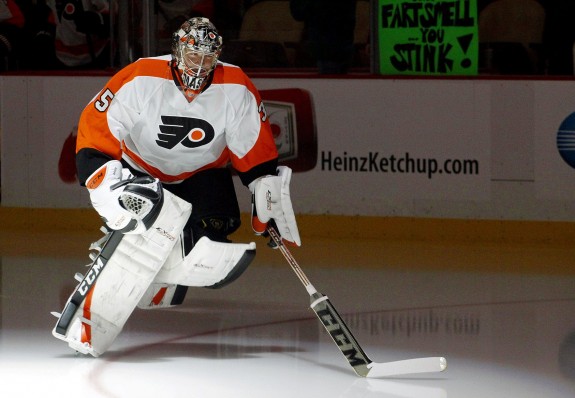 An Already Squashed Goalie Controversy
Before suffering an "upper-body injury" against the Penguins on Apr.12th, the Flyers were dead set on tagging Steve Mason as their starter for the playoff run. Not only was Mason the undisputed starter throughout the season, starting in 60 of Philly's 82 games, he also shouldered several heavy blocks of consecutive starts. As the Flyers frantically pushed to make the playoffs, Mason was their government mule, starting 16 games from the beginning of March to the end of the season. The heavy workload included a home-and-home series against Pittsburgh, with Mason winning both games on back-to-back days. "The schedule's fine. I think he's OK," said Flyers coach Craig Berube back in early March. "It gets busy after this weekend." The schedule turned out just dandy for Mason, as he went on to post an 11-3-1 record to close out the final two months of the season. Mason was magnificent in Apr.8th's playoff clinching win over the Florida Panthers, saving 40 shots and finishing the game with a .950 save percentage.
#NYR #PHI If Emery keeps playing this way, Flyers coach Craig Berube may face an interesting dilemma once Steve Mason is healthy

— Katie Strang (@KatieJStrang) April 18, 2014
Is there a goalie controversy brewing in Philadelphia? #Flyers #NYR #NHLplayoffs #BecauseItsTheCup

— Scott Charles (@ScottmCharles) April 20, 2014
Although Ray Emery is arguably one of the best backup's in the league, starting the veteran netminder over Mason puts the Flyers at a statistical disadvantage.
"The Flyers were 9-12-3 this season in games started by someone other than Mason, including a 4-1 loss on Jan. 12 when the Rangers scored three goals on Emery in the first 9:24. Though Emery has more postseason experience — he led the Senators to the Stanley Cup finals in 2007 — the 31-year-old had a 2.96 goals-against average and .903 save percentage in his 28 appearances this season." —New York Post
The Facade Of A Goalie Controversy
Emery, however, went 17-1-0 last season for Chicago, proving he was still productive after sustaining a career-threatening hip injury. But Emery's record and play for the Blackhawks has little to no correlation to his situation with the Flyers. First, the Blackhawks have an overall better team, making it easier to rack up victories. Their goal-scoring was (and still is when healthy) majestic with superstar forwards overmatching any defensive scheme thrown their way. Their defensive presence was not to be outdone either, touting a Norris Trophy winner in Duncan Keith, as well as Brent Seabrook as their top pairing.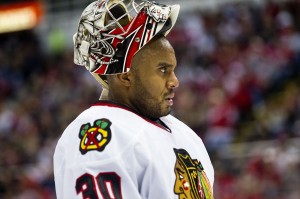 Piggybacking off of that, the Blackhawks, like the Flyers, already had a solidified starter in Corey Crawford. And although Emery received extra playing time as a reward for his outstanding performances, Blackhawks coach Joel Quenneville started Crawford in every playoff game en route to Chicago's Stanley Cup Championship. Yes, Emery was injured heading into last season's playoffs. But not only did the results favor the Blackhawks' decision to stick with Crawford (even when he struggled), it squashed a potential distraction. "It's great," said Seabrook last year. "The less crap you have to deal with is better, it's better on all of us. He's been great and he's held the fort for us all year as well as (backup) Ray (Emery). It's been nice having both those guys back there." Skill set wise, Mason edges Emery, even if age and past injuries play a part. After all, no one is calling Emery a bum; but Emery's slower post-to-post movement has especially been noticeable in the first two games of the Flyers' postseason. With Emery's composure and experience, though, there might actually be a legitimate goalie controversy if Emery possessed better lateral movement.
"Both goals came off sharp cross-ice passes and would have required difficult post-to-post saves from Emery, a form of lateral movement that is believed to be his weakness. But from that point on, he was flawless." — The New York Times on Game Two
The Mistake Of A Goalie Controversy Via The "Hot Hand"
Despite dropping Game One to the Rangers, Ray Emery has done everything asked of him. He bounced back magnificently from a three-goal third period in Game One, to steal that ever so elusive win at MSG. Emery will start Game Three with a .913 save percentage through the first two games, while receiving the confidence-building vote of confidence from his teammates, including Steve Mason. "Right now, the way Razor's playing, there's no hurry," said Mason. "He's the reason we won yesterday, so I think even if I was ready there's no reason to take him out right now." Obviously, Mason is astute to public relations and the art of being a good teammate. And despite Emery's overall success against the Rangers (8-3-0), both goalies dropped regulation games against New York in the regular season, while Mason defeated them twice. Past success, though, is not a sole ingredient to generating an automatic win. Earlier this month, Emery got the nod against Tampa Bay, with Emery's past fortunes against the Bolts being considered. The result was a 4-2 loss, one of three games in which he's given up four goals in his last five starts.
The Rangers have scored 6 goals in 4 periods. Five of them came when Ray Emery was forced to move laterally. Guess what the NYR gameplan is?

— Adam Herman (@AdamZHerman) April 20, 2014
I think the Rangers have figured out that Ray Emery has the lateral movement of a refrigerator. Just a hunch.

— Ben Rothenberg (@BenRothenberg) April 20, 2014
Mason, on the other hand, has been much better before his injury in Pittsburgh. The former Calder Trophy-winner finished out the regular season with a three-game winning streak, while not giving up more than three goals in 12 straight starts.
"Berube is in a no-lose position. He can stick with Emery because he is playing well. He can stick with Emery because Mason is not ready. Or, he can go with Mason once he is ready – and set the Flyers' standing in the series aside to opt for his No. 1 goaltender. These are the luxuries afforded a head coach whose team came back home with a 1-1 split from Madison Square Garden." — philly.com
If Berube sticks with Emery simply because he holds a "hot hand," it's buyer beware. History has shown that the "Goalie By Committee" strategy hasn't been part of the Stanley Cup-winning formula. Nobody should know that better than Berube himself, who was an assistant to Peter Laviolette. Under Laviolette's watch, the Flyers rode the goalie carousel all the way to the Stanley Cup Finals in 2010, but it was Michael Leighton's "hot hand" that gave up the pillow soft goal in overtime of Game Six. Even the Penguins shot themselves in the foot by opting for Tomas Vokoun's "hot hand" last spring. After being reminded of Laviolette's style for choosing goalies on a game-to-game basis, Berube responded, "I'm not Lavy. I'm not going there."
No Goalie Controversy, Period.
Here's what we know: Steve Mason is the Flyers starting goalie. Ray Emery is a formidable backup, who's considered a luxury to have as insurance. Steve Mason will not play in Game Three against New York because he's not 100 percent healthy yet. Ray Emery will start in his place. The end.
That's all there is to it. When Mason is cleared to return, he will (and should) start should he return in this series, or the Flyers advance to the next round. And while Mason, along with the rest of the Flyers, sing Emery's praises, it's Emery who knows the the roles of both goalies. "If your starter goes down it's a tough position to be in," said Emery. "I just want to come in and play the best I can. Be kind of a band-aid there while [Mason] gets better." Without Ray Emery, it's hard to say where the Flyers would be right now in this playoff series. With him, they're back home looking at a series that has now turned into a best-of-five games. And for the Flyers, that's enough to focus on. "Right now, we're at where we're at," said Berube when asked if Mason would start after being cleared. "I'm not really thinking that far ahead." Berube's tight-lipped approach on the situation should not invite speculation, however. "I'm saying Ray's playing next game. That's it," added Berube. "That's where I'm leaving it. That's really all there is to talk about. The other guy's not ready, so I'm gonna play the guy that is ready and that's it." Should an actual goalie controversy emerge, let's let the future forms of ourselves worry about that potential future problem. Until then, let's drop the unnecessary drama. If you're looking for a goalie controversy, you're barking up the wrong tree. After all, Philadelphia knows what a goalie controversy is, and this isn't one of them – not yet anyway.