Every team in the NHL has begun to line up with bids after the announcement that Jacob Trouba has requested a trade from the Winnipeg Jets. Trouba is a good young defenseman with lots of potential and it's obvious that the Toronto Maple Leafs would love to have him, but would a trade with the Jets work for both teams?
The Asking Price
lots of teams have spoken with #nhljets about a trade for Jacob Trouba. Ask is very clear – left hand D of same calibre and age

— gary lawless (@garylawless) September 25, 2016
The Jets have made it clear that they want a one-for-one trade for a left-handed defenseman who is of similar age and talent. This narrows down the number of trade offers for Trouba since the Jets just want a left-handed player equal to Trouba. The problem is that most of the players that would fit that checklist are already cemented as being part of that team's future plans.
Trouba would definitely be part of the Jets future plans if it wasn't for his unwillingness to play on the left side or lower in the defensive lineup. The only way the Jets could keep Trouba would be if they traded one of the two right-handed defensemen in the lineup ahead of him: Dustin Byfuglien or Tyler Myers. Although, by asking for a specific return for Trouba, it's clear that the Jets have chosen to keep Byfuglien and Myers over Trouba.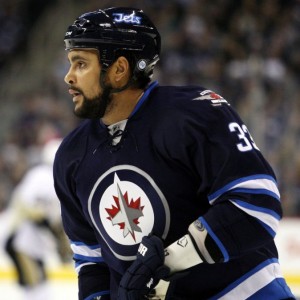 And if the specific asking price wasn't enough already, there is also the problem of Trouba being a restricted free agent. That means whichever team acquires Trouba will then need to negotiate a new contract with him.
Teams already have an idea of the type of contract that Trouba would want after a report from the Winnipeg Free Press came out last season about contract demands from Andrew Ladd, Byfuglien, and Trouba. In it, Trouba is reported to have wanted an 8-year contract worth more than $56 million.
Now, those were starting offers in the negotiation and are open to change, with the most evident being that Byfuglien wanted 8-years for $55 million and he later signed for 5-years at $38 million. So even if Trouba's initial asking price could be lowered, it would still be around $7 million a year.
So based on the Jets asking price, it would cost the Leafs either Morgan Rielly or Jake Gardiner to acquire Trouba.
Morgan Rielly for Jacob Trouba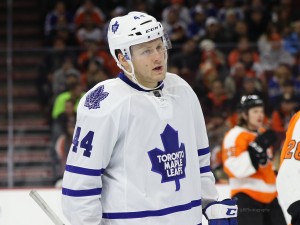 Morgan Rielly would be exactly who the Jets would want in return for Trouba, although whether it would make sense for the Leafs or not is a different matter.
When comparing their stats they come out very similar to each other. Both have had more than 20 points in each of their three NHL seasons with Rielly finishing last season with 36 points in 82 games and Trouba finished with 21 points in 81 games.
Their HERO Chart shows that they are similar in most regards, with Rielly having better production because of his playmaking ability, but has lower shot suppression compared to Trouba.
Trading Rielly would make absolutely no sense for the Leafs because they have not only begun to groom him into being the team's top defenseman but they also recently signed Rielly to a 6-year deal worth $30 million. Based on Trouba's asking price, it would make no sense financially to trade Rielly when his contract is a fantastic deal for the Leafs and Trouba would demand more money.
Rielly would be perfect for what the Jets want, but for Toronto, there is no point when it would cost the Leafs more for a player that is, at most, just as good as Rielly.
Jake Gardiner for Jacob Trouba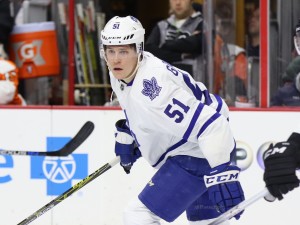 Ideally, Gardiner would be the best option in a trade for Trouba, but it still wouldn't make sense for the Leafs. The Jets would need to accept taking a 26-year-old defenseman instead of one in his early twenties. Aside from age, Gardiner would be just what the Jets want, but once again the deal wouldn't make sense for the Leafs.
Gardiner has always had trouble defensively and at times hasn't shown the best statistics, but has seemed to improve unnoticed in every regard this past season including finishing with a career-best 31 points in 79 games.
Statistically, Gardiner is by far the superior player based on their HERO Chart, with Trouba barely having better shot generation. A huge difference, even when compared to Rielly, that could be a result of Gardiner being older and just about entering his prime. So there is nothing to say that Trouba wouldn't grow to become a better defenseman than Gardiner, but at the moment the Leafs would be foolish to trade Gardiner.
The other downside to this possible trade is that once again similar with Rielly, Gardiner has a better contract compared to Trouba. Gardiner has three years left on a five-year deal worth $20.05 million. Even though the Leafs will need to negotiate a new contract with Gardiner in three years it would still be cheaper than what Trouba wants.
Trading for Trouba just doesn't work for the Leafs in terms of who they would need to give up in exchange. Although it would be nice to have Trouba playing with Rielly, it's unlikely that the Jets would accept Gardiner because of his age. Losing Reilly or Gardiner would be a mistake for the Leafs, one that is not worth the price of Trouba.