The Toronto Maple Leafs are coming off of a huge overtime win over the Pittsburgh Penguins last night, putting them two points behind the 9th place Buffalo Sabres, and four points out of a playoff spot with a record of 29-28-9 (65 points).
With the Leafs on the cusp of making the playoffs for the first time in the past few seasons, there has been a lot of talk about whether or not it is actually possible.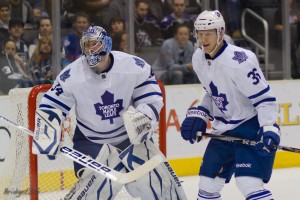 Many analysts have been impressed with their play as of late, but have come to the same conclusion that it wouldn't be possible without a healthy James Reimer. As evident in last night's win, Reimer is healthy and back to playing impressive hockey between the pipes for the blue and white.
Coupled with Reimer's consistency in net for Toronto comes the antied-up play of Phil Kessel, who potted the tying goal in the third period for his 27th of the season, giving him more goals then Alexander Ovechkin. Kessel is currently on a five game point streak where he has scored 5 goals and 10 points over the span, one goal being the game-winner over the New York Islanders. With his goal last night, he now ties Clarke MacArthur for the team-leading 49 points.
One of the Leafs' hottest players this season, Mikhail Grabovski, went on a brief scoring slump recently, but managed to score the game winning goal in overtime against the Pens, giving him 25 goals, 23 assists and 48 points, tying his career-best from 2008-2009 where he potted 20 goals and 28 assists in 78 games.
However, even with the recent success, the Sabres still have two games in hand over the Leafs, but have a tough upcoming schedule with six straight road games against the Hurricanes, Flyers, Wild, Penguins and Bruins, before ending their road trip in Toronto for what may be the most important game of the season for these two clubs on Saturday, March 12.
Toronto plays mainly at home over the next couple weeks, but do have two tough roadies beginning with the first-place Flyers tonight, and the Islanders next Tuesday.
From here on out, the remaining games are must-wins for the respective clubs, and by the looks of things it will be a down to the wire battle for the two NorthEastern rivals.
The Leafs also host the Chicago Blackhawks Saturday night, and will have to play their best hockey of the season against the former Stanley Cup champs.
For Leaf fans, it will be a nail-biting remainder of the season, but their hopes and dreams may not be that far out of reach…