LEAFS DAILY:
Leafs vs. Islanders
That was a tough one to watch.  In a game that the Leafs pretty much dominated, putting up 61 shot-attempts to the Islanders 36 (and sure, when you're down it is easier to do so) another bad goaltending performance (and occasionally lazy play) sank the team.
While it's frustrating, it is also perhaps a blessing in disguise: this team seems destined for 9th or 10th place, so maybe a loss like this isn't such a bad thing.
Jon Bernier let in the second shot, the fourth shot and the seventh shot he faced, allowing three goals on seven shots in the first period.  While none of them where exactly "good" goals, blaming Bernier isn't exactly fair since (especially on goals one and three) the defense was pathetic.
On the first goal Peter Holland showed why, despite his talent and an overall good game, he has trouble climbing higher in the lineup with a lazy giveaway to start the game.  Then, on the third goal, Dion Phaneuf showed how he earned the nickname "Pylon" by being nothing more than an obstacle for the other team to skate around.  It's easy to blame Bernier and he hasn't exactly earned the benefit of the doubt, but hockey is a team game and his team let him down in the first period.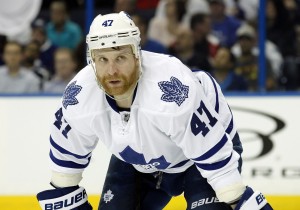 Bozak/Komarov
Yesterday I wrote how it was imperative that the re-building Leafs capitalize on recent hot-streaks by trading Tyler Bozak and Leo Komarov in order to ad assets to the team's future. I have to say, I was un-prepared for the outpouring of love directed at Komarov.  (And, also for the one guy who tried to convince me that Bozak was not over-paid).
Komarov is a good player, but wow you would think I suggested the Leafs waive Mitch Marner.  I knew Komarov was a popular guy, but in just three months it seems he has reached the level Toronto fans usually reserve for enforcers and back-up shortstops.
I am both impressed and scared. Why don't this team's fans embrace skilled players more? Jake Gardiner has quietly become one of the top defensemen in the NHL and Nazem Kadri is easily the best player the Leafs have drafted in twenty-something years, but I bet if you did a poll, 70% of the Leafs Nation thinks both players are garbage and should be moved.
Just an observation.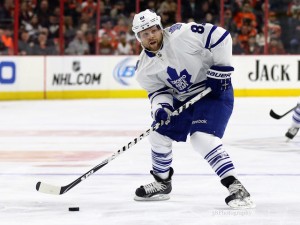 Tonight's Game
The Leafs are in Pittsburgh tonight. The Penguins have Phil Kessel so of course that is the story-line that is going to dominate the action.
Personally, having a player like Kessel and seeing how it all worked out just makes me sad. The Leafs should have surrounded him with better players; giving him better coaches,  but alas, Dave Nonis ended up being maybe the worst GM in team history.
So we move on, and the Penguins, who should be Cup Favorites, are 2-5 under their new coach and sitting outside a playoff spot. While the math isn't good for teams five points or more out of the Playoffs by Christmas, I think the Penguins may be an exception.
It just doesn't seem possible that Sidney Crosby will continue at his 50 point pace or that Kessel will finish the year with less points than Bozak.  New coach, new system, I think they should be fine.
If you're a fan of the Leafs finishing low in the standings, tonight's game might be for you: underachieving team getting a boost from a star players return (Kris Letang) and finding their way under a new coach, with another star  player facing his old team on the second half of a back-to-back.
Not a lot of reasons to pick the Leafs in this one.
Thanks for reading.