The Leafs have been gifted with a present from above. Or wherever it is unexpected good fortune comes from.  The play of Leo Komarov has been nothing short of miraculous, and the play of Tyler  Bozak has been surprisingly great as well.
At the start of the season, virtually everyone thought that Bozak, without Kessel, would be useless. His contract was so bad that he was untradable and so the Leafs were stuck with him. As for Komarov, I think people knew that he was an effective player, but he was also on kind of an expensive contract and I don't think anyone thought he'd be as good as he is.
Because the Leafs are getting better-than-expected season from players who will be 30+ when they are competitive, there really is no choice but to trade them and capitalize on their recent success.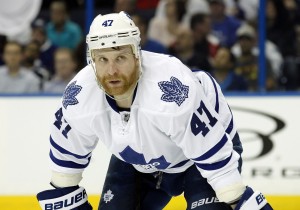 Fans Won't Be Happy
Komarov is becoming that classic Toronto folk hero in the mold of Tie Domi or Darcy Tucker. There is just a certain kind of player this city loves and Komarov embodies it.  I am a huge fan too and would hate to get rid of him, but the rules of team building almost demand it.
The NHL trade and free-agent market routinely ignores and mistreats defensive players, so in a normal situation I would look at Komarov and his clearly elite defensive skills and decide that there was no utility in moving him out for a mid-round pick, which is about all you'd get for a purely defensive player with a $3 million-ish cap-hit.
However, Komarov is exploding offensively and in the NHL players who score can get you more than players who don't.  Despite his high shooting-percentage and career high goal totals, Komarov is an all-round player who would be valuable to any team.  It isn't a matter of tricking a team into paying for a player on a short-term streak; it's a matter of a short-term streak illuminating a player's true value.
Sure, fans won't be happy to see him go, but he is a player who can be converted into an asset that will be far more valuable two or three years from now, so it's not even a question of "if" but "when" he will be moved.
Because keeping him is exactly what the Leafs would have done in the past.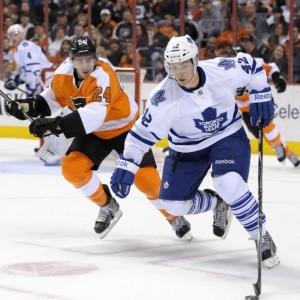 Fans Will Be Happy
If the fans will be sore about saying goodbye to Comrade Komarov, then one thing that should cheer them up is finally getting rid of Bozak.
Bozak is a symbol of the Dave Nonis era. He is a player who can score but who's defense is terrible. Basically, if you shelter Bozak and keep him away from other team's best players he will put up points for you.
The fact is, Bozak was out of his depth as perhaps the worst first-line centre in hockey, but he has proven this year (24 points in 30 games, 51% possession) that he is a capable NHL player without Phil Kessel to prop him up.
There will always be those who are fans of Bozak, but overall, he's the kind of central piece of the team's last (and most disappointing) era that almost begs to be moved. By all accounts the Leafs wanted to move him in the summer but could not, and so, now that he has a third-period hat-trick and a player-of-the-week award to his credit, the time is right to move him.
If you get out from under his contract and get ANY kind of tangible asset back, you have to do it.  The Leafs need to strike while Bozak is hot and move him now.
Thanks for reading.