Volume three of the L.A. Kings running diary takes us to the world renowned Rogers Centre in Vancouver. The Kings and Canucks are no strangers to big games, facing off in several of the NHL's marquee matchups during the past decade. And they loathe each other. To expect L.A. and Vancouver to get along would be akin to Future and Russell Wilson sharing a Christmas brunch. The mutual hatred each team shares has many roots, one of which is most certainly their different approaches to the game. The Kings play with brute force; the Canucks are driven by finesse. If this was a blind date, it would end badly with no long-term prospects.
Currently the Kings hold the 1st place spot in the Pacific Division with 44 points, seven ahead of the Canucks who are tied in 2nd. L.A. has three games in hand on Vancouver, which means this four point contest tonight could swing the race in either direction. In memory of the great Lemmy Kilmister of Motorhead, it's time to play the game.
December 28, 2015
First Period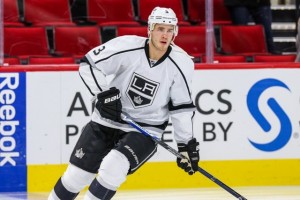 20:00 – No Jeff Carter tonight for the Kings, which will make the line combinations interesting. Brayden McNabb absolutely demolishes Vancouver captain Henrik Sedin, and his teammate Alex Biega rushed to his defense. Already? OK. McNabb timed a pinch on the blue line beautifully, with a hit that appeared to be legal according to the letter of the NHL law. L.A. will go on the power play, as Biega picked up an additional roughing minor.
19:00 – The Kings run the umbrella with defenseman Alec Martinez at the top and forward Milan Lucic screening in front of the net. Tons of shooting chances, but none can make it through to Canucks goalie Jacob Markstrom. L.A. defenseman Jamie McBain (what's he doing out here?!?) fails to keep the puck in on the point, but Kings netminder Jonathan Quick aggressively prevents a shorthanded chance. That was close.
16:47 – Forwards Dustin Brown and Trevor Lewis really get things going for the Kings in the Vancouver zone. As much as I've criticized Brown's start to the season, he's really come on as of late. L.A. defenseman Drew Doughty takes a shot, Markstrom makes the save, and a few punches are thrown after the whistle. Like clockwork.
15:05 – Vancouver's offense generates their first good rush of the game, but the Kings stop them dead at the blue line. L.A. ends up getting a great scoring opportunity from forward Michael Mersch, whose backhand just misses. Mersch is not an everyday player, so this game could have a lot to say in his future in the lineup.
14:18 – As the Canucks are in the midst of their best scoring chance by far, a whistle stops the action dead. What? Oh it's another fight. This time it's Vancouver's Andrey Pedan vs. L.A.'s Jordan Nolan. Pedan wins a brief wrestling match after Nolan went with the unorthodox lunge punch before engaging. He must have been gassed. Canucks forward Radim Vrbata looks upset, as he was on Quick's doorstep and looking to pounce. I doubt he'll approach Pedan in the locker room though.
13:52 – Fight number three. Noted bruiser and offensively challenged Brandon Prust goes with McNabb, and both land a few shots before Vancouver's enforcer wins the wrestling portion of the scrap. I give McNabb credit for tangling with Prust, who obviously had a job to do. We're going to need some cut men and the Rocky IV soundtrack if we keep this up.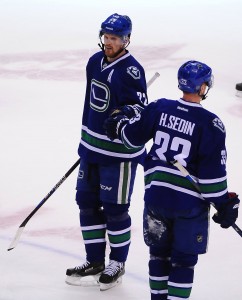 12:00 – Henrik Sedin is really laboring out there. For all the jokes that have been made about the toughness of him and his twin brother, you have to at least acknowledge that he's gutting it out with considerable pain tonight. It's commendable, but also clear that he isn't nearly as effective as he's known to be.
11:16 – A Vancouver 2-on-1 is snuffed out by the L.A. defense, which ends up in another double minor (Bo Horvat of the Canucks and Doughty). 4-on-4 hockey coming up.
9:00- Neither team is able to score, but Kings forward Tyler Toffoli gets the best chance with a burst of speed in the neutral zone. With Carter out, Toffoli is the most logical candidate to fill the goal scoring void.
7:26 – The last minute of action featured the following:
Vancouver charging the Kings net
L.A. forward Andy Andreoff missing a great chance on a rebound
Doughty torpedoing himself into the neutral zone in an attempt to stop the rush.
Kings forward Tanner Pearson taking a holding penalty.
Quite a lot to process (and make sense of), but nevertheless it's Vancouver power play time.
4:27 – With the Sedins' lacking their usual telepathic magic, the Kings are able to thwart the man advantage. The action goes the other way and Lucic finds L.A. captain Anze Kopitar, who touch passes the puck to Toffoli. Tic-Tac-Goal, scored by Mr. Top Gun himself. That was an elite snipe by Toffoli, giving the Kings a 1-0 lead. I swear this is being written in real time. Honest (PLEASE BELIEVE ME I'M TELLING THE TRUTH!).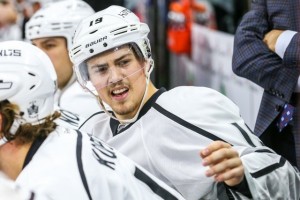 3:19 – The Kings are dominating in all facets of the game (out-shooting Vancouver 16-5), and relentlessly pressuring Markstrom like a food truck at 3 A.M.. L.A. forward Nick Shore, obviously hungry, takes three good whacks at a loose puck in the crease before it is gathered up and the mob subdues him. Markstrom is keeping his team in it, and the Kings are on the verge of opening this one up.
1:35 – I may have overreacted. L.A. forward Jordan Weal is called for a slash on Daniel Sedin, and will go sit in the penalty box to feel shame.
0:00 – Great chances for the Canucks, as Quick goes swimming in the crease to prevent several near goals at the end of the period. One frame in the books and the Kings are out in front 1-0.
Second Period
18:20 – After the Kings kill off the remaining time on the Canucks power play, Vancouver forward Sven Baertschi (not Seven, so George Costanza can relax) ends up with a golden chance in the crease but cannot convert. He appeared to be WFO (wide, freaking open), but suddenly L.A. defenseman Jake Muzzin showed great recovery speed to tie up Baertschi after getting beat out of the corner. That's one area of the game most young defenseman struggle with, and Muzzin's continued fight is great to see.
18:03 Dustin Brown forechecks hard in the zone, Kings defenseman Derek Forbort takes a shot into heavy traffic. Brown gets a piece of it and sends the puck past Markstrom. 2-0 Kings, and that was great blue-collar work by the boys in black and white. Not all goals will be pretty, but all of them will count (you can quote me on that if you want).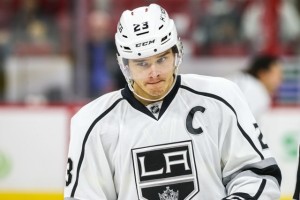 14:40 – More lengthy action being dominated by the Kings, And yet again, it's Brown in the thick of it. He's shown great jump tonight, which is a sight for sore eyes. If he's making plays in the defensive and neutral zones of the ice like this, then the goals are an added luxury.
12:45 – In what has to be a first in hockey history, Dustin Brown appeared to tell the ref during the media timeout that he did not tip the goal in. Incredible! How noble of Brown to give Forbort his first career goal in the NHL, especially in a season where his own game has been questioned. I never thought I'd see the day that a hockey player didn't take credit for a goal. I like it, but we're one step closer to those ridiculous basketball commercials where the player admits he touched it last (there's sportsmanship, and there's just plain stupidity).
9:03 – Vancouver finally gets sustained pressure in the offensive zone, as the Sedins' lead the charge with fellow forward Jannik Hansen in tow. Hansen lost his bucket, getting the ever-popular "extended face time." Quick makes the save, a small fracas ensues, and the hot-tempered Kings goalie ends up tossing a Sedin stick towards the boards. I love rivalries.
8:04 – Vrbata engineers a beautiful chance for Vancouver, but again it amounts to a hill of beans. The pucks finds its way to Marian Gaborik, who delays and passes it to Pearson streaking up the left side. Pearson unloads a good shot, but Markstrom is up for the task as he makes a sliding save. That could have been the dagger.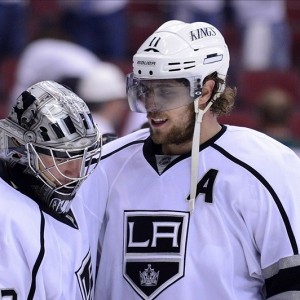 8:02 – Kopitar wins a clean draw, McNabb fires the puck, and the Kings score to make it 3-0. That was so simple it was beautiful. A great shot into traffic, but ultimately one that the Vancouver netminder would love to have back. I don't think it was tipped, but who knows anymore. Brayden McNabb is having his (hot take alert!) best game of the year.
3:41 – Kopitar takes the Vancouver defense out dancing, and he nearly scores. The fourth line comes out and continues to ramp up the scoring pressure. I know there's a lot of hockey left to be played, but getting quality offense out of your fourth line is one of those signs that lets you know things are really clicking.
3:15 – This play won't make the box score, but Doughty just completely denied the Canucks entry into the offensive zone. Every young defenseman is taught to "manage your gap control," meaning that you have to keep yourself at a fair distance from the opponent (too close and you'll get burned, too far away and the player can just walk in and shoot). Doughty might be the best at eliminating time and space quickly without getting burned on the outside. It's part of what makes him all-worldly.
0:50 – Oh My Lord. Martinez takes a shot that hits Vancouver forward Chris Higgins up high. Higgins goes down, but gets up miraculously unscathed. That could have been terrible, but luckily he appears to be OK.
0:00 – The final seconds tick off the clock, and the Kings close the second period up 3-0. That's two goals by defenseman, in case any of my friends who played forward growing up are reading.
Third Period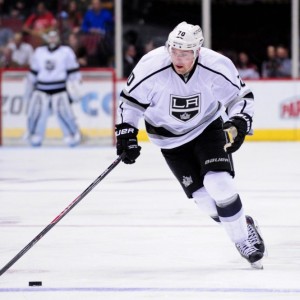 18:30 – The Kings start the third period as the aggressors yet again, refusing to sit back on their lead. Andreoff keeps the puck on his stick and leads the cycle into the Vancouver zone, which has to frustrate the home team (now Andy Andreoff is wheeling around us! ENOUGH!).
17:00 – Good sequence for L.A. as Mersch backchecks his tail off to keep Vancouver from getting past the neutral zone, and Jordan Nolan then gets a quality shot on Markstrom. Everybody's buzzing tonight, with no drop-off in sight.
15:20 – Another Vancouver chance gets stopped at the Kings blue line (I'd have carpel tunnel if I tallied every time that's happened tonight). Trevor Lewis gets the puck and then trips over the red line, quite humorously I might add. The Canucks best chance of the period results when a puck is shoveled towards the L.A. net, where Nick Shore (clearly bored at this point), inadvertently tips one towards Quick. Quickie makes the save, and Shore rests easy knowing there won't be hell to play in the locker room.
14:02 – Kopitar's pressure leads to a turnover that pops out to Martinez on the point. He backhands one at the net, and Toffoli does the rest. 4-0 Kings, and the wheels have officially fallen off for the Canucks. This is a grade A beat-down. Toffoli has two goals, the second on a fundamental forecheck and a good decision on the blue line. Total team effort at the Rogers Centre for the Kings.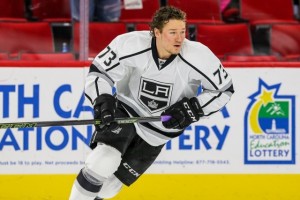 10:08 – Vancouver crosses the red line for the first time since Christmas (at least that's what it feels like), but the Kings effortlessly clear the zone. An L.A. shot through traffic ricochets off of Canucks' defenseman Ben Hutton's face. Oh not again. Luckily he avoids serious injury too. There's no joking around about this stuff. Anybody who's ever played, coached, or watched the game of hockey somewhat seriously knows that pucks and faces don't go well together. Glad to see we've avoided a catastrophe tonight (no jinxes please).
9:00 – Nobody, finishes sentences, LIKE JIM FOX.
7:40 – Pearson nearly adds to the Kings lead after capitalizing off of a Vancouver turnover, but his backhand misses high. His consolation prize is a meaty slash from Derek Dorsett, who is determined to get on the score sheet before the night is over. Forbort comes over to his support his teammate, and the result is a Kings power play.
7:04 – Doughty gets the puck on the point, finds Toffoli in the slot, and he buries a backhand tip into the net. 5-0 Kings.
STOP THE FIGHT!
THROW THE TOWEL. THROW THE DAMN TOWEL!
(Sorry, I have to get these Rocky references out of my system.)
Pretty passing results in the hat trick goal for Tyler Toffoli. He's been a beast all night, but it's scary to think he might not be the Kings best player in the game. Kopitar (4 assists now)? Brown? Doughty? Brayden freaking McNabb? Take your pick, it's been that dominant of a performance.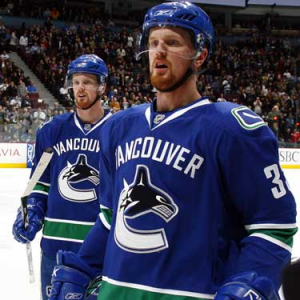 4:55- I'm really surprised Markstrom hasn't been pulled yet. He must have been late to a meeting or insulted his teammate Alex Burrows' biting technique. He really hasn't played that poorly, but you usually see the coach protect a goalie from getting embarrassed and damaged psychologically. I know it sounds weird to talk about a goalie's psyche being bruised, but goalies are weird by nature. Just trust me on this one.
3:52 – And suddenly the Canucks show some serious signs of life! Burrows gets a good scoring chance that Quick slams the door on, and Forbort is called for a slashing penalty. Let's see if Vancouver can dial up their five-goal play.
 2:05 – No matter what the score is during any Vancouver game, it's always impressive watching the Sedins' pass the puck with a man advantage. The Canucks cycle feverishly, and Muzzin is called for an additional penalty. At this point, the Kings are playing for Jonathan Quick's potential shutout.
1:39 – Burrows takes a high sticking penalty, and we're back to 4-on-4 hockey. I knew he'd make a difference today.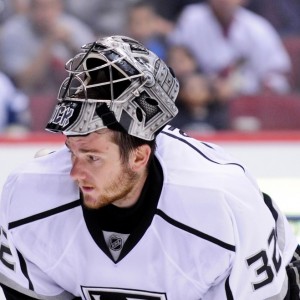 0:00 – The final buzzer sounds, and Jonathan Quick records his 40th career shutout. That ties him for first all-time among American born goalies (astounding), a number he will almost assuredly add to for years to come. What an unbelievable achievement, and what a great job by Bob Miller not to jinx it during the final seconds (he came close, but the voice of 1992 Minnesota Pee-Wee hockey championships kept his composure).
This Kings victory was an emphatic statement. They are the team to beat in the Pacific division, and they will not be going anywhere any time soon. When the entire lineup plays this dominant, this consistent, and this unified, every NHL team will have trouble with Los Angeles.