Of all the hockey adages I've heard over the years, one stands out from the rest. You're only as good as your last shift. I can't remember when it first entered my childhood hockey brain, but that saying has been around as long as there's been ice to skate on. No matter how great your personal achievements are, or what you have done for an organization, the true measure of your current hockey standing is the success of your most recent actions. In a league as bright as the NHL, where superstars etch their names with permanent marker in hockey lore, this phrase still rings true. Players are expendable, rosters turnover, but the train keeps on rolling.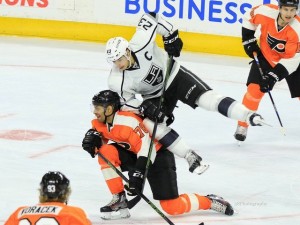 Depending on who you ask (or how early you got off work yesterday), the Los Angeles Kings may be at a crossroads with Dustin Brown. As the team's captain for eight years, Brown has been a driving force behind the golden era of Kings hockey, with two Stanley Cup banners raised and hopefully more to come. It is impossible to measure what he has meant to this team, and it is certainly not a stretch to believe that without their captain the Kings would still be searching for their first title. Brown was an automatic 20-goal scorer, a gritty two-way forward, and a player that used his non-stop motor to perfect all the little things that propelled his team to success while completely pissing off the opposition along the way. It was funny. It was inspiring. And it may be close to coming to an end.
---
Coach Not Impressed
Brown's 31 years old, and his scoring output is reaching Enron levels of efficiency (15 and 11 goals the past two seasons, just two this year). Now scoring will dip off on occasion, and veteran players such as Brown can impact the game in a variety ways to remain a factor for their team when goal scoring is not needed. L.A. doesn't have that luxury, according to head coach Darryl Sutter. Brown scored his first goal of the season in mid November against the Arizona Coyotes, which prompted this response from his coach.
"Hopefully he remembers how he did it." Ouch (That's one step away from Matt Foley yelling "WELL LADI-FREAKING-DA!")
Does that sound like a satisfied customer? Not only did Sutter bury the actual goal that was scored (correctly, as it had no impact in the game's outcome), he challenged Brown directly to improve his entire game. That was the line that stuck out with me, because the coach is not isolating Brown's play as a scoring slump. The movement, the passes, the defensive zone coverage, it just hasn't been there like in years past. You could always count on sound hockey plays on the penalty kill with Dustin Brown. But against Chicago, this happened:
I understand that Anze Kopitar is equally, if not more to blame for this play, but he isn't the one on trial here. Brown didn't have to call Kenny Loggins to figure out he was in a danger zone, yet he displayed no sense of urgency. His head was down, and Blackhawks defenseman Duncan Keith pounced. Does Keith even try to pinch if Brown is looking up, moving with some pace, and letting Kopitar know exactly what is in front of him? In 2012 Brown would have tackled 3 Blackhawks to prevent a clean pinch and an easy goal. This was a mental cramp and a total lack of aggressiveness at the worst possible place on the ice.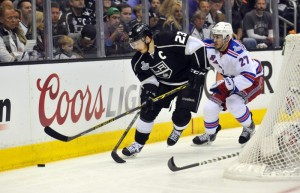 Lack of Consistency
The 2015-16 season hasn't been all bad for Dustin Brown though. Every game he will show flashes of the player that helped change the losing culture in Los Angeles, whether it's throwing a big hit in the corner or backchecking his tail off. But again, just flashes are not good enough. This was the guy that made life miserable for the Western Conference for nearly a decade, and whose passion for the game showed up when it mattered the most during the Stanley Cup Playoffs. Last season Brown registered a plus/minus rating of -17, which looks like a clerical error compared to his career track record. This year, on a first place team that is cooking on almost all cylinders, Brown is -2. Sutter is having trouble relying on Brown all together, bumping down to forward line three and banishing him from the power play. And if you can't depend on Brown being invested for an entire game, than what value does he truly have for this franchise?
One of the narratives I get a chuckle out of every time is the "older player getting back into shape" routine. Sure it's happened in the past and will continue to occur, but can we please stop using it as a cop-out for struggling veterans? I don't think Brown's woes were the result of too much In-N-Out Burger, nor do I think he spends his summers sitting on the couch in overalls watching Storage Wars (just an educated guess though). If the Kings think a change is needed in his level of fitness, or his approach to the game, they will address it internally. That's what sports organizations do, and that's how business is handled at the elite professional level.
A Regretful Deal?
Speaking of the Kings, it may be time to re-evaluate the decision to hand Brown a massive contract extension that doesn't expire until after Beijing hosts the Winter Olympics. In 20-freaking-22. Brown inked his extension during the 2013 off-season, after he recorded 29 points in a "Bettman Special" 46 game season. It's impossible to forecast when a player will reach the other side of the ledge, but L.A. decided to lock up their captain until he's 37 years old well before the expiration date approached.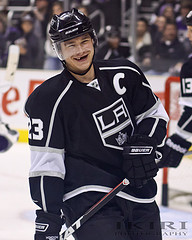 If you're looking for a silver lining, you should probably Google puppy pictures or something. Due to all the ridiculously obvious methods in which NHL club's circumvented the salary cap, Brown's hit remains at $5.875 million per year until the deal expires. And any talk of a buyout would be virtually unpractical, given both Brown's age (players 26 and over are entitled to 2/3rds of the contract) and the current NHL rules regarding them (here's how bad it would be financially for the Kings to buyout Brown's contract). In other words, the Kings and Dustin Brown are stuck with each other.
One Shift At A Time
I don't know if Dustin Brown will ever find his goal scoring ability again, but he can certainly regain his mojo. And that part about being as good as your last shift? Well this was Brown's most recent appearance on the ice in a Kings uniform:
This video captures everything #23 can be for L.A.. From the tireless skating, to the extraordinary play-making, Brown was a straight menace from the time his skates touched the Nationwide Arena ice surface on this shift, and single-handedly extended the Kings' 3-on-3 OT reign of terror in the NHL. These plays, this persistence, and this workman's approach to his job will have a positive effect on all the elements of his game. The goals will come, even if they aren't the prettiest. They're never the prettiest with Dustin Brown.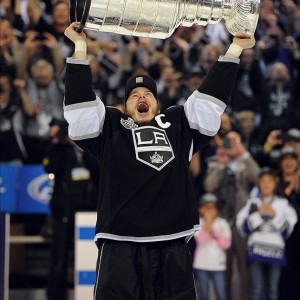 If this was a middle of the road team, or a group with low expectations, Brown's mediocre play to this point would be a non-issue. The Los Angeles Kings are in it for the ultimate prize, and are among a select group of teams with a realistic chance to do so. But they need their captain to perform. Count on Dustin Brown coming through for the Kings, or count them out come playoff time.
Just a hockey loving American. I grew up in Cleveland, Ohio, and attended Saint Louis University where I skated for the Billikens. From 2013-14 I covered the St. Louis Blues for ESPN Radio St. Louis. I currently work in sports video production in Los Angeles, and will always show solidarity for stay-at-home defenseman.