In today's Fantasy Findings we talk about the top fantasy goalie through the majority of the 2015-16 season and we take a look at the hottest team in the NHL's rising fantasy value.
Up to this point of the regular season there has been one standout out player when it comes to play in the crease. No, it's not Carey Price. No, not Henrik Lundqvist. No, not even Johnathan Quick. The name you're looking for is Braden Holtby.
Yes, the Washington Capitals goalie has put up some absolutely gaudy numbers this season. In Dobber Hockey's Ramblings he talks about Holtby's last 27 games played and says, "Since Game 3, his numbers are: 27 GP, 22-3-1, 1.76 GAA, 0.938."
For a point of reference, Dobber mentions what Holtby's numbers do to last year's workhorse in the crease, "Those numbers win pools on their own. This dwarfs what Carey Price did last year, which we all agree was an awesome year for him."
Holtby is locked in, is benefiting from the Capitals' newfound defensive accountability and with a team averaging 3.09 goals per game, it might actually be harder for Holtby to lose than to win at this point.
Fantasy Advice: Holtby Is Worth the Money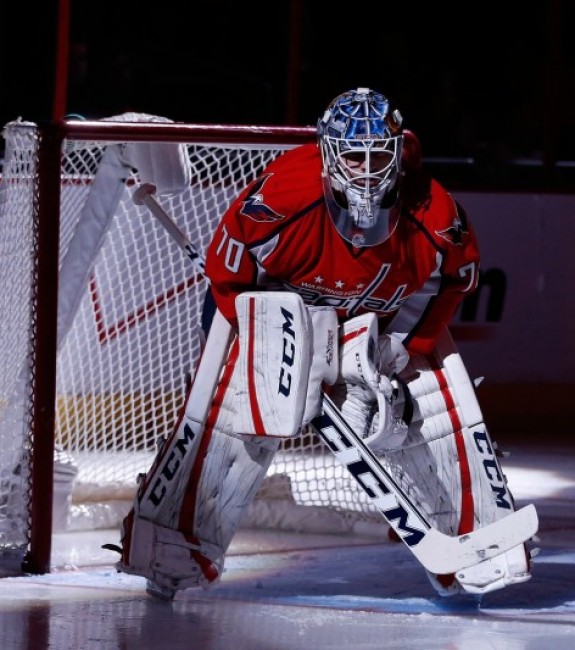 This area of advice might be more focused toward the daily fantasy group but it is as important a note as any. Spend the money and build your daily line up around this fantasy monster.
In Holtby's most recent outing he posted a 31-save shutout, his second of the season, which boasted his overall numbers to a .935 save percentage and a 1.86 goals against average on the year. On that day, Holtby's 11.2 FanDuel points outscored the entire league except Tyler Toffoli, Anze Kopitar and Nathan MacKinnon.
Holtby is going to cost you a pretty penny and his value is likely to only keep rising. But, with the Capitals playing the Sabres, Hurricanes and Blue Jackets in their next three games, build your line up around Holtby in any of those situations and feast on the big fantasy points.
---
On the topic of hot streaks, there hasn't been a hotter team than the Florida Panthers. Currently riding a seven game win streak, the Panthers have shot up the Eastern Conference standings during the month of December. When I say shot, I mean rocketed up the standings.
On December 8th, the Panthers sat in fifth place in the Eastern Conference with 30 points and trailed the first place Montreal Canadiens by 11 points. After the Panthers' game on December 29th, which so happened to be against Montreal, they sat one point ahead of the Canadiens in first place with 46 points. Talk about a cherry on top.
Pete Jensen over at NHL.com recently wrote about the depth scoring the Panthers have received during their current hot streak, "… Florida's second line has stepped up minus Nick Bjugstad (out since Nov. 29 with injury). Jussi Jokinen (C/LW/RW, 24 percent), Reilly Smith (LW/RW, 15 percent) and Vincent Trocheck (C/RW, 16 percent) have 20 or more points apiece this season and are readily available in Yahoo leagues."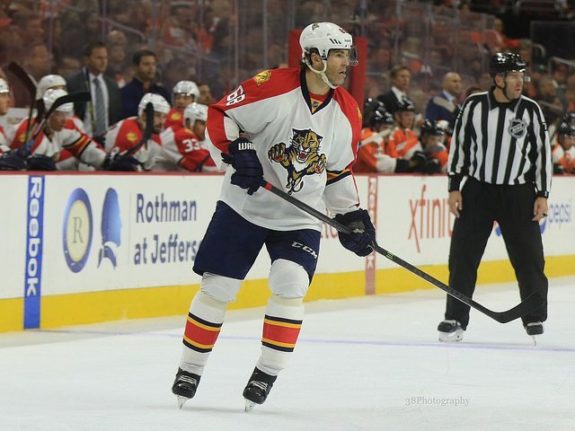 Fantasy Advice: Grab the Panthers While You Can
Get 'em while they're hot. The Panthers have found a groove and are putting up points. In the article mentioned, Jensen goes into depth about the newly found value in the Panthers' second line. However, the Panthers as a whole have become quite the fantasy asset.
Panthers goalie, Roberto Luongo, has been about as solid any other player when it comes to play in the crease. Luongo ranks in the top ten when it come to goals against average (2.16), the top five when it comes to wins (16) and the top eight when it comes to save percentage (.926).
The ageless wonder, Jaromir Jagr, has three goals and eight points in his last ten games and 11 goals and 26 points in 35 games played this season. Aleksander Barkov (11G, 12A) and Jonathan Huberdeau (4G, 21A) who fill out the rest of the Panthers' top line have been doing just as well.
Now is the time to jump on these Panthers while they're hot. See if you can grab one or two and drop some of that dead weight on your roster that hasn't exactly played out as well as you had hoped. And make sure to get some cheap production by stacking one or two of these Panthers in your daily fantasy line-ups.
For more fantasy news, be sure to check out THW's fantasy homepage or follow Eric on Twitter at @_Roberts11.