For a team which believes it has improved and made strides in a positive direction, what happened to the Arizona Coyotes Tuesday night should be a major lesson. While teams like to thrive on offense, it's defense and discipline which wins games.
And, Stanley Cups.
The game Tuesday night was just one contest in a schedule of 82, but this could be the poster child for a team headed for disaster without discipline and an important level of concentration.
Despite limiting the visiting Chicago Blackhawks to five shots in the opening period, the Coyotes' essential structure dramatically broke down at critical times. In the opening 20 minutes alone, they surrendered three power play goals and gave up two in 1:15 early in the session on those five shots on net. The end result was a gut-check on concentration, purpose and discipline, and not to mention an ugly, 7-5 loss to the Blackhawks before a sellout crowd of 17,197 in Gila River Arena.
Following the second defeat in their last three games, the Coyotes should carry a few things from engaging Chicago, the defending Stanley Cup champions Tuesday night. Above all, the Coyotes need to tighten their game. If this team is to survive the up-coming second half of the season, and, they hope, into the playoffs, structure and discipline are key variables. For the game, the Hawks converted three power play opportunities in four chances into goals, and snapped a two-game losing streak.
"You always can't be effective in killing penalties," offered defenseman Nicklas Grossmann, who was on the ice for five of the seven Chicago goals. "We ended up trying to kill too many penalties and we need to find ways to win these games. We have to learn from games like this one and keep pushing."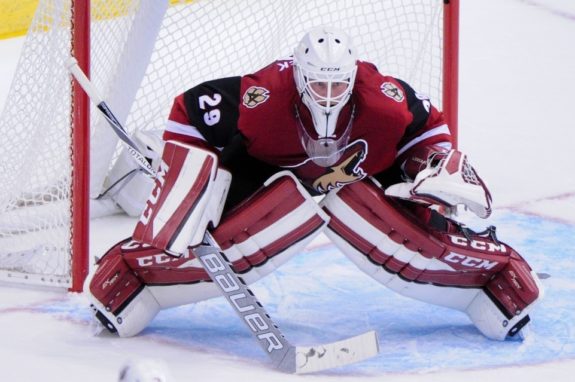 To be fair, Chicago net minder Cory Crawford helped the Coyotes get back in the game. That was especially true in the opening session. Captain Shane Doan's shot from inside the right face-off circle bounced in front of Crawford and found its way into the net for the first Arizona tally. Later in the initial period, defenseman Zbynek Michalek's shot deflected off of Crawford's blocker into the net and these gifts gave the Coyotes life at 2-2.
Despite jumping back and tying this one early, Michalek took an undisciplined interference penalty late in the opening period and Artemi Panarin's shot from the left face-off circle beat Arizona goalie Anders Lindback. With less than one minute to play in the first period, the Hawks had their third power play of the opening session.
No surprise here because, coming into the game, Chicago was fifth in the NHL on power play efficiency and the Coyotes were 19th overall, and 26th at home in killing penalties.
For the game, Arizona coach Dave Tippett went with Lindback between the pipes, and that was based on a strong effort on Sunday against Colorado. In an overtime victory, Lindback stopped 38 of 39 shots and developed a hot hand.
If Lindback was sizzling in the Mile High city, he was certainly ice cold Tuesday night in the desert. Pulled after one period, he allowed three goals in those five shots and quickly banished to the bench.
"We need saves, and we didn't get them," Tippett said after the Chicago game. "The goalie has to stop the shot, and your goalie is an important part of your penalty kill."
In short order, Lindback was replaced at the start of the second period by Louis Domingue, who continued the undisciplined nature of the night. On the first shot he saw, Domingue allowed Andrew Desjardins' 20 footer from the right side to slip under his glove and into the net at 2:00 of the period. That created a two-goal lead again, and the Hawks eventually added to that margin.
As the Coyotes move forward, the issue of disciple will likely become more paramount. At this point, captain Shane Doan clearly put events in perspective when he simply said, "we have to get better."
Chasing History
With his second career hat trick on Tuesday night, Doan tied Dale Hawerchuk for the franchise record with 379 goals. Telling reporters afterward that he would gladly trade goals for a win, Doan then put his achievement in perspective.
"I'm a big fan of (Hawerchuk), and how he played the game," Doan said. "He's special, and to be in the same conversation with him is an honor."
As well, Doan remains among leaders in games played. On Oct. 20 against the Devils, he played in his 1,400 game and now has played in 1,420. Doan is currently three games behind Pat Verbeek (1,424) and 28th on the list of most games played in NHL history. Directly ahead is Jarome Iginla (1,429 and currently active) at number 27 and tied for 25th are Scott Mellanby and Luc Robitaille, both at 1,431 games played.
Mark Brown is a former sports editor for daily newspapers in the Philadelphia and Cincinnati markets. He was named Best Sports Columnist, honorable mention 2004 by the Associated Press Society of Ohio. He is a contributor to major daily newspapers, including the Chicago Sun Times, Philadelphia Inquirer, Honolulu Star-Bulletin, Milwaukee Journal, Arizona Republic, Nashville Tennessean and the Associated Press. He was a Featured Columnist for bleacherreport.com and covered the Arizona Coyotes.