The hockey community lost a number of important members over the course of the past year. The impacts that they had on the game in various  countries and eras was indelible. Without them, the game as we know it would not be the same. Here, we remember their accomplishments.
JP Parise, LW, Minnesota North Stars
The father of current NHLer Zach Parise, JP was a consumate team player in his 890 career NHL games. Parise was a responsible two-way player who loved to battle in the corners. He had plenty of skill to go along with his intangibles, reaching the 20 goal plateau 7 times in his career.
Parise was named an NHL All Star on two different occasions, in the two best seasons of his career when he registered 75 and 72 points, the latter season being good for 7th in the league in points. Parise was an important player for Team Canada at the 1972 Summit Series, where he registered four points in six games while playing in a checking role.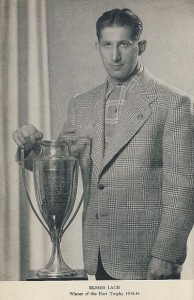 Elmer Lach, C, Montreal Canadiens
Almost every hockey fan knows Maurice "Rocket" Richard, but fewer know much of the man that was responsible for feeding him the passes that set up his tremendous goalscoring exploits. That man was Elmer Lach. The 1944-45 Hart Trophy winner was a phenomenal playmaker that played alongside Toe Blake and Richard to form the "Punch" Line.
Lach finished in the top ten in goals, assists, and points three, seven, and six times, respectively. That includes three first place finishes in assists, and two first place finishes in points. Lach helped lead the Canadiens to three Stanley Cup championships, including 1945-46 when he led the playoffs in points.
Marcel Pronovost, D, Detroit Red Wings
When Marcel Pronovost was out on the ice, you noticed him. Whether it was his rink-long rushes from his defensive position or reckless physical style, Pronovost seemed to always have an impact on the game. On five different occasions, Pronovost was voted one of the top five defensemen in the game. His peak came from 1957 to 1961, where he was named to the 1st All Star Team twice, and 2nd All Star Team twice.
He played in a remarkable eleven All Star Games, won five Stanley Cups with two different teams, and during his eight year peak from 1952-53 to 1959-60, the only defenseman with more points than Pronovost's 188 were Doug Harvey, Red Kelly, and Bill Gadsby. Pronovost was inducted into the Hockey Hall of Fame in 1978.
Bert Olmstead, LW, Montreal Canadiens
Every successful team needs players that do the little things right to win. There is no better example of that mantra than Bert Olmstead, who made a Hall of Fame career out of it. Olmstead was not the most talented or faster player on the ice, but he was a tenacious worker in the corners and played a dutiful 200 foot game on his wing. He is regarded as one of the best "diggers" in history.
First, he replaced Toe Blake on the "Punch" Line alongside Elmer Lach and Maurice Richard, and later he patrolled the left wing for Jean Beliveau and Bernie Geoffrion. Olmstead actually set the NHL single season record for assists with 56 in 1955-56 before he helped Jean Beliveau break his own record five seasons later. Olmstead would go on to win five Stanley Cups in his career, lead the league in assists twice, and finish in the top ten in points four times.
Al Arbour, Coach, New York Islanders
For most men, a 626 game career in the NHL and three Stanley Cup wins as a player would be enough of a legacy. But for Al Arbour, that is nothing more than an afterthought. Behind Scotty Bowman, Arbour is regarded as the second greatest coach in hockey history.
Arbour was the coach of the New York Islanders for parts of 19 seasons between 1973 and 1994. In that time, he won 740 games and four consecutive Stanley Cups in the early 1980s. Arbour had the rare combination of traits that allowed him to be both a master tactician, and a motivator that was beloved by his players.
Jaroslav Holik, C, Czechoslovakia
Only the most hardcore hockey fans will recognize the name Jaroslav Holik. You know his son, Bobby Holik, much better. Bobby played a lot like his father, he was a big brute of a center that loved to play a physical game at both ends of the rink.
Holik was one of the best players for Czechoslovakia during its peak in the late 1960s and early 1970s when they went toe-to-toe with the Soviets, and came out on top on a number of occasions. Holik led the 1969 World Championships in scoring, and finished in the top ten of Golden Stick voting (given to the best hockey player in Europe) on five different occasions.
Dickie Moore, LW, Montreal Canadiens
Another famous digger for the Montreal Canadiens from the 1950s, Dickie Moore played a lot like Bert Olmstead, but with even more skill. Moore set the NHL record for points in a single season with 96 in 1958-59, a record that would stand for seven seasons until Bobby Hull broke it in 1965-66.
Moore's physical, tenacious style would take a toll on his body, however. Moore would play just four full seasons after setting that record at the age of 28. He then retired for a season before returning for one season each for the Toronto Maple Leafs in 1964-65 and St. Louis Blues in 1967-68.
Heavy-hearted @KnucklesNilan30 today will eulogize #Habs Dickie Moore, his friend & mentor https://t.co/gyYhSYjpug pic.twitter.com/mz6dG9y8oo

— Dave Stubbs (@Dave_Stubbs) December 28, 2015
You're probably wondering why Moore returned in 1967-68 after two years of retirement. A young coach of the upstart, expansion St. Louis Blues named Scotty Bowman knew how valuable Moore's intangibles and leadership were, and convinced him to come out of retirement and lead the Blues to a Cup Final appearance in their inaugural season, where they were swept by the Canadiens.
Gus Mortson, D, Toronto Maple Leafs
You wouldn't think that being nicknamed the "Gold Dust Twins" would be a good thing for two hockey players, but the twins were quite the pairing. The other twin was defenseman Jimmy Thomson, who paired with Mortson to lead the Maple Leafs to four Stanley Cups in five seasons in the late 1940s and early 1950s.
Mortson was a rough customer who led the NHL in penalty minutes four times, finishing in the top ten in nine of his thirteen NHL seasons. Mortson could really play, however. He was named to eight NHL All Star Games, and was voted a top ten defenseman five times, once finishing first (effectively a Norris Trophy before the Norris Trophy existed).
Jimmy Roberts, D/RW, Montreal Canadiens
Fellow THW contributor Al Strachan write a great article about Jimmy Roberts, detailing Roberts as both a player and a character off the ice. I highly suggest you give it a read. Even if you don't, Jimmy Roberts is still a player worthy of your appreciation.
Roberts was toiling away in juniors in Canada when, you guessed it, Scotty Bowman took note of Roberts. Bowman brought him to the Peterborough Petes for two years before Roberts broke into the NHL with the Canadiens.
When the Blues joined the NHL and Bowman was named their first coach, Jimmy Roberts was their first pick in the expansion draft. When Bowman moved to Montreal to coach the Canadiens in 1971-72, one of his first moves was to acquire Roberts from St. Louis. If the greatest coach in the history of the sport really likes you, you must be doing something right.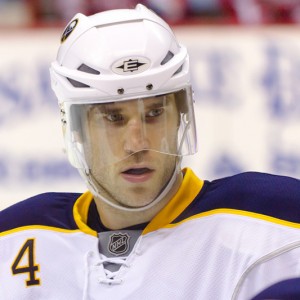 For Roberts, it was the defensive side of the puck and penalty kill. He was a tremendous shadow at even strength, and was a tireless checker of the opponent's best players.
Steve Montador, D
Steve Montador may not have the accolades and trophies of the rest of these players, but his unfortunate passing may be the most impactful. Daniel Carcillo wrote a tremendous article for The Players' Tribune that helped to illuminate just how big of a problem concussions and the transition to retirement is for some players.
Combined with the news that Montador had signs of C.T.E. in his brain, it has forced fans and the league alike to take a long, hard look at the implications that concussions are having on the game we love.
Bill Schoeninger is a Philadelphia Flyers writer and current Boston University student studying business. Coming to THW from Hometown Hockey, Bill follows and writes about the Flyers, Boston University Terriers, and NHL Draft prospects. Follow him on twitter @BSchoeninger17