LEAFS DAILY
Last night the Leafs were the under-card to the Blue Jays main event and, like the under-card often does, they showed them up with an entertaining and solid effort against the struggling Blue Jackets, winning the game 6-3. Yeah, the Jays were on, but there were reasons to watch the Leafs anyways. 
For the Leafs, Komarov lead the way with two goals, while Kadri, Gardiner, Van Riemsdyk and Lupul also scored. It was a fun game to watch, obviously, since there were nine goals and the Leafs impressed again, even when they undeservedly fell behind early.
Babcock's First Leafs Win
It was nice to see Babcock get his first win since I think losing actually poses a risk to the guy's health. Unfortunately, any team forced into giving Nick Spaling 18 minutes in a single game is going to probably lose quite often.
Under Mike Babcock the Leafs look like a completely different team than they were last year. Sure, there have been many roster changes, so that is only natural, but what I notice with Babcock is that they seem to always be playing a high-energy game and that they don't seem to float and coast after the other teams takes a lead or something doesn't go their way.
Now, is this really happening? It's very difficult to actually know if what I think Babcock is bringing to the table is actually happening or just a function of confirmation bias. And, even if it really is happening, it might have more to do with the competition for future jobs among the players than the coach. Not to mention that it has only been four games and there is nothing to say that it will keep happening.
Still, while I think we (fans) tend to maybe over estimate the impact a coach can have, the Leafs this year (at least so far) look like they care and seem like more of a team as opposed to a bunch guys killing time while Phil Kessel catches his breath on the bench.
I am enjoying the high tempo game Babcock seems to be employing and so far I think the results are excellent. The team's roster is not very good – though it's not terrible it has a sever lack of high-end talent – and through four games the team has yet to play badly. (Again, the score aside, the Red Wings game was really a goalie/luck issue). Obviously our expectations have to be rock bottom to say this, but that is a bit of an accomplishment.
So far so good for the coach, I'd say.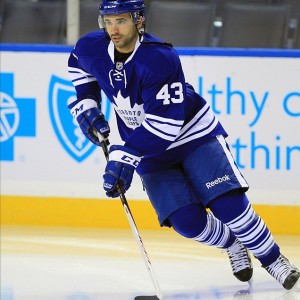 Best Part of the Game:
The fact that the team scored six goals, which is one more than they had in their previous three games.  I also liked that Kadri scored and had seven shots on goal. He started the game on a line with Matthias and Boyes, but moved up to play with Komarov and JVR once Bozak was injured (believed to be minor).
Kadri was nearly a 60% Corsi player last night and – at regular strength – the Leafs directed more than a shot per minute at the Columbus net while Kadri was on the ice.  After four games he is second in the NHL with 21 total shots. Patrick Kane is first, has played an extra game (gets 3 minutes more ice-time per game too) and he only leads by one shot over Kadri.
Folks, Kadri is the real deal and he's going to have a big year.
Also good last night was the Leafs out-shooting Columbus 30-20 at 5v5 and just overall dominating the game.
Worst Part of the Game:
The only part of the game I didn't like was when Spaling made that hit from behind. The NHL shouldn't be so dangerous, and a two minute boarding penalty isn't sufficient punishment if the goal is to try and get these hits out of the game.
I understand that the player turned and Spaling wasn't being dirty, but there should be zero tolerance on hits from behind. No one needs to see a guy get killed out there.
The other worst thing about the game was the Clarkson/Phaneuf "fight." It would have been awesome to see them actually go, but what we actually got was pretty lame.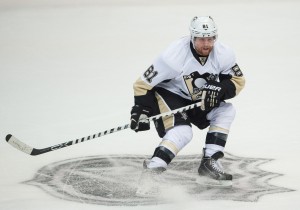 The Penguins
Old Phil Kessel is going to face his old team tonight. I don't buy into these kind of manufactured "events" and Kessel hasn't been gone long enough to miss. I enjoy watching him play though, and Pittsburgh also features Malkin, Crosby and Letang, so tonight's game is going to be fun to watch no matter who wins or what ex-players are playing their old teams.
I wonder, is Pittsburgh abuzz about Scott Harrington's return?
The good news is that barring an extra-inning marathon, the Jays should be done by the time the Leafs are ready to play tonight.