The Leafs are at a point in their history where they have made the Playoffs once in a decade.
They are among the league's worst possession teams and they allow the most shots of anyone except Buffalo.
They have screwed themselves by allotting massive long-term contracts to Lupul, Clarkson, Phaneuf (who's deal I don't actually mind) and Bozak.
They are on the verge of possibly losing one or more of pending free agents Bernier, Franson and Kadri – three of the main players they should be building around.
Their coach has not been able adjust to the problems the team consistently has, and despite turning over 1/3 of the roster, the same exact problems persist.
Both the coach and GM  are thought to be "lame ducks," around the league and have been openly referred to as such on such shows as Sportsnet's Hockey Central at Noon.
The first line of JVR-Kessel-Bozak is so ineffective defensively that despite scoring at a torrid pace, the line is, on most nights, a detriment to the team overall.
The fact is, that this team is built around a core that seems to have something wrong with it. and little chance of enough internal improvement to make continuing down the current path feasible, Instead of barreling on in the direction that has not been working, and in light of the new Shanahan-Dubas-Hunter dynamic, perhaps it's time to make a significant alteration in the direction of the franchise.  I just don't really see a way – outside of mortgaging the future for players that still might not help enough – that this team can be competitive on a Stanley Cup level. Beyond that, their cap is a mess and even if they wanted to move Rielly, Nylander  or future draft picks to augment what is – at best – a severely dubious core, they would be hard pressed to do so because of the abjectly horrible salary cap situation.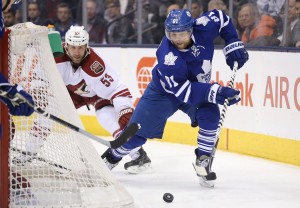 The Obvious Solution:
The way to fix this might initially hurt, but it's fairly obvious upon reflection: They must trade Phil Kessel.
Phil Kessel is an amazing hockey player, he's a great guy. I don't think he's fat, I don't care how much he trains and I don't have one single bad thing to say about him. Him and Phaneuf are my favorite Leafs since Sundin and Kaberle, but the Leafs are in a situation where they have quite a few young players worth being excited about (Rielly, Gardiner, Kadri, Percy, Nylander, Holland, Franson, JVR, Bernier) but no real way to keep them together under current restraints and even if they could, the team is missing the elite centerpiece that would elevate them from a mediocre to an outstanding prospect collection. In light of that, something must be done.
With these players in the fold, and no real way to win with the team as it is currently constructed, a Kessel trade makes sense. You could get a lot for him and relieve yourself of salary cap troubles at the same time.  Also, you could then feel free to try to move Bozak, Phaneuf, Clarkson, Lupul,  Polak, Robidas, and Reimer and happily sink to the bottom of the standings where you can improve your odds of winning the draft lottery and at worst, add someone who can be something approximating a franchise player.
At this point, if the Leafs were to give up on the season, they would be sacrificing – at best – a single playoff round (and  advanced stats tell us they are highly unlikely to hold off the Panthers and Bruins for the final Playoff spot anyways) and in return, they would set themselves up to be a sustainably competitive team with a great set of prospects and a manageable salary cap.
The way for the Leafs to finally be successful is to stop taking short-cuts and to bite the bullet for once. They've floundered their way to a pathetic ten seasons with one Playoff appearance and it's time to admit the salary cap prevents them from building a team the way they have been trying to since Brian Burke first took over.
I loved Burke. I love Kessel and I love Phaneuf, but man, it isn't working and it isn't going to work. The Leafs should trade Kessel for a package of prospects and picks and then move forward in an environment that fosters growth and patience.
Covering the Leafs for the Hockey Writers.