The sun was shinning in Washington on New Years Day and according to players, the ice was in great shape at Nationals Park for the annual NHL Bridgestone Winter Classic. But as expected heading into the special game between the hometown Capitals and the Chicago Blackhawks, ratings weren't as high as the NHL surely hoped they would be.
In fact, as reported by NBC, the overnight rating for the game was 2.3 – the lowest ever for an NHL Winter Classic game. Now for those of you who don't understand what overnight rating means, here's a quick explanation.
According to thinkTV, overnight rating is the viewing of a television program that occurs on the same day that the program was broadcast. It includes viewing that is watched live and time shifted viewing within the same broadcast day (2am to 2am).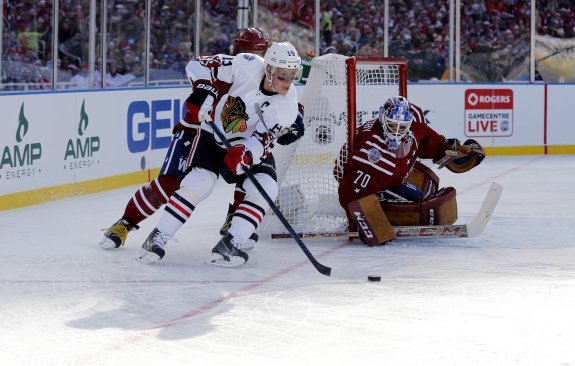 But why was this particular Winter Classic less popular than previous years. After all, the game was marketed relatively well with the Road to the Winter Classic television series and the constant commercial reminders that the game was upcoming. So why did it not exceed the league's expectations?
The Missing Component
To call the Blackhawks-Capitals matchup a rivalry is asinine. In fact, aside from the Tom Wilson and Dan Carcillo shoving match at the beginning of the game, it seemed to be a fairly shinny-like game.
Now the Troy Brouwer winning goal was exciting – sure – but a goal at that point of a game is always emotionally empowering. So what exactly was this game missing? The easy answer is rivalry.
In 2008, the first Winter Classic didn't exactly contain the best example of rivalry, but it was a new concept. It was an outdoor game. That was reason enough for fans to tune in. The 2009 edition included to Western Conference foes that had met in previous postseason meetings when the Red Wings and Blackhawks met.
In 2010, it was the burly Flyers against the grizzly Bruins before the Ovechkin and Crosby faced off in 2011. The following year included the Rangers and Flyers (and a great season of HBO's 24/7) that included Tortorella versus Laviolette. Finally in 2014, the Maple Leafs took on the Red Wings at Michigan's Big House in Ann Arbor – a super success for the NHL and it's marketing department.
This year, however, the lack of rivalry hurt the productivity of the game. It led to smaller audiences and questions of whether or not the league made a mistake in their Winter Classic decision this season.
Now maybe it's a case of what Yahoo's Greg Wyshynski suggests – that TV viewers have simply fell into Winter Classic fatigue. Either way, if rumours have any merit and the NHL names Boston and Montreal as next year's participants, we could see once again how important rivalry is to a game of this magnitude.
An Overload of Outdoor Games?
Last year, the NHL's increase in outdoor games was questioned by those outside the league offices. Were there too many? Will people be interested in the Stadium Series and an outdoor game in California? The league answered these questions by putting on quite the show for each and every game – including the Winter Classic and the Heritage Classic.
But following that up with mediocre ratings in 2015 and a Kings-Sharks game that will again show that outdoor games can happen in warm weather, one question resurfaces. Are these games happening too frequently?
The Winter Classic has become an annual event since it's inauguration in 2008 with the sole exception being the year of the lockout in 2013. But what if they reduced that number? What if it became an event that was held every other year – providing ample time for the league and the teams involved to build the hype within their markets?
NHL Winter Classic overnight ratings:
2015: 2.3
2014: 2.9
2013: No game.
2012: 2.4
2011: 2.8
2010: 2.6
2009: 2.9
2008: 2.6

— Richard Deitsch (@richarddeitsch) January 2, 2015
It's possible that we would simply see similar results. After all, the highest overnight rating the league has ever seen was in 2009 (Red Wings at Blackhawks) and 2014 (Maple Leafs at Red Wings) when it hit 2.9 – roughly 0.6 points higher than this year's game. But it's worth trying. If it's as popular as people believe, it would deprive fans of that pond-hockey pleasure. It would force them to want the Winter Classic more every time it came around and make tickets that much more valuable. Isn't that what the league is looking for, sellout crowds wearing the Winter Classic apparel?
Either way, it would reduce any possibility of fatigue when it comes to this sort of event. Making it more of a rarity and adding that rivalry might be exactly what the league is looking for. There are other teams and venues that would make for good hosts. After all, the Chicago Blackhawks can only redesign their jerseys so many times.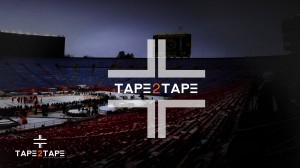 Have some thoughts about this week's column, let me know at @AndrewGForbes or @Tape2TapeTHW on Twitter.
Tape2Tape is a column looking at some of the biggest stories from around the world of hockey. Discussing different topics, it focuses on one major story each week. Agree or disagree, writer – Andrew Forbes – would love to hear what you have to say.