Just days following the previous two occasions the Chicago Blackhawks won the Stanley Cup, the Maple Leafs have pulled the same reactionary move: trading for one of the team's forwards that the Hawks can no longer afford, who could have an impact in Toronto, in an effort to retool more quickly.
With their third Cup in six years, Chicago has become the gold standard for building a championship-contending team over a sustained period in the salary cap era – a challenging task at its best given the level of parity in the league.
But the Leafs' attempts to pluck assets off general manager Stan Bowman's cap-crunched hands have backfired immensely. Brian Burke fell victim trading for Kris Versteeg and Dave Nonis repeated the mistake by acquiring Dave Bolland.
As the Blackhawks face another offseason of decisions and salary-shedding, it's up to Brendan Shanahan, Mark Hunter and Kyle Dubas to avoid repeating history with Patrick Sharp.
A Sharp Cost
With identical $10.5-million cap hits kicking in for Jonathan Toews and Patrick Kane on July 1, the Blackhawks knew this was their last shot with this group. The team has just under $7 million to play with, with just eight forwards signed and new contracts still to come for restricted free agents Brandon Saad and Marcus Kruger. Sharp appears the most likely candidate to be moved, as the next highest-paid player at $5.9 million for the next two years.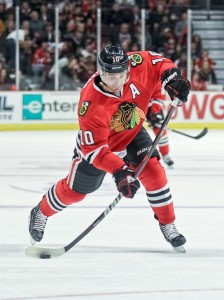 But it simply doesn't make sense for Toronto to get involved. If Phil Kessel and his large $8 million-contract is moved, Sharp would instantly become the top-paid forward. And if Dion Phaneuf and his $7 million are sent packing, Sharp is suddenly making the most money on the entire Leafs roster. For a team starting a rebuild and looking to potentially trade its other higher-paid players – Joffrey Lupul and Tyler Bozak among them – Sharp carries a hefty ticket that effectively replaces those names on the cap and resets Toronto's salary structure with a player who was brought in by trade. That's not exactly great optics. Plus, it takes away a roster spot for the next two years from some of the younger players in the Leafs' system, who won't have a chance to grow and develop with the team.
Sharp Control
At 33, Sharp is on the wrong side of the ledger and has full control of the situation with a no-move clause. The Blackhawks aren't going ask him to waive until they get the right deal, and that could mean parting with a couple of young roster players or at least a second round pick – something the Leafs are not in any position to do. Though the Winnipeg native can still produce at a high level, and played a key part in the Blackhawks' Stanley Cup victory – he had 15 points in Chicago's 23-game run – Sharp will be 35 when his deal expires, and the Leafs still won't be ready to contend.
Versteeg a Bust on the Top Line
When Versteeg was dealt to the Leafs after winning the Stanley Cup in 2010, he was put under intense pressure to perform and Sharp would likely garner the same attention from hockey-mad Toronto, even in the face of a rebuild. Coming off a decent playoff run in which he scored six goals and 14 points as a third-line depth winger, Versteeg was slotted onto the Leafs' top unit by then-head coach Ron Wilson, alongside Kessel and Bozak.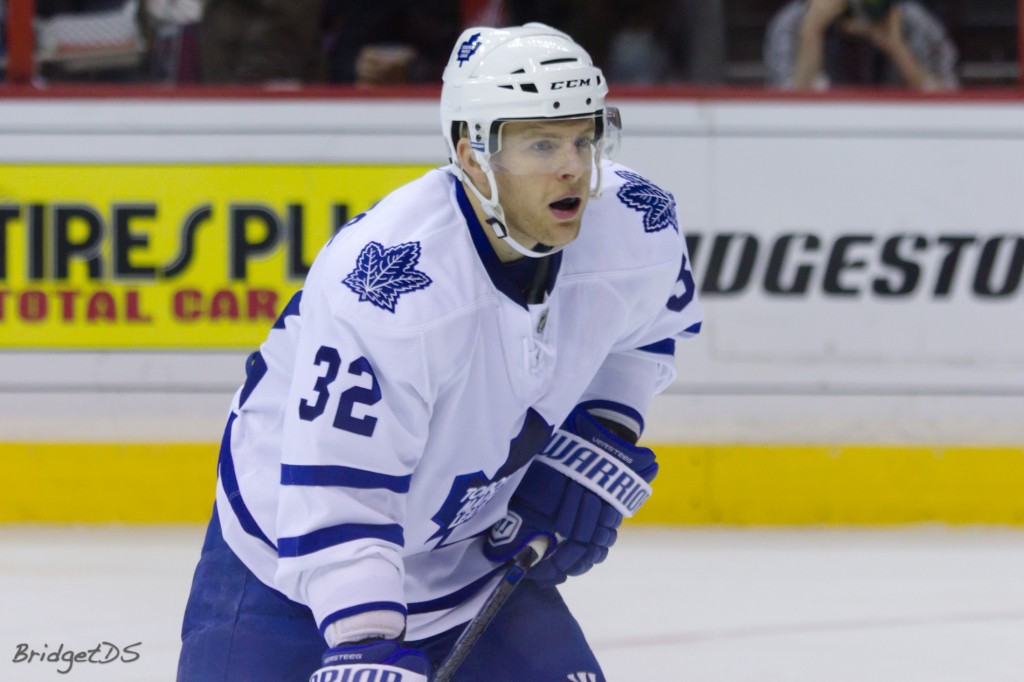 Even if that duo is traded, the Leafs might try the same thing with Sharp, installing him on a new No. 1 line with James van Riemsdyk and Nazem Kadri, who have played well together in the past.
In Versteeg's case, he struggled to live up to the high expectations, never truly finding the level of chemistry and production that was expected with Toronto's big guns. The experiment lasted all of 53 games, before he was shuffled off to the Flyers for first and third-round picks that became Stuart Percy and Josh Leivo. While Burke tried to correct a mistake, and turned one asset into two players who will likely challenge for jobs next season, Versteeg simply didn't have the intended impact with the already-established pairing of Kessel and Bozak. Resorting to the same strategy and hoping for results would be akin to taking an ill-advised risk.
Bolland's Leadership Negated
Bolland became a Leaf after scoring the Cup-clinching goal in 2013, as the Blackhawks rallied from a 2-1 deficit in the final 90 seconds of Game 6 against Boston. It was those types of clutch, timely goals, along with Bolland's playoff experience and leadership that the Leafs thought they were getting from a player who wanted to return and play in his hometown.
https://www.youtube.com/watch?v=OInInvlgNa0
Instead, the Mimico, Ont., native – who was in a contract year – suffered a torn Achilles tendon a month into the season, limiting him to just 23 games. The Leafs smartly avoided overpaying to keep Bolland, allowing him to bolt for Florida and a five-year, $27.5 million-deal.
Though Sharp would provide similar leadership, especially among the forward ranks if big deals are made for Kessel, Lupul or Bozak, he's five years older than Bolland, and heading beyond his prime years.
Shanahan and the team's management group can't afford to mortgage the future, only to see the veteran's remaining talents and value go to waste.