Yesterday, Mike Reilly informed the Blue Jackets he was exercising his right to opt out of signing a deal with them. While it was not a shock, as the Jackets have attempted to sign Reilly multiple times over the past two seasons, Jackets fans were none too pleased with the situation.
Jackets fans (and players), please put down your pitchforks and voodoo dolls. Step away from your keyboards and close out of twitter. It's ok that Reilly has chosen to not sign with the Blue Jackets. Here's why.
Jarmo Kekalainen, Blue Jackets GM, talked openly with the Dispatch yesterday.
We did everything we could possibly do. From player development since we drafted him, to recruiting him — or whatever you would call it — over the last few months…. it wasn't enough.
If the Jackets really did everything they could possibly do to get Reilly to sign then there is clearly a disconnect between the him and the organization. Not everyone is going to click with a team. Not everyone is going to want to come to a team that's building towards a cup. Many want to be a part of a team that already has proven success. The teams Reilly is reportedly looking at have been contenders for the cup the past 5 years.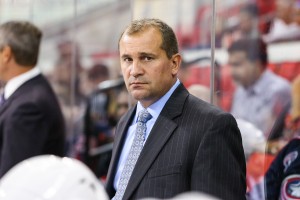 Todd Richards coached Reilly during the 2015 World Championship in the Czech Republic. It makes one wonder if they were unable to create a solid player-coach bond. I believe if they had created that relationship Reilly would have signed with the Jackets after Worlds.
The Blue Jackets have worked hard to create a positive team chemistry both on and off the ice. Do the Jackets need a player in the locker room who doesn't want to be there? No. The Jackets don't need another Jeff Carter situation where the captain has to hop on a plane and convince a player to come to his team.
Secondly, Reilly will not save the team. He will not win the Jackets a cup. I'm not denying the fact Reilly is talented but one player doesn't win a cup.
You can argue that Reilly might be the missing piece the Jackets need to complete their defensive puzzle. However, time and time again, draft picks have proven they don't always have what it takes to play in the big leagues. NCAA hockey does not have the same intensity as the NHL. The pressure to produce on a daily basis in the NHL is far heavier than the NCAA.
Finally, of all the teams Reilly is in talks with (Chicago Blackhawks, Minnesota wild, Los Angeles Kings, and New York Rangers) I hope he signs with the Minnesota Wild. Why? Family. Reilly's father is a minority owner in the team. Many players will tell you if they have the opportunity to play surrounded by family they would take it.