The Hockey Writers Nashville Predators staff writer Colin Fitts will evaluate the performance of each player on the 2014-15 Predators roster every weekday in alphabetical order. You can follow Colin on Twitter, @FittsTHW.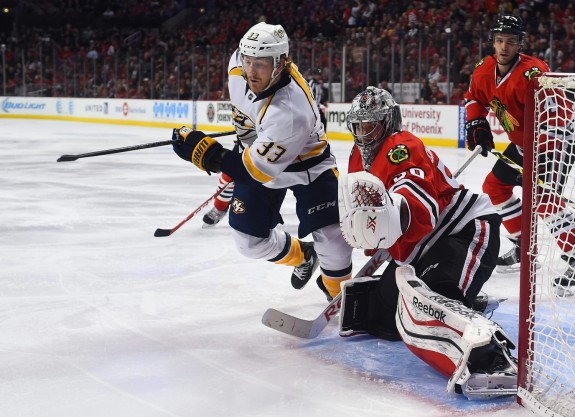 Colin Wilson
Position: Center/Left wing
Age: 25
Height/Weight: 6-foot-1, 216 lbs
Stat Line: 77 GP, 20 G, 22 A, 42 PTS, +19 +/-, 22 PIM, 52 hits, 33 blocked shots, 39.9% face-off, 16:12 AVG TOI
Playoffs Stat Line: 6 GP, 5 G, 0 A, 5 PTS, -1 +/-, 0 PIM, 4 hits, 8 blocked shots, 44.4% face-off, 19:44 AVG TOI
*Points at Home vs Away: Home – 13 G, 10 A | Away – 7 G, 12 A
*Face-off percentage Home vs Away: Home – 36.75% | Away – 36.5%
*Giveaway/Takeaway Correlation: 32 giveaways, 29 takeaways
Contract Status: Restricted free agent ($2 million cap hit in 2014-15)
Highlight of the Year: Colin Wilson sought to prove his high worth for the offseason by having a breakout performance in the playoffs. He accomplished that by scoring five goals in the first round against the Chicago Blackhawks. Unfortunately, Wilson's hot scoring stint could not continue since the Predators were eliminated in six games. His best goal of the playoffs was a game-winner in a 5-2 Nashville win in Game 5.

Strengths: True or untrue, there was always speculation that Wilson and former head coach Barry Trotz did not get along. It was apparent on the ice since Wilson was constantly under-performing year after year. It was not until Peter Laviolette stepped in as bench boss that Wilson's outstanding shot and deceptive speed began to reach their potential. Last season was a career year for Wilson in goals at 20, points at 42 and +/- at +19. Many of his goals came at opportune times, too. Eleven of the twenty scored came in the game's final period. His +19 was a team high and ranked in the top 30 among the League.
Weaknesses: Wilson is naturally a center but plays the wing the majority of the time because he is weak in the face-off dot. He went 71-for-178 (39.9%) in face-offs last season. With the likely departure of Matt Cullen, Wilson would be an upgrade in Nashville's center depth if he improved at taking draws.
What to Expect Next Season: According to Adam Vingan of The Tennessean, general manager David Poile is seeking a long-term deal with Wilson. Poile has until June 30 to tender the RFA a qualifying offer, or Wilson hits the free agent market on July 1. Given that Wilson returns to the Preds next season, he will be expected to hit the 50-point mark.
Subscribe to our Predators stories to get email updates every time a new story is published.