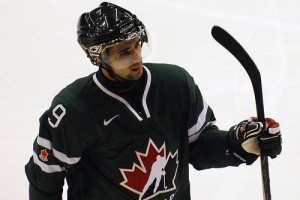 I recently got in touch with the McKeen's Hockey Pro Scouting Coordinator and Maple Leafs Hot Stove writer Gus Katsaros to talk about current Toronto Maple Leafs prospects.
Here is what he had to say:
Question: Is Nazem Kadri likely to become a top NHL player?
Answer: I think it's more likely that Nazem develops into a serviceable player, rather than top NHLer. I think due to the expectations heaped upon Nazem from the moment he was drafted as a relatively high pick, the general consensus has been to assume that he will be just like Steven Stamkos and take the NHL by storm. The reality is, there is work to do in his game to get him ready to be a professional hockey player─first round picks are not above being developed, and that includes very high picks. To answer the question, I think Kadri will top out as a serviceable second line player with spot first line duty, unless he changes some aspects to his game.
Question: What is the biggest thing Nazem Kadri needs to learn or work on if he wants to become a full-time NHLer?
Answer: Nazem already exhibits a lot of good qualities in his game, but there is a difference between exhibition of talent and taking those skills and adapting them to the professional game. His footwork and first two-step quickness, while improved is still sub-par and he could use power skating training over the summer. He also is slowly adapting to his new size and weight, something that changes his effectiveness since he can't do what he used to in junior, even with a little weight gain. To me, his biggest asset/flaw is predictability. There's that patented toe drag from the outside/inside that is too easy to defend against. The asset is due to him keep going back to make it better, while the flaw is reaching into the well one too many times. He's slowly working on integrating new moves and better positioning, but that's a work in progress. I always found him to be a bit selective about going to the net, but with the addition of Joe Colborne over the past week, Kadri seems to have taken to heart the dirty area and scoring goals. There is still some work to do, but he's actually not that far off from becoming serviceable at the NHL level.
Question: In your opinion, will Jake Gardiner be a solid top-four defenseman for the Leafs?
Answer: I think solid is relative. He's got the puck rushing skills and skating ability that developed properly will be a valuable addition to the Buds blueline. Expectations are high on him (another first round pick). He will be a great top-four defenseman, as long as he can adapt his game to the professional leagues. Coming from (drafted out of) Minnesota high school and playing in Wisconsin is a natural progression. He'll likely turn pro at the end of the college season and learn to play the trade with the Marlies before stepping into the Leafs lineup. One thing to consider, he is not, and will not be Tomas Kaberle. Mobility on the back end is very important, and Gardiner has those skills already, a top-four spot awaits.
Question: Do you think Keith Aulie will ever become a top-four defenseman? If so, about how long do you think it will take?
Answer: Aulie could be the gem in that entire trade. He exhibits good size, strength and smarts for the game while essentially being the replacement to Mike Komisarek. There is some mobility there, although he is better at keeping things simple and making better first passes than trying to rush the puck himself. The Leafs are keen to say that they believe he is NHL ready – and hence why they made the deal with Francois Beauchemin – but I have concerns. While exhibiting an understanding of the game, I find some decision-making is still lacking, such as pinching when his partner is already in a prone position and allowing for odd-man rushes the other way, and trying to handle the puck too long and losing it in transition. Being a replacement for Komisarek, I would figure he would need another season in the AHL, but it's likely he sticks as a member of the defense corp next season.
Question: It has been said that recently acquired prospect Joe Colborne has the potential to become a number one center. Do you think he will ever be one?
Answer: While there are plenty of good reasons to believe the former Bruins first round pick has the potential to be a number one center, I think it would take a big leap in skills that he doesn't currently exhibit to accomplish that in the short term. His physical game and ability to use his size is still immature and that will come as a matter of experience and being placed into more important situations. Brian Burke did indicate in his press conference announcing the trade that in all likelihood, the Leafs themselves place him with potential as a second line center, and the comparable should he not reach that stage of development was David Steckel in Washington. A serviceable player, but not exactly a first line player. Still, to win in the NHL, strength and size up the middle is a key, so even if he did top off as a second line player, that's still a solid piece to have in that slot.
Question: James Reimer, Jussi Rynnas, Ben Scrivens and Jonas Gustavsson all have great talent, but do you think any of them will become a solid number one starter in the NHL?
Answer: When Jonas Gustavsson's heart issue was first revealed, I did some background research to determine the extent of the risk to this young man as a professional hockey player. The risks are evident, and I feel the Maple Leafs knew that as soon as it happened. This led to them a) keeping Reimer in the fold, and going out and signing Ben Scrivens out of college and Jussi Rynnas from Europe. It shows forward thinking in case the Monster wasn't developing, or his heart issue continued. He's currently had a third ablation procedure, which in the grand scheme of things, is a negative sign. I feel Gustavsson loses sight of the puck too much and doesn't challenge enough. Seems to react better than position himself and this alone could cost him the number one goaltender job.
Gus also said that goaltending is not a strength of his, so his answer to the final questions should all be taken with a grain of salt. He added that the best person to talk to about goaltending his Justin Goldman of The Goalie Guild, who you can find on Twitter, @thegoalieguild.
Thanks to Gus Katsaros for doing participating. It was my pleasure to interview him.
You can follow Gus on Twitter @katshockey.
Follow me on Twitter @LukasHardonk for more Maple Leafs coverage, including news, rumours and game updates.
Lukas, a student at the University of Ottawa, covers the Toronto Maple Leafs on a part-time basis for The Hockey Writers. Contact Lukas at lukas.hardonk@gmail.com or follow him on Twitter, @LukasHardonk.