As the NHL season looks down the final 20 games of the race to the playoffs, it is only natural that fans and writers alike begin turning their attentions to speculating about the various player awards which will be handed out in June. One of the awards most hotly contended is the Calder Memorial Trophy, awarded to the player "selected as the most proficient in his first year of competition in the NHL". The winner is selected by the Professional Hockey Writers' Association at the end of the regular season and is one of several annual awards available.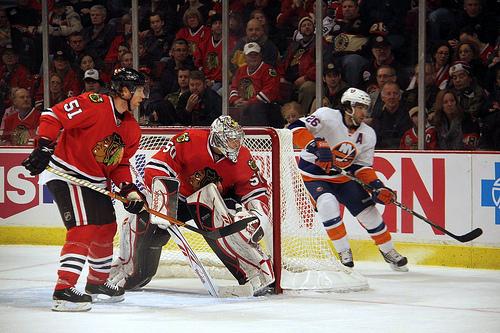 To be eligible, a player:
– cannot have played more than 25 games in any single preceding season;
– nor is 6+ games in any of the two preceding seasons in any major professional league;
– and the player must not be older than 26 years before September 15th of the season which he is eligible.
For example, Antti Niemi was a rookie last season, and there is no doubt he would have been among the top choices for the award. Unfortunately for him, his 26th birthday fell less than 3 weeks before the cutoff date, thus making him was ineligible for the award.
It might surprise you when looking through the NHL player stats database to see how many rookies are in the league – as of the morning of February 24, 51 rookie players had played 25+ games, and a total of 183 players have played at least 1 rookie-eligible game this season. Of those 51 top rookie players, 21 have played at least 55 games this year.
As the regular season draws to a close, the rookies who've led their class in scoring or assists are naturally going to draw the most attention. One need look no further than the All-Star roster to see those names most likely to crop up at the top of the Calder finalists: Jeff Skinner (CAR), Logan Couture (SJ), Derek Stepan (NYR), Michael Grabner (NYI), Taylor Hall (EDM), Kevin Shattenkirk (STL), Tyler Ennis (BUF).
Again, the qualification for the Calder is "the most proficient in his first year of competition in the NHL". High-scoring forwards are frequent final candidates for this award, because it's hard to ignore the rookie who comes into the league and puts up 20 or 30 goals (or more) in their first year; for this reason alone, look for Couture and Skinner to be the late-season favorites.
But being rookie of the year – "most proficient" – is more than just numbers on the chart. In judging for the award, how much consideration is given to how vital that rookie has been to the team's success? Are some rookies more noticeable because they're on teams that are otherwise struggling (ie. Hall, Eberle, Grabner, Ennis, Shattenkirk)?
Do the Blackhawks have any potential candidates in the running this year? Let's review those players who qualify on the NHL's rookie roster and who played 20+ games this season:
Corey Crawford, goalie — Crawford spent the last few years in Rockford tuning his game and waiting patiently for his opportunity to reach the NHL. Last year, Antti Niemi was selected over him as backup to Cristobal Huet, for reasons more related to contract flexibility than talent. The extra year served him well – he posted a 24-16-2 record for the IceHogs and earned his position as backup goalie in Chicago for this season. He owns a record of 20-12-3, with a current 2.17 GAA (4th best in league), .921 sv % (tied for 8th), including 2 shutouts. His GAA has been as low as 2.12, and his strong play has earned him the starting goalie position away from veteran Marty Turco.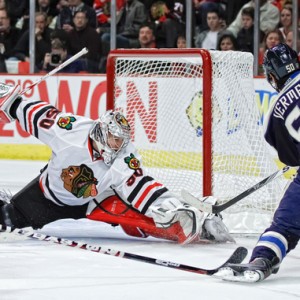 More importantly, however, is how important his play has been for the Blackhawks: there has been game after game where Crawford's play has kept the stuggling team in front of him in the game long enough for them to recover, or kept games from being a total wipeout. The team has played noticeably better in front of Crawford than Turco often, perhaps because his style is so like Niemi's, and he is solid, dependable and square in the net. His record has been particularly noteworthy when you look at the struggles that the defensive lines in front of him have faced – Chicago's blue line issues this season have been well-documented.
While fellow rookie Sergei Bobrovsky (PHL) has posted similarly impressive numbers and stats (23-9-4, .918, 2.45), Bobrovsky has not had to carry his team – which sits atop the EC standings – anywhere near as much as Crawford and Turco have carried theirs. "Bob" may have a few more wins, but he's playing behind a team that saw little turnover and is incredibly solid defensively. Which goalie has been more noteworthy to their team's record?
Because Chicago has had so many issues this year, Crawford's success has gotten lost in the noise over the steady parade of Blackhawks injuries and issues. On a team that has struggled for consistency all season, Corey Crawford has been shining with resiliency in the net. He is worthy of being strongly considered for the Calder.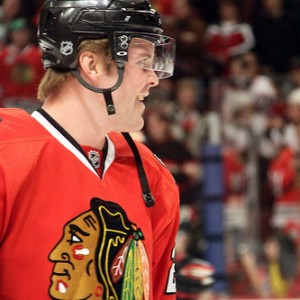 Bryan Bickell, left wing – Since Bickell played 16 games in the NHL last year, he's not eligible for the Calder this year – but his season is worth taking a good look at. He's had a quietly consistent season for the Blackhawks, providing grit, physicality,  and strength on whatever line he's been asked to play on, and has racked up 14 goals (including 2 GWG and 15.2 S%), 17 assists, and a +9 in the process. He's got a powerful shot, is willing to dig in the corners, and lay down the hits when needed – and as a result,  is seeing plenty of ice time. The team signed him at a bargain price for a 3-year contract last summer. Expect to see a lot more out of Bickell in the years to come.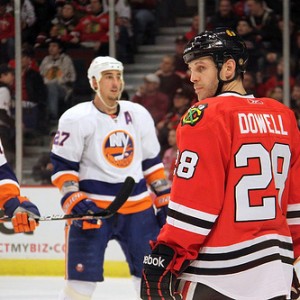 Jake Dowell, center – Dowell is one of several Blackhawks players who came from the University of Wisconsin, and spent time in the Rockford system. Chicago has been deep up the middle for years, so this season was the one where he finally had the chance to break through and show he could be what Chicago needed. Dowell is a consistent player, and one who has repeatedly been a leader on previous teams – he's worn both the "A" and the "C" before, most recently for the IceHogs.
He's smart, solid, and physical – he ranks 5th on the team for hits, 8th for blocks, and has the 5th lowest numbers for giveaways on the team among active players who've played over 20 games. His job has been mostly to center the 4th line – occasionally getting to play on the 2nd or 3rd – and even on the 4th line, he has put together a decent 6 goal, 12 assist, +9 season to date. While he is not a likely candidate for the Calder, Dowell is a player in the mold of Andrew Ladd (now Captain of the Atlanta Thrashers) – strong, smart, reliable, physical. Dowell is Calder-eligible, although he would be a longshot for it.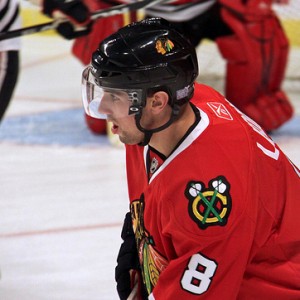 Nick Leddy, defense – Leddy has the misfortunate of being at the right place at the right time, at least as far as Calder consideration goes. But his timing could not have been better to break into the NHL. Leddy came to the Hawks last year as a prospect in the Cam Barker trade. It was expected he would spend more time at the collegiate level of play, and perhaps a year in Rockford, before making the Blackhawks roster. Instead, after a very strong showing at summer prospect camps, the decision was made to leave school and focus on hockey. He ended up heading to Rockford after training camp and it was planned that he would spend the year there.
However, after Brian Campbell's injury early in the season, he ended up being called up to Chicago, and started his season in a way that most rookies can only dream of: the opening day roster for the defending Stanley Cup champions. He played in six games for Chicago in October before being sent back to Rockford for further development. After winning bronze with Team USA at the 2011 World Junior Championships, he was called up again to the Blackhawks to bolster a struggling blue line. He and Jordan Hendry worked well together as the third pair, but Coach Quenneville shook up his D pairings a bit, and now Leddy has been seeing plenty of ice time as Duncan Keith's partner on the top D-line. The two share a similar 2-way style of play, and there is no doubt that a few years down the road, Leddy may well be another Norris Trophy contender for the Blackhawks. He has a lot of natural talent, and while he came into the NHL a bit raw around the edges, has progressed rapidly. While he's unlikely to be a Calder candidate, he's provided an important boost to the Blackhawks D-lines, averaged the most TOI (14:17) per game among the non-goalie rookies on the roster, and is going to be an important presence on Chicago's blue line for years to come.
Chicago's rookies have been an important asset to the team this year as they've worked to recover from the remarkable number of post-Stanley Cup-winning trades and departures that the team had to face. They've been a force in scoring, physical play, leadership, and in Crawford's case, being the difference between the team still being in contention to reach the playoffs again.