This past Monday, when praise for Matt Bradley's crunching hit on notorious jerk Matt Cooke and subsequent beat down of the Pittsburgh Penguins' AHL call-up Ryan Craig (who asked for the tilt) made the mainstream hockey headlines, Caps fans nodded their heads and smugly agreed. This is nothing new; this is just who Matt Bradley is.
Anyone who pays attention to my Twitter account knows that I am a stalwart Matt Bradley fan. Aside from his environmental dedication, deadpan hilarity, and this picture of him inexplicably holding tiny stuffed bison, there are many more reasons why he has emerged as a fan favorite in Washington. Now, in his eleven year professional career, he has not registered more than 24 points during a season, nor has he scored more than 10 goals. But he's not paid to be prolific; he's paid to play on the fourth line and it suits him well–there are few hockey players who work as hard as Matt Bradley. Whether he's playing rough in the corners, making those big hits, scoring clutch goals at really random times, or dropping the gloves with someone who is probably bigger than him, he rarely has a night where you can reflect on the game and think, "Brads was phoning it in."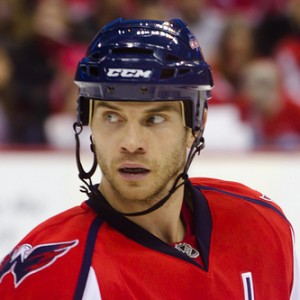 Hockey's evolution (though some might say degradation) and professional sports evolution in general, has turned players into bigger, faster, stronger, athletic machines. It creates a broader spectrum of role players, all of whom need to find a niche lest they hover in AHL/NHL limbo, get familiar with the press box, or become the dreaded unclaimed free agent. Bradley has found his place on the Washington Capitals by being the consummate fourth liner and a large part of the team's intensity. Although all hockey players are tough, Bradley exhibits a special kind of grit, one which allows him to flourish at times when other players are having difficulty finding their rhythm. And while he doesn't have the numbers of Ovechkin, he has a knack for scoring goals when a game-changing momentum shift is desperately needed.
A perfect example of this is during the Capitals 08-09 playoff series against the New York Rangers. With the series favoring the Rangers 3-1, it was a do or die game for the Caps, and they were increasingly having a hard time solving Henrik Lundqvist. But just under five minutes into the first period, Bradley (who is not ordinarily on the penalty kill) took control of a mishandled puck, charged toward Lundqvist, and flipped it over the King's right pad. Had Ovechkin scored that goal, it would still have started the game with the right tone but the fact that it was Bradley meant more right then because what the team ultimately needed wasn't necessarily for the superstars to step up, but for the team to understand the benefits of working hard. An unlikely playoff hero, this was Brads' first playoff goal of his career. It didn't hurt either, when he picked up the second playoff goal of his career less than ten minutes later, rushing a routine Brooks Laich dump-in and taking an extremely sharp angle shot. The Capitals would go on to win the game 4-0 and ultimately win the series in seven games.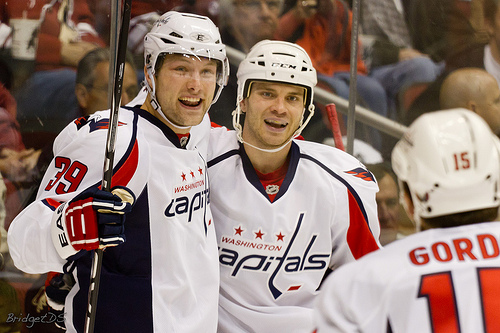 Not that these things shouldn't be expected; Matt Bradley does have a history with the Rangers. Just seven months later the following season, with the Capitals trailing by one in the first period, Bradley took on Aaron Voros. Brads, who in his own words, said it looked like he was in a "horror film:," bled profusely from a wound above his left eye. Unfazed, he asked the referee leading him off the ice, "Am I cut?" The fight turned out to be a game-changer; it only took Alex Ovechkin four minutes to score the equalizer. Stitched up between periods, Brads returned to the ice and, with five minutes left in the third period with the game even at two apiece, Bradley would jump on a puck batted out of the air by Rangers defenseman Wade Redden. Using his body to protect the puck, he squeezed by another Ranger and scored with a quick wrister over Lundqvist's glove giving the Caps a one point lead and ultimately the win. Brooks Laich would later tell reporters:
"The Ovechkins, the Backstroms and the Greens are the backbone of this team, but the Bradleys… those guys are the guts — and that's why we win."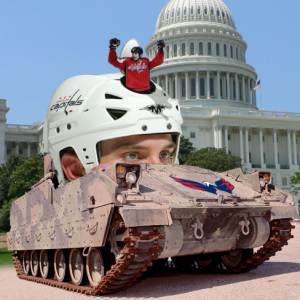 There's much more to say about Bradley. There's the time he swooped in on an almost-fight between Tampa Bay's tough guy Steve Downie and Ovechkin. There's his apparent side job as a physics professor. There's the ubiquitous Twitter hashtag #needsmorebradley. In his five and a half years playing with the Capitals, he has made an indelible name for himself. The anger of Caps fans was palpable after he was the recipient of a really, really cheap shot by the Flyers' Daniel Carcillo but their anger turned to joy when, three days later, his wife gave birth to their first child. Baby's newborn pictures with daddy will show Bradley sporting a stitched up face thanks to Carcillo, but one day his kid will understand they show why his dad is such a badass…something Capitals fans have been saying for years.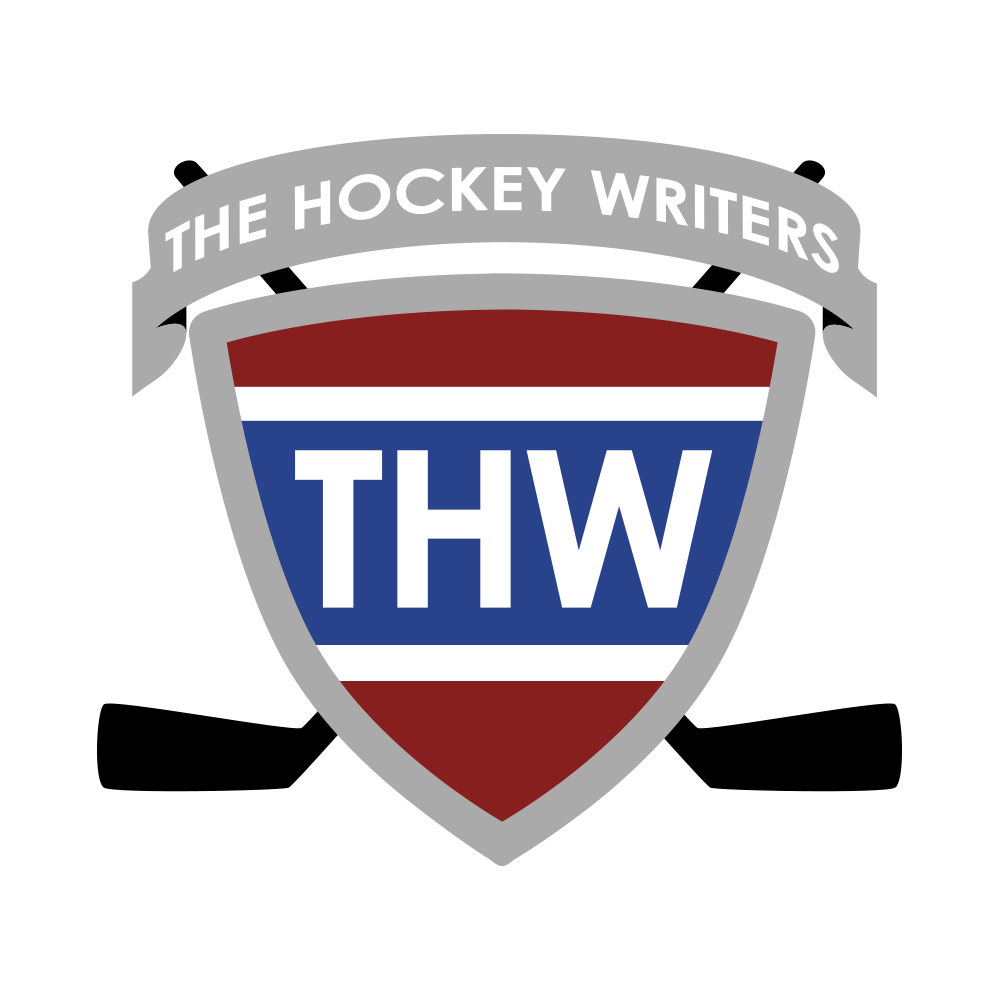 The Hockey Writers is:
1) A top-tier hockey media company delivering a top-notch, in-depth look at the NHL
2) A collective of some of the best hockey writers anywhere
3) A multimedia provider with daily podcasts and YouTube shows
4) Well-respected and widely-cited NHL prospect and draft resource