Just as the title suggests, this is a list in no particular order of prospects that could prove to be valuable commodities leading up to the NHL trade deadline.  GMs of teams that emerge as buyers might have to dangle such prospects to land the perceived difference- making players they desire in their quest for hockey's Holy Grail.
– Brayden Schenn (Los Angeles Kings)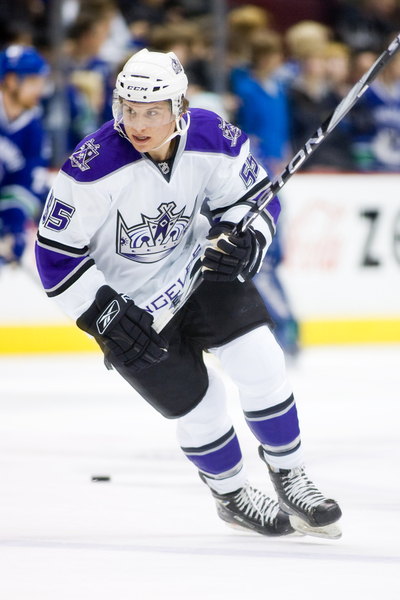 The Kings have previously made it known that Schenn is not in play, but now the bar has been set by some of the intriguing trades that have already occurred. GM Dean Lombardi would likely love to make a splash and obtain a high end forward and may have to pay the piper to do so.
– Beau Bennett (Pittsburgh Penguins)
Is Penguins GM Ray Shero done after dealing Alex Goligoski for James Neal and Matt Niskanen? I think not as he seeks further help for the forward ranks. The offensively dynamic forward has had a solid debut with the University of Denver Pioneers with 19 points in 27 games so far this season. The return would have to be significant to deal this young gun.
– Evgeny Kuznetsov (Washington Capitals)
GM George McPhee almost assuredly has to make a Dustin Penner cannonball of a splash on or before D-day – NHL trade deadline day that is. The Russian forward prospect can be one of the top offensive players in the world of his age. One catch – when he wants to play, that is. Sound like a familiar formula for a forward on the Capitals?
*Note: I am in no way inferring the Caps should trade for Penner; he was simply the biggest player on the trade block I could think of that could make one heck of a cannonball splash.
– Jordan Schroeder (Vancouver Canucks)
The skilled forward's stock may have dropped this season, but the Canucks injury depleted blueline may force their hand to deal a still valuable asset. With their Cup aspirations, at the very least GM Mike Gillis will likely want to add another key piece to the talented Canuck squad.
– Carter Ashton (Tampa Bay Lightning)
GM Steve Yverman has already added Eric Brewer in a nice move, but as much as he likes Ashton as a potential future power forward in the big leagues, he may yet want to tinker with the Lightning roster. Ashton has notched 24 points in 18 games since being traded to the Tri-City Americans in the WHL.
– Jeremy Morin (Chicago Blackhawks)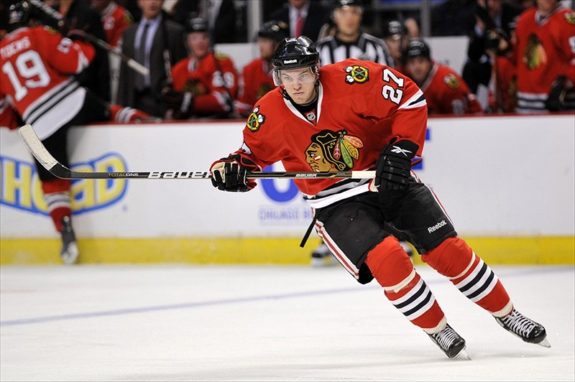 Should GM Stan Bowman perform some creative and heroic salary cap manoeuvring, offensive forward Morin might find himself with his third NHL franchise.  It's getting close to desperation time for the defending Stanley Cup champions in their bid just to make the playoffs.
– Carl Klingberg (Atlanta Thrashers)
The Thrashers are on the verge of flipping to sellers rather than buyers. Should GM Rick Dudley decide the Thrashers are in the Eastern Conference playoff mix still, the two-way forward with good size might be on the wish lists of opposing GMs. He had 3 goals in 6 games at this year's World Juniors for Team Sweden.
– Dylan McIlrath (New York Rangers)
The Rangers always seem to be buyers. McIlrath is an intriguing blend of size, tenacity, skating ability and potential. The Rangers are not always the most patient organization, however, and Dylan is likely coveted by many a NHL GM.
– Taylor Doherty (San Jose Sharks)
Speaking of trade deadline splashes, the 6'8" towering blueliner is a candidate to help GM Doug Wilson make a big one. He was drafted as a project prospect. His offensive development at the OHL level may have already surpassed what some might have thought him capable of. He has 43 points in 56 games. The team that always leaves you wanting more come playoff time will once again be looking to find that key player that gets them over the playoff hump. Good luck indeed, Mr. Wilson.
–  Jarred Tinordi (Montreal Canadiens)
The Canadiens have roster holes that need plugging other than in goal. Tinordi is a desirable prospect as yet another tall defenseman. Tinordi, at this point, projects to be a physical shutdown defensive defenseman.  It took him some time to acclimatize to the OHL, but is developing into a force in his own zone.
Christopher Ralph is THW's prospect and draft analyst.
*Follow The Hockey Spy on Twitter as I infiltrate, dissect and analyze happenings of hockey prospects and the NHL entry draft.
Chris is THW's senior draft/prospect analyst and a Managing Editor. Watch for "The Next Ones" Prospect Profile series, exclusive rankings, mock drafts, as well as the annual THW NHL Entry Draft Guide. Follow @ChrisRalphYQ on Twitter as he infiltrates, dissects and analyzes all happenings of hockey prospects and the NHL entry draft. Email: cralph[at]thehockeywriters[dot]com