It was game 1 of 82 for the Buffalo Sabres last night. Not only that, but it was prime time against a new divisional rival and arguably a Stanley Cup favorite in the Detroit Red Wings.
There are a lot of things to consider and take away from this one, a losing 2-1 effort (I wasn't far off); some things to be happy about and some things to be concerned about. One thing to keep in mind at all times with this team throughout the season: they are one of the youngest in the entire league. There will be many ups, many downs, and lots of growing pains. Be easy on the youngsters as they learn, grow, and hopefully become the kickass core Buffalo is looking for.
That said, here's what we learned Wednesday night:
The Effort Was There
If you've watched the Sabres a lot of the last few seasons, you know that this is a big one. The Sabres of that time would never, EVER give you a solid 60-minute effort, instead opting to show up a period at a time whenever they felt like. At best, you got 40-minutes with one abysmal 20-minute stretch thrown in.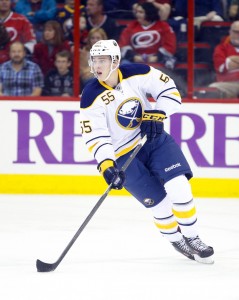 Constant effort is a must in the NHL whether you're an experienced, talent-laden team or a young, getting their professional feet under them team. I'm glad that coach Ron Rolston got that effort out of his team because this group isn't talented or experienced enough to win games without maximum effort every night.
It'll be interesting to see if this is something they can keep up over 82 games or if they'll again battle with consistent effort. I would really hope this young group won't have that issue but I'm guarded.
There's A Long Way To Go
Perhaps it's a good thing that the Sabres faced a talented, veteran team like the Wings right out of the gate because it really hammers home the difference between a team like that and the Sabres.
Yes, the Sabres fought hard and skated the entire game, but the Wings looked calm, cool, collected, and flat out better the entire night. Their big name players controlled the puck a good portion of the game and had the young Sabres chasing.
Not only that, but you could see it on the power play. This wasn't the same "OH GOD, WHAT ARE THEY DOING?" unit from last year, where the talent was still there but the direction wasn't. No, this was a young team still finding itself, and that 0-for-7 power play mark against a good team was a reminder that "hey, this still needs figuring out."
The Wings looked like the seasoned group – quick, smart, accurate passes, as well as an awareness as to just where they are and what needs to be done. The Sabres got their pressure from constant hustle and a few mistakes by the Wings. Sooner or later, you're going to need to create your own chances and not rely on the other team to make a mistake or two.
The Kids Are Alright
And there are a lot of them.
The team played three teenagers: Zegmus Girgensons, who got his first career goal late in the third to cut the lead in half, Mikhail Grigorenko, and Rasmus Ristolainen.
Grigorenko looked frustrating again, but still tantalizing. He was pushed around routinely but still managed to maintain puck possession while being pushed around. For a kid as big as he is, he needs to get stronger and learn to use his size to his advantage when he has the puck. He has all the skill in the world but still has a long way to go.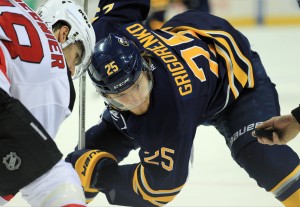 Ristolainen looked lost at first but managed to compose himself as the game went on, even providing some solid play on the penalty kill. Fellow defensive youngster Mark Pysyk had himself a game. He was +1 in 21:21 of ice time, managing three shots and looking very comfortable. He should be a guy to watch out for as the year goes on.
Still, the future looks promising if these guys can continue to develop. There are plenty of rookies and while there was plenty to like from them, there is a ton of room to grow; something they should continue to do as this season goes on.
Ryan Miller Was Solid Again
He faced 34 shots on the night, turning away 32. Aside from a brief offensive spurt by the Red Wings midway through the first period, he looked good. The problem again is with the defense and their inability to limit shots.
The Sabres were last in the NHL in shots against per game last season and that is one huge factor in their miserable season. If they want to have a shot at competing this season, they have to do a better job of that.
Miller has shown that he can and will bail them out more times than not, but having your goaltender face 30+ shots a night is going to lead to more losses than anything else regardless of who your goalie is.
Miller will have to be at his best all season at this rate and while the defensemen are young and still learning, they'll need to be more aggressive and limit the chances Miller has to turn aside.
Ryan is a lead writer for The Hockey Writers as well as editor for Mile High Sticking and co-owner of The Farm Club. 
The NHL regular season schedule was released on Friday. Check out our partners at TiqIQ for the best deals on Buffalo Sabres tickets for all 2013-14 games.