Who
Detroit Red Wings
When
Tonight, 8:00PM EST
The Dangermen
The usual suspects are back in Pavel Datsyuk and Henrik Zetterberg. Datsuyk is the guy you might know from his time spent dekeing the jocks off of people or embarrassing goalies on the reg. When he someone does something cool, it's "Datsyukian". That should tell you the talent level this guy has.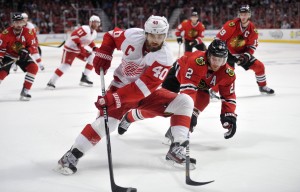 Zetterberg, meanwhile, is the cool-as-a-cucumber captain who just happens to be a fantastic playmaker and incredible in terms of puck possession. Guy gets things done in the offensive zone and he'll likely hold onto the puck for 12 minutes just because he can. Both he and Datsyuk are getting up there in years but their penchant for humiliating opposing defensemen does not belie their age.
Going with the "that guy is old" theme, Daniel Alfredsson joins the group after effectively splitting up with his only team ever, the Ottawa Senators. He did it with all the subtlety of a wrestler: steel chair right over the Sens head. We all gasped. Still, he's a solid offensive option on the second line and he makes them that much more balanced.
Johan Franzen is your resident "stand in front of the net all night" guy that will join Alfie and new addition, Stephen Weiss. Weiss, stranded in the hockey hell-hole known as Florida for what seems like an eternity, is a pretty solid two-way center who could see his numbers jump up while playing for a real life hockey team.
Behind them is a lot of speed and a lot of experience. After briefly signing with the Flyers only to 180 and come back to the Wings, Danny Cleary will resume his role as third-line winger on a line with the big Todd Bertuzzi – who isn't the elite scorer he used to be but is still pretty solid – and Joakim Andersson.
The Defenders
It'll stop being weird leaving out Nicklas Lidstrom's name from this group in about five more years so just bear with me here.
The leader of this group is resident huge-hitter, Niklas Kronwall. He leads the group both as its leader and best player. When he's not destroying someone with a massive hit, he's the team's best overall defender.
Joining him is a solid group featuring vets Kyle Quincey and Jonathan Ericsson but the wildcard is going to be free agent signee Dan DeKeyser. A college star, DeKeyser became the hottest free agent college player on the market last year and it's no surprise the Michigan native signed with the Wings. He's already got a strong defensive game and his skating and skill set suggest he could be a good offensive player.
Puck Stoppers Inc.
The last line of defense for the Wings is actually a pretty good option.
Jimmy Howard had a spectacular year last year, pushing his name into the elite circle of goaltenders in the league thanks to his 21-13-7 record, .923 save percentage, and 2.13 GAA.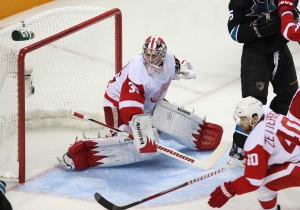 He routinely showed himself to be a key cog on the Wings last year and looks to have finally emerged as a legit star after being "solid" for most of his career. He'll get the bulk of the starts again this year, giving way to Petr Mrazek only when he needs a blow.
The Wings are a good enough team that they won't live and die with Howard but it always helps to have an elite goalie to bail you out should you falter and the Wings have just that.
How The Sabres Match Up
The experience, depth, and goaltending advantages certainly go to the Red Wings. The Sabres will need to use their youth and effort to keep the pressure on, utilize the forecheck, and hope the Wings make mistakes.
If the Sabres find themselves in the box, they could be in trouble with Datsyuk, Zetterberg, Alfredsson, and Franzen manning the Wings power play. That's a lot of experience and, in the case of the latter three, familiarity between veterans who have been doing this awhile. That group could be deadly if given the chance.
The Sabres, although not overly physical, should try to couple their speed with finished checks. Make sure to let the Wings aware of their presence every time they have the puck and keep them looking over their shoulders. This creates mistakes and the Sabres will be a team that needs the opposition to make some mistakes.
Cower In Fear If
Buffalo can't stay out of the box. Datsyuk + a man advantage = death.
The Sabres can't get any push towards the net, instead settling for all of those outside shots that they took last year.
Still no 60-minute effort.
Laugh Maniacally If
Ryan Miller plays well but doesn't have to play his nards off.
The Sabres skate their asses off, keeping a constant pressure on the Wings defense.
NO POWER PLAYS FOR YOU, DETROIT.
Silly predictions
There will be one totally flat period for the Sabres, invoking nightmares of years past and making us all wonder if anything is different; The Sabres will try to establish themselves physically, finishing their checks with regularity and even getting a few scrums going; Datsyuk embarrasses someone badly at least once.
Final
3-1 Wings