Rankings:
Minnesota
Boston College
Clarkson
North Dakota
Wisconsin
Cornell
Mercyhurst
Boston University
Harvard
Providence
For the most recent USCHO poll, click here. For the most recent USA Today/USA Hockey Magazine poll, click here.
#1 Minnesota
The Gophers have earned the right to be ranked #1 until they prove otherwise. They've got a really deep offense once again, with sophomore sensation Hannah Brandt leading the way. Even with the loss of Amanda Kessel, they've got enough contributors on up front, especially with the addition of rookies Kate Schipper and Dani Cameranesi, to boast the best offense heading into the year.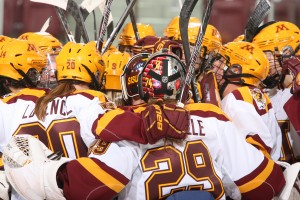 They're going to have some concerns on defense, however. Life without all-world goaltender Noora Räty will be an adjustment; there will be stretches where they have difficulty getting above-average goaltending. A spectacular defense was what separated them from the pack the last two years en route to back-to-back national championships, and that won't be the case this year, which could pose problems. Minnesota still, however, has a great roster, and if last season was any implication, will be able to find ways to win.
#2 Boston College
Though I have Minnesota ranked first, I think that Boston College has a great chance to surpass them. Their offense might not be as prolific, but they're to going to have a very good top-six, even with the loss of Alex Carpenter. Haley Skarupa and Emily Field are both high-scoring players, and I'd also expect Dana Trivigno to contribute more as a sophomore.
The thing hindering the Eagles, much like the Gophers, is a weakened defense. Blake Bolden and Dru Burns leave big minutes to fill, so that'll be the challenge for BC's current defensive corps: do they have enough players who can step up sufficiently? The personnel they have should be able to, and netminder Corinne Boyles stepped up in a big way last year, so I wouldn't expect the Eagles to be drastically worse defensively.
 #3 Clarkson
Clarkson has a very well-rounded team and now has NCAA Tournament experience on their side, which will help them take another step forward this year and become one of the nation's top teams. The Golden Knights have one of the two best goaltenders in the country in Erica Howe, as well as the best two-way defenseman in Erin Ambrose.
They shouldn't have much trouble scoring, either, with Jamie Lee Rattray and Carly Mercer up front and a decent amount of secondary scoring, though they don't have the same depth at either skater position as other top teams. The Golden Knights do, however, bring a nice balance to the table and are the only team that I think has a dominant star at every position, something that I feel will be crucial to their success this year.
#4 North Dakota
Dealing with the loss of the Lamoureuxs is going to be a big adjustment for the team. The challenge for their offense is going to be getting consistent contributions from a number of different players to make up for lost scoring. But they're adding an outstanding rookie class, and they have enough skilled forwards to eliminate a big drop-off in production.
The depth of UND's defense is unprecedented for the program, and that's going to be the key to their success this year. They may be able to control and move the puck better than almost every other team, but that's dependent on the development of their younger defensemen. Shelby Amsley-Benzie showed in the second half of last season that she can be a quality starter, but she's going to need to do that consistently over an entire season. North Dakota has a lot to prove this year with a fairly young squad, but if they can bring the talent that they have together they have a legitimate shot at a title.
#5 Wisconsin
The Badgers are used to having plenty of firepower and top-10 forwards, but with Brianna Decker graduated that's officially not the case anymore for this team. They do, however, have a couple of nice pieces up front in Madison Packer and Brittany Ammerman, and should be able to compete with other teams' top two lines, even if they're not going to blow teams away offensively anymore. They're also going to have to buy into a defensive team game; they showed last year that they can have success playing to their strengths that way.
They've got a couple of good, though inexperienced, puck-movers in sophomore Courtney Burke and freshman Jenny Ryan. And although they're missing a true two-way force of a defender, they should be able to put together a decent top-four and if this defensive corps plays within its limits, they could make up for some weaknesses. They've also got Alex Rigsby in net, who may be the most dependable goaltender in the country, and for me she's what separates Wisconsin from the teams below them. This is a squad that's used to winning and they have veteran leaders that have won before and came here to win, so I just can't see them missing out on the NCAA Tournament again.
#6 Cornell
The biggest issues for the Big Red are going to be on the defensive side of the puck. They're losing both Laura Fortino and Lauriane Rougeau to graduation, and there's really nobody on the roster who looks ready to step up and completely replace either of them. I don't think they have the weakest defense around by any means, but I'm also not sure goaltender Lauren Slebodnick can be as dominant as she may need to be at times.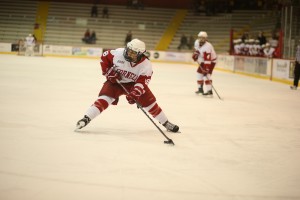 As wary as I am of their defense, I like Cornell's group of forwards. Jill Saulnier is a really skilled player, and secondary scorers Emily Fulton and Taylor Woods are a bit underrated. Even with Brianne Jenner gone I would expect this team to be able to match up fine with most other teams' top-nine. Saulnier may be the only really dynamic player but they have a bunch of other players who can put up points.
#7 Mercyhurst
The Lakers should have a very efficient offense and will probably light up the scoresheet in CHA play. Although they may not be as dominant against other teams in the national picture, I do still like the fact that they don't have to deal with any losses up front. That kind of familiarity will be important to them this year because they won't have as much to adjust to, which bodes well for them.
The thing that really puts Cornell and the rest of the field above them, though, is their defense and goaltending. Amanda Makela had a decent freshman season, but Stephanie Ciampa, now graduated, was Mercyhurst's go-to by the end of the year. Makela will have to be ready to step up this season, though, and so will their defensemen; with their losses on the back-end I'm not sure they'll be as strong at the position as they were last year.
#8 Boston University
This is a bit of a courtesy ranking, as Boston University has shown in the past that they can win games to get where they need to be even when they might not be expected to. But they don't have Marie-Philip Poulin, their go-to clutch performer, to give them a boost this year; coupled with some other losses that leaves the Terriers with little depth at either end. They should have at least one quality line and be able to roll three lines to play with competitive energy, but I'd expect goal-scoring for BU to go down this year.
Netminder Kerrin Sperry is most likely going to have to be spectacular this year to try and prevent goals-against from going up. With Shannon Doyle out for the entire season due to surgery, I'm not sure if the Terriers have another top-pairing, two-way defenseman. It's an unfortunate loss for Boston University, but if they can play to their strengths and count on their top players they've got a decent chance at the NCAA Tournament.
#9 Harvard
The Crimson are losing 60% of their scoring from last season, half of their top-four, and their head coach, so it's difficult for me to peg them as a preseason NCAA Tournament team with all of that in mind. But not much separates them from Boston University, and there's definitely room to grow here as they're a young team and bringing in a great freshman class. I'd expect Sydney Daniels to make an impact right away up front; they might even have a deeper offense than the Terriers, though I'm not sure they have any truly dynamic players, which is the difference. They're just going to have to play a defensively responsible game with a few different forwards chipping in scoring-wise.
Speaking of defense, they're going to have a lot to shore up in that department with the addition of three freshmen, but they get Marissa Gedman back from injury, which is a big plus. There'll be some growing pains here but this is where I think they have the most room to grow. Plus, if there's one player on the roster with talent, it's sophomore netminder Emerance Maschmeyer, who was lights-out as a rookie last year and will need to continue that play to help out her blue line.
#10 Providence
The Friars are, to me, an easy pick for a dark horse team because of the skill and depth they've got at both skater positions. I think they're going to take a big step forward up front this year and have a really productive offense; they've definitely got a young group of forwards who are capable of providing just that, like Molly Illikainen, along with some top veterans, like Corinne Buie. Plus, they're adding two talented players in Janine Weber and Cassidy Carels.
They've got one of the deepest defenses in Hockey East, if not the deepest. Rebecca Morse and Maggie Pendleton are both very good all-around defenders, and I'm not sure if any other team in the conference has two experienced blue-liners who are as good as those two. With them leading the way, I'd expect the unit as a whole to be rock solid. There is, however, a big question mark for Providence in goal. The best goaltending they got last season was from Sarah Bryant, with a 3.15 goals against average and .882 save percentage. They're going to need at least average starting goaltending in order to improve this year.
 Preseason First Team All-America
Hannah Brandt, Sophomore, Forward, Minnesota
Kelly Babstock, Senior, Forward, Quinnipiac
Jamie Lee Rattray, Senior, Forward, Clarkson
Erin Ambrose, Sophomore, Defense, Clarkson
Rachel Ramsey, Junior, Defense, Minnesota
Alex Rigsby, Senior, Goaltender, Wisconsin
Preseason Second Team All-America
Haley Skarupa, Sophomore, Forward, Boston College
Michelle Karvinen, Senior, Forward, North Dakota
Christine Bestland, Senior, Forward, Mercyhurst
Rebecca Morse, Senior, Defense, Providence
Sarah Edney, Junior, Defense, Harvard
Erica Howe, Senior, Goaltender, Clarkson
Preseason Awards
Patty Kazmaier Award Winner: Hannah Brandt, Forward, Minnesota
Defenseman of the Year: Erin Ambrose, Clarkson
Goaltender of the Year: Alex Rigsby, Wisconsin
Rookie of the Year: Sidney Peters, Minnesota
Gabriella is now in her third season of covering NCAA and international women's hockey for The Hockey Writers. She is the founding editor of At Even Strength, a website dedicated to providing full-time coverage and analysis of women's hockey. She is currently working towards a degree in Communication at the University of North Dakota, and is also interning with UND Athletic Media Relations. She can be reached on Twitter (@gabfun) or via e-mail (gfundaro10 [at] gmail [dot] com).