When hockey fans think about the Pittsburgh Penguins, they typically think scoring; they think talent; they think explosiveness.  In reality, though, the Pens have been more than just an offensive juggernaut over the last few years.
Since Dan Bylsma took over behind the bench in 2009, for example, the Penguins have boasted one of the league's most successful penalty killing units, finishing as the NHL's most efficient club in 2010-'11 and ranking third in 2011-'12.  In fact, last year's lockout-shortened campaign was the first time a Dan Bylsma short-handed unit finished worse than ninth, as the squad sank to 25th on the circuit.  Whether that was a function of the truncated season, an adjustment to the departure of penalty killing stalwart, Jordan Staal, or some combination of the two remains open for debate but, ultimately, the Pens returned to form and were able to right the ship when it counted most (not much else worked out in the long-run but, hey that's a topic for another article) in the playoffs.
For a second consecutive offseason, however, the Pens' watched an anchor of the team's PK unit clean out his locker for the last time when Matt Cooke departed for Minnesota.  Say what you will about the polarizing winger but the fact remains that his absence will leave a hole in the Pittsburgh lineup that Bylsma will be hard pressed to fill.  From his durability to his agitating style to his significant role in killing penalties, Cooke will certainly be missed.
So how will the Pens fill the hole?  Who will inherit those tough, short-handed minutes?  If the preseason is any indication, both Sidney Crosby and Evgeni Malkin may get a shot at expanding their roles to include time on the PK.  Given their reputations as offensive superstars, it might come as a surprise to some but it surely can't hurt to at least explore an opportunity to get the club's best players on the ice even more.
So with that spirit in mind, we present three reasons Crosby and Malkin could become staples on what is typically one of the league's strongest penalty killing units.
Crosby's Tenacity
Crosby isn't a typical superstar in that his incredible talent is likely matched only by his work ethic:
"…His hockey sense is so strong and so solid, combined with his God-gifted talent of being able to see the ice, see the entire picture in front of him. And, most importantly, I don't care how good you are, if you don't have a work ethic, it doesn't matter. There's no question that each and every game, he's one of the hardest-working guys on the ice. In my mind, he's the best player in the game today." – Wayne Gretzky, describing Crosby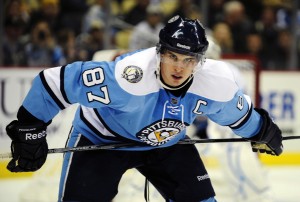 Indeed, it's that work ethic that could serve as a base for Sid to become an important component of the Pens' PK unit.  But, on top of that, it's things like his skating ability and willingness to dig out pucks along the boards that will really allow him to excel.  It's his desire to constantly evolve and improve his game.  Don't believe it?  Ask those people that said he couldn't score goals or wasn't good enough on draws and see what they have to say.
Speaking of face-offs, they probably represent the biggest reason Sid should be a prominent part of killing penalties in Pittsburgh.  Forget the fact that Crosby has evolved into the Penguin's go-to guy inside the circle; after struggling on draws early in his career, Sidney has developed into one of the league's most reliable face-off artists.  And given that a clean face-off win will typically lead to icing the puck and subsequently killing a significant portion of a penalty, it stands to reason that Bylsma would want one of the league's best to be taking as many short-handed draws as possible.
Malkin's Stealth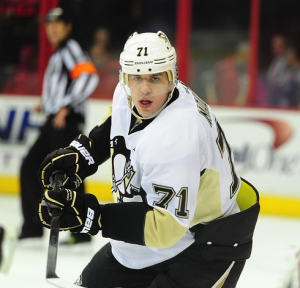 Without question, defense isn't the first thing that comes to mind when thinking about Malkin's game.  After all, it's his second to none talent with the puck that makes him stand out.  But there are other parts of his game that sometimes go unnoticed that would surely allow Geno to become an effective penalty killer.
For starters, Malkin's undeniable ability to produce takeaways could prove to be a useful tool for the Pens' PK unit.  His propensity for both intercepting passes and capacity for picking puck carriers' pockets would act as serviceable means for relieving pressure on Pittsburgh penalty killers.
At a more basic level, though, Geno's physical frame will give him an advantage while killing penalties.  His tall, lanky physique and the long reach that goes along with it provide Malkin with the tools he needs to take away the passing seams and shooting lanes that puck carriers salivate over while on the power play.  And when you combine those physical attributes with the abilities described above, you have the makings of a successful penalty killer.
Potential Momentum Swings
Ultimately, however, there's something more that could make both Crosby and Malkin effective penalty killers – fear.  Opposing players will know that, in the blink of an eye, a mental lapse or simple mistake could result in a lightning-quick transition, springing one of the greatest offensive forces in hockey on a glorious scoring chance.  As a result, the momentum of the game could dramatically shift and, in the end, impact the outcome of the contest.
That knowledge could prove to be enough to cause a hesitation in some players' decision making.  If that proves to be the case, opposing power plays will be disrupted and the fear of Crosby and Malkin's talents will provide the Penguins' penalty killers with a significant advantage.
Sean Griffin is a lead writer for the Pittsburgh Penguins at The Hockey Writers. He can be contacted at psgrif27@gmail.com.